Warriors, Draymond Green downplay 'profanity-laced tirade'
Draymond Green and the Warriors aren't worried about what was said at halftime.
• 2 min read
Stephen Curry's 3-point eruption was the story on Saturday, but Draymond Green had himself quite an evening too. The Golden State Warriors forward missed all eight of his shots, and yet he was a huge part of the 121-118 overtime win over the Oklahoma City Thunder. Look at his stat line: two points, 14 assists, six steals, four blocks, 44 minutes.
He also had a "profanity-laced tirade" at halftime, according to ABC's Lisa Salters:
Salters reported that Green was "yelling and screaming, 'I am not a robot, I know I can play, you have me messed up right now. If you don't want me to shoot, I won't shoot the rest of the game.'"
Golden State collectively acknowledged but downplayed the incident.
"What goes on in here, stays in here," Green said, via the San Francisco Chronicle's Rusty Simmons. "Clearly, I've never been a guy who cares about shots. I pass up open shots. We know what goes on between our team. We know what sparks this team. We know what this team does. We know what goes on in this locker room."
"Part of what makes him special is his emotion and his passion," Warriors coach Steve Kerr said. "Nothing major happened. Obviously, we came out and played great in the second half, so it's all good.…
"It was very unusual, but that's all I'm going to say about it, because it's our private business. Since everybody heard the yelling, you can write whatever you want, but I'm not going to comment any more on that."
Green is a fiery guy and he's in a shooting slump. Golden State trailed by 11 points at halftime. These things happen, but they're usually not so loud that reporters can hear it. On a team like the Warriors, you'd expect the players to protect each other after an incident like this, and that's exactly what happened. 
"We're going to keep it close to the vest," Curry said in his postgame interview on ABC. "But we want to win and everybody wants to play well and we expect greatness and, in a competitive environment like that, over the course of the season, you're going to have emotion. That's the best way I can explain it. The beauty of our team is, when we leave the locker room, we're still united, we're still ready to compete. And I think it lit a fire under us to go out here and get this win."
The Warriors wouldn't have won the game without Green's passing and defense. He hasn't made a 3-pointer in his last five games, but that hasn't really mattered. At some point, his shot will likely start falling again -- as the Thunder game showed, things always seem to work out for Golden State. Even if there's some swearing and shouting along the way.
(HT: Sports Illustrated's Ben Golliver)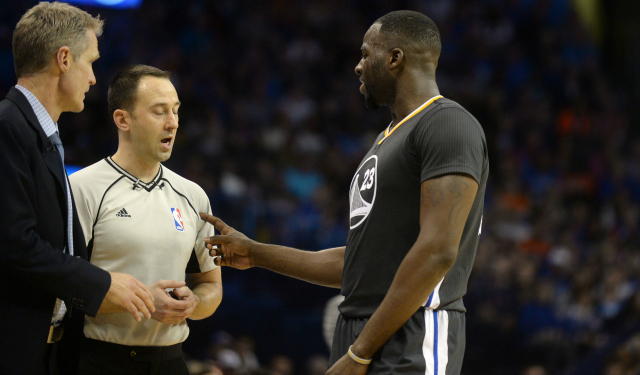 CBS Sports HQ Daily Newsletter
Get the best highlights and stories - yeah, just the good stuff handpicked by our team to start your day.
Please check the opt-in box to acknowledge that you would like to subscribe.
Thanks for signing up!
Keep an eye on your inbox for the latest sports news.
Sorry!
There was an error processing your subscription.
The defending champions are getting their talented center back for another season

Los Angeles is reportedly targeting its former point guard in free agency

A look at the latest NBA news and rumors as free agency is now just days away
Here's a look at the upcoming summer for the teams in the West

Anthony played just 10 games last season before parting ways with the Rockets

Here's a look at the upcoming summer for the teams in the East