Ex-NFL GM Charley Casserly: Russell Wilson not a top-12 QB
Former NFL general manager Charly Casserly would take Nick Foles and at least 12 other quarterbacks over Russell Wilson.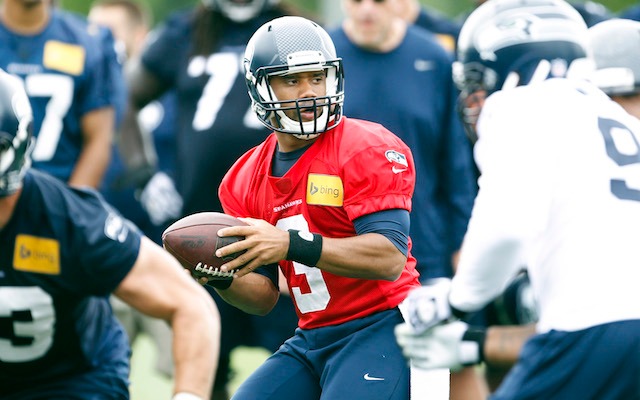 Charley Casserly probably isn't going to get a warm welcome the next time he's in Seattle. In a piece for NFL.com this week, the former NFL general manager wrote that he's not too high on Seattle Seahawks quarterback Russell Wilson . 
The NFL Network is putting together a list of the top 100 players of 2014 and Wilson is ranked as one of the top five quarterbacks (His exact ranking hasn't been revealed yet). That's a bit high for Casserly though, who doesn't even have Wilson ranked in his top 10. 
"I do not consider Russell Wilson a Top 10 quarterback, let alone one who belongs in the top five," Casserly wrote. "The Seahawks win because they have one of the NFL's best defenses and an outstanding running back in Marshawn Lynch . Wilson -- who I think is a good, but not elite, passer -- operates in an offense that takes a lot of pressure off him, meaning the Seahawks don't have to rely upon his arm to win games."
So who would Casserly take over Wilson in an imaginary quarterback draft? 
"In no particular order, I would rank these AFC signal-callers ahead of Wilson: Peyton Manning , Philip Rivers , Ben Roethlisberger , Andrew Luck , Tom Brady and, possibly, Joe Flacco ," Casserly wrote. "And the NFC quarterbacks I would rank ahead of him: Aaron Rodgers , Drew Brees , Eli Manning (despite his poor 2013 season), Matt Ryan , Matthew Stafford , Tony Romo and Nick Foles ."
That's 12 (and possibly 13) quarterbacks ranked ahead of Wilson. We can probably all agree that zero point zero percent of Seahawks fans would take Foles over Russell Wilson. It's probably worth mentioning that Wilson is 8-3 against the quarterbacks listed. 
For comparison's sake, CBSSports.com's Pete Prisco and Pat Kirwan both released their top-100 players list this week. Kirwan has Wilson rated as the 10th best quarterback in the NFL while Prisco has Wilson at No. 11. 
You can find every official injury designation for each NFL team shortly after its Friday report...

The Bengals are the only NFL team Aaron Rodgers has played against without earning a win

The Raiders are heading across the country for a showdown with the Redskins
The Ravens and Jaguars head across to pond to play an early-morning game in Wembley Stadiu...

The lawsuit faces a legal hurdle, as Hernandez did not opt out of a concussion settlement with...

Everything you need to know for Week 3 of the 2017 NFL season is here