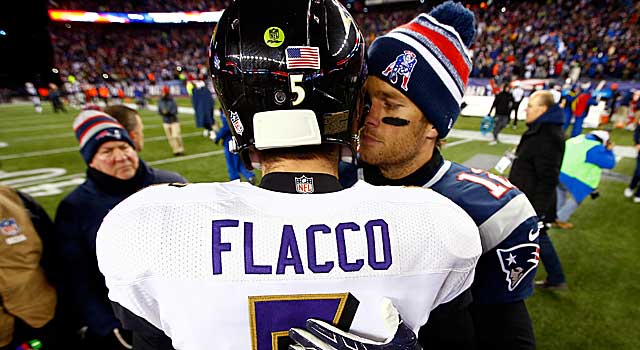 Ravens coach John Harbaugh didn't flat-out accuse New England of cheating during the Patriots 35-31 playoff win on Saturday, but after the game, he did say that he believed the Patriots were using "illegal" formations during the game. 
During the third quarter, the Patriots decided to use an unorthodox blocking scheme that only called for four offensive lineman. Because New England still needed another player at the line of scrimmage, the Patriots would have running back Shane Vereen or tight end Michael Hoomanawanui check-in as ineligble. 
"It's not something that anybody has ever done before," Harbaugh said, via NFL.com. "They're an illegal type of a thing and I'm sure that (the league will) make some adjustments and things like that."
Harbaugh said that his defense wasn't given enough time to figure out who the eligible and ineligible players were. 
"We wanted an opportunity to be able to identify who the eligible players were," Harbaugh said. "Because what they were doing was they would announce the eligible player and Tom (Brady) would take it to the line right away and snap the ball before (we) even figured out who was lined up where. And that was the deception part of it. It was clearly deception."
To give you an idea of what the Patriots were doing, just look at the formation below (image via SB Nation).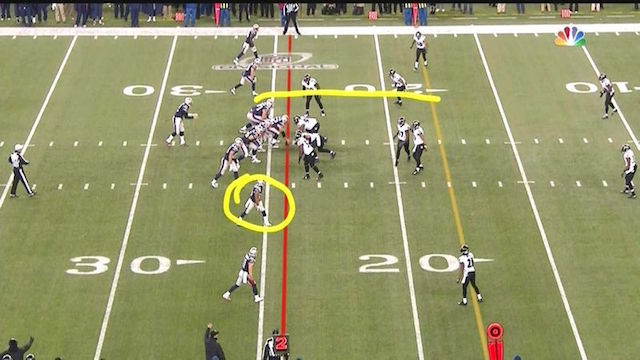 Vereen, who's circled, is an ineligible receiver on this play because only the end player on the line of scrimmage is eligible. Vereen clearly isn't the end player. 
The yellow line represents the route Hoomanawanui is going to run. Hoomanawanui is lined up next to the left guard, where the left tackle would usually be, but Hoomanawanui isn't the left tackle, he's actually an eligible receiver. 
Harbaugh got so fed up with New England's tactics that he went five yards on to the field in the third quarter and was flagged for unsportsmanlike conduct. 
The Ravens coach would go on to explain that he actually got the penalty on purpose. 
"The officials told me after that they would give us the opportunity to do that, which they probably should have done during that series but they really didn't understand what was happening," Harbaugh said. "I had to go take the penalty to get their attention so they can understand what was going on."
Harbaugh's complaints came up during Brady's postgame press conference and Brady had some simple advice: Learn the rule book. 
"Maybe those guys gotta study the rule book and figure it out," Brady said. "We obviously knew what we were doing and we made some pretty important plays. It was a real good weapon for us. Maybe we'll have something in store next week."
Brady didn't sound too worried about whether or not the NFL might look into what the Patriots did. 
"They'll look at it then," Brady said. "I don't know what's deceiving about that. [They] should figure it out."
Hall of Fame coach Don Shula referred to Bill Belichick as 'Beli-cheat' earlier this week and it won't be surprising at all if Ravens fans decide to utilize that nickname too.