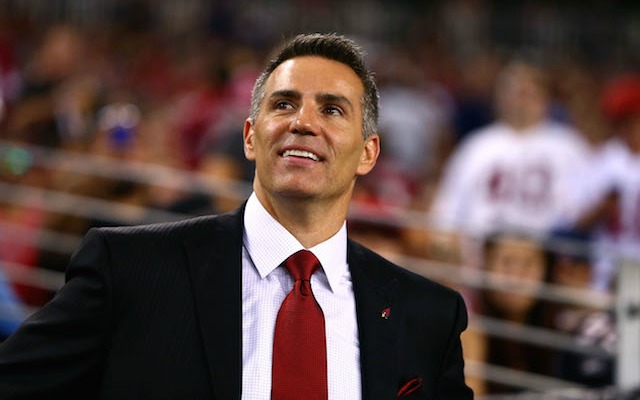 First there was Spygate, now there's Deflategate, which begs the question: Have the Patriots been involved in any scandals that maybe we don't know about?
That's what former NFL quarterback Kurt Warner has been wondering recently. During an interview with Seattle's KJR-AM on radio row this week, Warner said there's some doubt about whether or not New England beat the Rams fairly in Super Bowl XXXVI. 
(You can subscribe to the Eye on Football Podcast -- live from the Super Bowl all week! -- via iTunes right here.)
Back in February 2002, the 14-point underdog Patriots beat the Rams 20-17 after Adam Vinatieri hit a 48-yard field goal as time expired. 
So did the Patriots win the game fair and square? Warner said there's at least a "sliver of doubt" that they didn't. 
"I don't want to believe that there was anything outside of his team beat our team. That's what I want to believe," Warner said. "There's a sliver of a doubt because I think, as a human, you can't help it. To know that if you were a part of that process at that time, was there any advantage they gained in any game, not just our Super Bowl game, but maybe a game before that to get to the Super Bowl? I mean, all those things enter your mind."
Just because Warner is bringing this up 13 years after the fact, he doesn't want you to think his complaint is sour grapes. 
"It's not because I'm bitter. It's not because I say they cheated, because I have no idea, but it adds a sliver of doubt, which I think is unfair to everybody. It's unfair to them and their legacy," Warner said. "It's unfair to me and my legacy because I don't want to have to wonder, 'Well, did they beat me fair and square or was there something extra?' And that's the unfortunate part that I don't think you'll ever get over because you know something was done outside the rules."
Warner's not exactly accusing the Patriots of anything, but he also doesn't seem to be 100 percent convinced that New England played fairly.
"I want to know that I got beat fair and square. That's the spirit of fair competition. That's what I believe every time I step between the lines is that I've got to beat that guy across from me. And if I'm better, I will do that. If I'm not, I won't," Warner said. "But now when you add other things to the mix, now all it does is give you a little bit of a doubt. That's what I'm saying. It's unfair I don't look at it that way because I try to fight against it because we're never going to know, but it's unfortunate that I even have to consider it."
Warner also pointed out one other thing. 
"Since that scandal, I don't know if they've won a Super Bowl," Warner said, via the New York Daily News. "So you sit back and go, 'Well, was it because of any advantage they got?' I think it's unfortunate. Unfortunate for him. Unfortunate for our league. Unfortunate for historians who love the game and love great coaches. Because we don't know."
Former Panthers general manager Marty Hurney also believes his team's Super Bowl loss to New England might have been caused by cheating. Now we just need someone from Philadelphia to weigh in. The Eagles lost to the Patriots 24-21 in Super Bowl XXXIX.