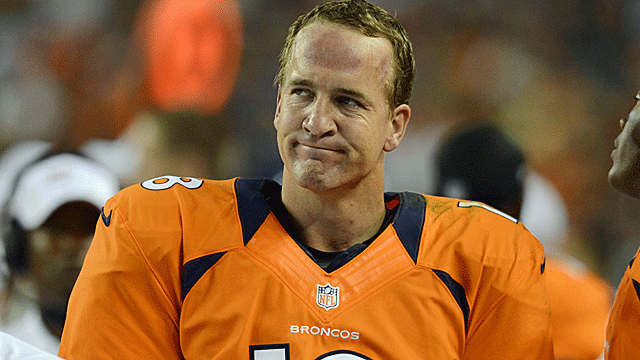 While the Broncos and Peyton Manning have feasted on every opponent they've faced this year, there's a chance -- a slight chance, mind you, but a chance -- that the Cowboys will provide a good foil on Sunday.
First off, Dallas is playing at home, meaning Denver probably will be in their most-intimidating road experience so far this season. Second of all, Manning is only 2-2 against the Cowboys during his career, one of only eight NFL squads in which Manning does not have a winning record.
(For the record, the two biggest surprises on that non-winning record list are the Panthers (Manning is 2-2 against them) and the Dolphins (Manning is 5-7)).
Thirdly, Tony Romo is having a wonderful season so far.
But the question is whether the Cowboys can cover the +7.5 they're currently facing. I say no. And though CBSSports.com's Pete Prisco already discussed how a defense can try to stop the Broncos offense, let me throw out three reasons why Dallas will struggle with this as well.
1) You can't trade field goals for touchdowns when you're playing the Broncos. That's what Eagles Chip Kelly said anyway on Sunday after his team managed two field goals and two touchdowns against Denver while the Broncos scored seven touchdowns and one field goal. The Giants in Week 2 also failed in this field-goal-for-touchdown approach. Because Manning is going to get his touchdowns (16 so far this season, more than any other team in the league), Romo -- who's got eight passing touchdowns of his own this season -- is going to have to be excellent. Even if he is, it probably won't matter anyway.
2) The Cowboys defense hasn't exactly been stout this season, and even worse, its pass defense is ranked No. 27 in the league. See point No. 1 on why that's a particularly gloomy stat heading into this week. Oh yeah, and Dallas allowed San Diego's Philip Rivers to torch it for 401 yards on Sunday as he completed a ridiculous 83 percent of his passes. Remember, the Cowboys sacked defensive coordinator Rob Ryan last year after the worst defensive effort in team history. Under Monte Kiffin, the defense has allowed 419 MORE yards than it had at this point last season. As Kiffin said Sunday after facing Rivers and knowing he'd get to play host to Manning, "That's not good."
3) Aside from Manning and his impressive stable of receivers with Wes Welker, Demaryius Thomas, Eric Decker and Julius Thomas, the Broncos defense has been tough, even without Von Miller and Champ Bailey in the lineup. Now, the overall stats don't look good (Denver allows 390.3 yards per game, 25th in the league), but the run defense is the best in the NFL. The reason the pass defense statistically is so bad is because the offense gets out to such big leads that the opponent has no choice but to throw the ball a ton. In fact, the Broncos are facing 43.3 passes per game, the third-highest total in the league. Part of the credit for the defense goes to Broncos defensive coordinator Jack Del Rio -- who, you might recall, was once a pretty good linebacker himself. The Cowboys have a big job ahead of them to try to push around this defense.
Now, I'm not saying you should bet your mortgage on this game, but the Broncos giving 7.5 seems like a safe bet to me.
Follow Josh Katzowitz on Google+