Ezekiel Elliott's decision to jump in a giant Salvation Army kettle after scoring a touchdown against the Buccaneers on Sunday might go down as the best celebration of 2016.
The celebration was so good that the NFL decided not to fine Elliott even though he was flagged for using a prop (Yes, giant kettles count as a prop).
Although most people viewed the league's decision not to fine Elliott as a good thing, that's not how Odell Beckham Jr. views it. Not only was the Giants receiver surprised when he found out Elliott wouldn't be fined, but he thinks there's a double standard in the league office.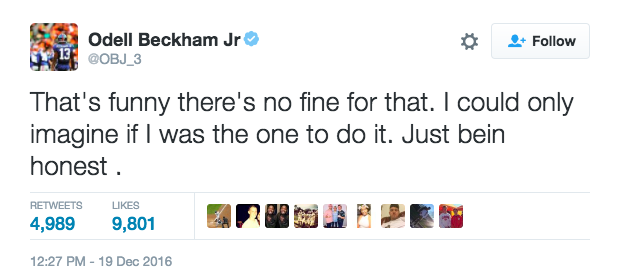 Basically, Beckham thinks that the NFL would have hit him with a huge fine if he had jumped into a giant kettle to celebrate a touchdown.
Beckham is definitely right about one thing: The league loves to fine him.
During the 2016 season alone, Beckham has been fined more than $100,000. Of course, the only way to find out for sure if Beckham would get fined for jumping into a giant Salvation Army kettle is if Beckham actually jumps into a giant Salvation Army kettle. Let's keep our fingers crossed and hope that happens on Thursday night when the Giants play in Philadelphia.