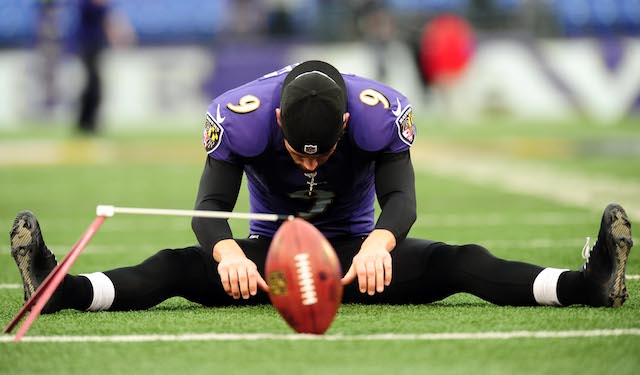 Earlier this week, NFL commissioner Roger Goodell said that the league is exploring the possibility of eliminating the extra point. As you can imagine, that idea isn't sitting well with everyone. 
Take Pro Bowl kickers er and Stephen Gostkowski for instance -- both of them would like to see the extra point stay.  
"For what it's worth, I like the extra point," Tucker said on Thursday, via NFL.com. "I like doing my job and I think it's one of those things in the game that sometimes is taken for granted."
The Ravens kicker even made a reasonable point about why the extra point should stay -- are you listening Roger Goodell?
"Sure there is a high success rate," Tucker said. "There is also a high success rate at the end of the game when a guy is taking a knee. You got to snap the ball. You fumble the snap that makes it a completely different game."
Tucker didn't stop there though, "You look at these quarterbacks throwing for four and five thousand yards a season and they are getting increasingly efficient, but we aren't going to tell the receivers to stop wearing gloves. In my opinion it is the same principle. That is my two cents."
As for Gostkowski, he doesn't care if they modify the extra point, but he doesn't want the NFL to get rid of it. 
"If they want to move it back, go ahead, but completely eliminating it would be a terrible, terrible thing," the Patriots kicker said. "It's such a good game the way it is, I don't know why we have to go change everything all the time."
Gostkowski's coach, Bill Belichick, said in early January that he would like to see the extra point changed, "I would be in favor of not seeing it be an over 99 percent conversion rate," Belichick said. "It's virtually automatic. That's just not the way the extra point was put into the game. It was an extra point that you actually had to execute and it was executed by players who were not specialists, they were position players."
So don't let specialists kick it? Maybe Belichick's on to something. Maybe the NFL should keep the extra point, but with one minor caveat: The player who scores the touchdown has to kick it.