Redskins were selling expired beer at Thursday night's game
Don't drink the beer at Redskins' games.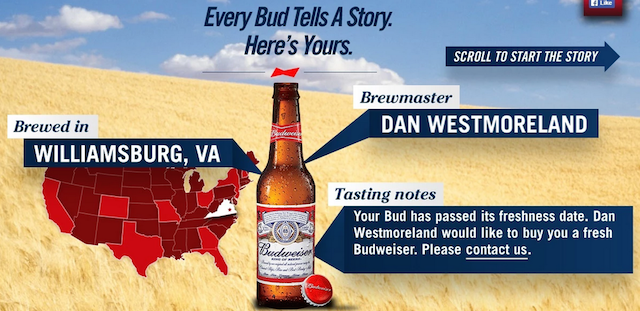 It's been a rough week to be a Redskins fan. First, the team was lampooned on South Park. Then, the Daily Show took a shot at the team and its fans. Then, the Redskins got embarrassed on national television by the Giants. 
It was ugly all around. 
It got even uglier if you were a Redskins fan at Thursday's game planning to drown your sorrows in an ice cold Budweiser because THE REDSKINS WERE SELLING YOU EXPIRED BEER. 
It all started when a Redskins fan tweeted out a picture of his World Cup beer. 
Fresh beer served here at fed ex @dcsportsbog pic.twitter.com/lCEJnBjj1v

— tom robinson (@stonestom) September 26, 2014
Dan Steinberg of the Washington Post's DC Sports Bog then asked the fan to tweet a picture of the beer's born-on-date -- because, you know, the World Cup was awhile ago. The fan complied. 
@dcsportsbog June this year. Mmm not sick yet so not to skunky... I hope pic.twitter.com/FI8WluCEJm

— tom robinson (@stonestom) September 26, 2014
The next step of this investigation involved putting the born-on-date into Budweiser's track-your-Bud website. The photo at the top of the page is what you get when you do that -- the beer, is in fact, expired. So apparently, Dan Westmoreland is going to buy this fan a free beer. 
Although the fan told the Washington Post that the beer tasted fine, Budweiser is not taking this lightly (I was going to say Bud Lite-ly, but I didn't want to put you guys through a pun that lame). 
The company released a statement to the Post that said the following:
We work closely with our 600-plus wholesaler network to ensure beer is handled and distributed to our product quality standards. Our wholesalers adhere to strict inventory and product rotation guidelines, using temperature-controlled warehouses and a first-in, first-out, inventory system at retail.

We are working closely with the wholesaler and retailer regarding this instance.
Let's examine how the top signal-caller prospects thrive and pinpoint their clear-cut flaw...

The Bills make a big move to get to No. 2, and the Giants hop back into the top 10 after moving...

Teams can still fill needs with players on the secondary free-agent market and 2018 NFL Dr...
Jonathan Martin is facing some serious charges after being involved in an incident in Febr...

Rob Gronkowski definitely knows how to celebrate St. Patrick's Day

The Chargers just beefed up their offensive line with the former Dolphin