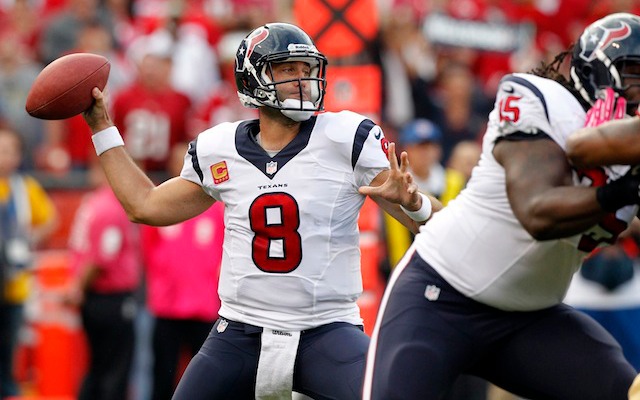 Peyton Manning isn't the only quarterback setting NFL records this season, Matt Schaub is too. Only Schaub's not setting the record that most quarterbacks want to set, he's setting the record for most consecutive games with a pick-six. 
On his first pass of the game against San Francisco, Schaub was picked off by 49ers defensive back Tramaine Brock, who returned the interception 18-yards for a touchdown. Brock's touchdown marked the fourth consecutive week Schaub has thrown a pick-six, a new NFL record. 
Schaub's streak of futility started in Week 2 when Titans defensive back Alterraun Verner picked him off in the fourth quarter and returned 23-yards for a touchdown that gave Tennessee a 24-16 lead. Despite the pick, Houston came back to win 30-24 in overtime. 
The streak continued in Week 3 against Baltimore when Ravens linebacker Daryl Smith picked Schaub and took it 37-yards to the house. Smith's second quarter touchdown gave the Ravens a 10-6 lead in a game Baltimore would win 30-9. 
Schaub tied the NFL record in Week 4 when he threw a pick-six for the third consecutive game. Seahawks cornerback Richard Sherman did the honors of catching the record-tying interception. Sherman returned the pick 58-yards for a pivotal fourth quarter score that tied the game at 20 with 2:40 left. The Seahawks would go on to win the game in overtime. 
Fans in Houston haven't taken kindly to Schaub's struggles. Some fans are burning their Schaub jerseys and the ones that aren't burning their jerseys are offering weird 'Matt Schaub pick-six' burger specials at their restaurants. 
Houston, you have a problem and it's Matt Schaub throwing pick-six's.