Troy Polamalu named Steelers captain for first time in 12-year career
For the first time in his NFL career, Troy Polamalu was named a team captain on Monday.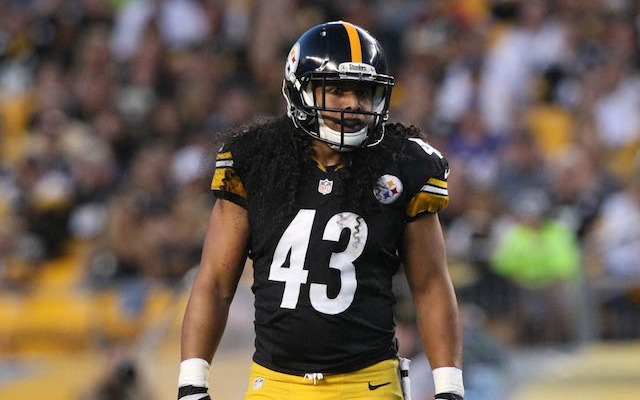 Steelers safety Troy Polamalu is an eight-time Pro Bowler with two Super Bowl rings, however, going into this season, there was one minor accolade missing from his career résumé: He had never been a Steelers team captain. 
The 16th overall pick in the 2003 NFL Draft, Polamalu played 11 seasons in Pittsburgh without being named a defensive captain. That drought has finally ended though. 
The Steelers announced on Monday that Polamalu would be one for four team captains this season, along with Ben Roethlisberger, Robert Golden and Shaun Suisham. Roethlisberger will serve as the team's offensive captain while Suisham and Golden will be special teams captains. Polamalu will serve as the lone defensive captain. 
This will mark the sixth time the Roethlisberger has been named captain. Suisham and Golden are both first timers along with Polamalu. 
So how did Polamalu go 11 years without being a team captain?
Here's a list of the defensive captains since Polamalu's rookie year in 2003. 
2003: LB Jason Gildon, LB Joey Porter
2004: LB James Farrior, Porter
2005: Farrior, Porter
2006: Farrior, Porter
2007: Farrior
2008: Farrior
2009: LB James Harrison, Farrior
2010: Farrior
2011: Farrior
2012: DE Brett Keisel
2013: S Ryan Clark, Keisel
The pop superstar will seek halftime show redemption at Super Bowl LII

Todd Haley's name has also been floated as a possible replacement

It wasn't the matchup that we expected, but the Jaguars would argue that's everyone else's...
CBS All Access allows viewers to stream every NFL game on CBS in their local market

This will be Gene Steratore's first Super Bowl as a referee

The Patriots' quarterback and likely MVP appears to be banged up heading into the AFC title...