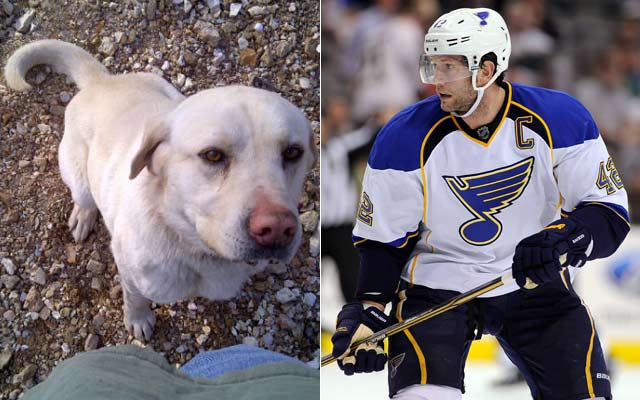 More NHL Playoffs: Scores | TV Schedule | Expert Picks | Odds | Mock Draft | Rumors
Though David Backes plays an aggressive, physical brand of hockey, he's really a softie at heart. That's especially true when it comes to dogs. The St. Louis Blues captain and his wife, Kelly, aren't just animal lovers, but animal activists and are taking up a somewhat high-profile animal rights fight in south-central Missouri.
Perhaps you've heard of Phineas, the yellow lab that was taken from his family after allegedly biting a little girl in the neighborhood. As a result, officials in Salem, Mo., have ordered the dog to be euthanized, which has led to outrage and a large outpouring of support, particularly through social media worldwide. The "Save Phineas" Facebook page has more than 62,000 likes.
According to the Riverfront Times, Kelly Backes has contacted Joe Simon, an attorney who has been working to keep Phineas from being put down, and informed him that she and David have lined up a shelter that has agreed to take in Phineas. The Five Acres Animal Shelter in St. Charles, Mo., has a no-kill policy and the Backeses are willing to personally fly to Salem to pick up Phineas and deliver him to the shelter.
This would not be the first time the Backes family has been involved in rescuing dogs in danger of being put down. While working on his pilot's license, Backes flew with Kelly and an instructor to Houston to rescue three stray dogs that would've otherwise been euthanized.
The couple also runs the non-profit David's Dogs, with full support from the Blues organization, which publishes a David's Dogs of the Month feature on its official website.
The situation involving Phineas is a touch more complicated than perhaps even Backes has experienced. Sam Levin of the Riverfront Times recapped the mess in Salem, including the fact that the family of the girl that was bitten has not even pressed charges. Though it does not appear reuniting the dog with his family is in the cards, there's a chance Phineas could be spared if the Backeses succeed.
It has been an unfortunate situation for all involved, but it's nice to see people like David and Kelly Backes step in and do what they can to try to help.
(h/t @Sean_Leahy)