Jake Gyllenhaal recalls how his parents cost him 'Mighty Ducks' role
Jake Gyllenhaal recently recalled the time his parents prevented him from signing on to be Charlie Conway in the beloved hockey movie "The Mighty Ducks."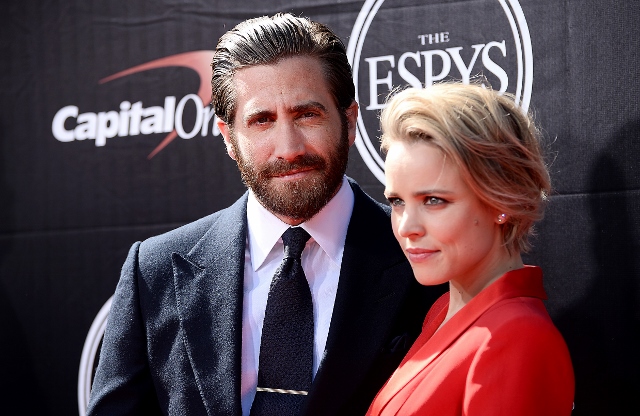 Think about your favorite sports movies as a kid. If you're the nostalgic sort like myself, you probably view them as perfect just as they are. And if you're an adult of a certain age now, that very movie might just be The Mighty Ducks.
Now what if I told you the lead Duck nearly wasn't who he ended up being? Yes, what if Charlie Conway was played by modern-day movie star Jake Gyllenhaal? Because it was really, really close to happening.
You see, way back in the early 1990s, Gyllenhaal was in a little film called City Slickers in which he played Billy Cystal's character's son. That garnered Gyllenhaal a lot of fans in the movie business including the producers of the The Mighty Ducks. In fact, they liked him so much, they auditioned him to play the iconic (you heard me) role of Charlie Conway. He even got the part.
Timing wasn't great, though. Gyllenhaal's parents, who are also in the movie business, said he couldn't do it. As he told Howard Stern in a recent interview on SiriusXM radio, Gyllenhaal's mother, screenwriter Naomi Foner, and father, director Stephen Gyllenhaal, shut it down because they wanted him to focus on academics as the movie would have cost him months of school.
Needless to say, the youngster was not happy that he wasn't going to get to spend the first part of his junior high career playing hockey every day. Who wouldn't be?
"Yeah, I mean it was someone telling you you're going to star in a movie, it's crazy and then they say you can't," Gyllanhaal recalled. "I definitely remember crying on the kitchen counter. [To his parents], 'You guys are crazy!'
"My parents were like, 'you're about to enter junior high school. You've got to get your education. That's the most important thing. I promise you, you'll hate us now, but you'll thank us later. And I do."
So it appears he's gotten over it and it also would appear his career didn't suffer from not being cast in one of the great kids' movies of the 1990s. And obviously, the Mighty Ducks didn't suffer without him as the role went to the very capable Joshua Jackson who made a very good captain for the entire iconic (you heard me) trilogy.
Though you have to wonder how many times over the years Gyllenhaal mournfully whispered to himself, "1… 2… 3… Triple Deke."
[H/T Yahoo Movies]
David Kelly has nailed 35 of 42 NHL picks and he just locked in a selection for the Ottawa-Nashville...

SportsLine's Mike McClure, a DFS pro with more than $1M in winnings, gives optimal lineup...

Vegas ascends to the top of the league, but plenty of formidable contenders are right on their...
SportsLine's Mike McClure, a DFS pro with more than $1M in winnings, gives optimal lineup...

Smith-Pelly confronted the fans from inside the penalty box before they were escorted out

The NHL will be a no-show in Pyeongchang, and it could be the norm for future Olympics