Rick DiPietro has had a hard time but didn't really consider suicide
Rick DiPietro, the Islanders goaltender who has been the butt of jokes for years, has had a rough time over the years but he didn't actually contemplate suicide.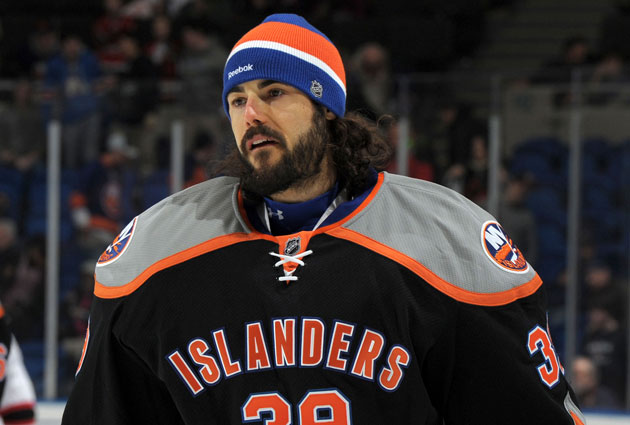 More NHL: Scores | Standings | Odds | Fight-O-Meter | League Leaders | Rumors
Rick DiPietro's struggles have been well documented over the years. He's had injury issues galore and struggled on the ice, all while playing for a bad team and carrying a massive contract. It led him to being the butt of jokes all across the NHL.
It took a toll.
DiPietro also admitted injuries, losing and fan hatred over the past 3 years made him think about killing himself at one point.

— Kevin Maher (@KMaherNews12) February 28, 2013
Originally, this was all the context provided and it looked and sounded awful. All the DiPietro jokes stopped being funny. Serious depression is nothing to mess with.
But in the haste to get the quotes out it seems like some context was missing. The perils of Twitter strike, I suppose.
According to Brett Cyrgalis of the New York Post, DiPietro was being facetious. Now why on Earth would anybody be facetious about something as serious as suicide, especially considering what happened a couple summers back with Rick Rypien?
Well now we have a little more context and it wasn't so much that he literally contemplated suicide, just that he was praising his wife for being there in the hard times.
DP: "I'm just trying to bring light to fact of how important my wife has been. It's been a trying last couple years." (cont.) #Isles

— Brett Cyrgalis (@BrettCyrgalis) February 28, 2013
DP: "There have been times that I've been depressed, and I don't know where I'd be without the support of my wife." #Isles

— Brett Cyrgalis (@BrettCyrgalis) February 28, 2013
Now it all makes a little more sense. There was definitely something missing between DiPietro and the original tweets of the interview from Kevin Maher. It's amazing how changing a few words around can impact an entire thought.
Really, DiPietro wasn't using words or an expression that most people wouldn't use. Undoubtely times were tough for him and he very well could have had (or still could have) bouts with depression. But that's not what he was going for here; he was using it as a demonstration.
It's probably still not the best way to put it but it's easy to see how somebody could say it facetiously. As he told Katie Strang of ESPN New York, he knows not to say such things facetiously anymore.
The comments came up after he was waived by the Islanders and reported to AHL Bridgeport this week. He was not happy about it, but not in an angry way -- although there might have been some of that, too.
This was also from Maher and now you have to wonder how serious DiPietro was being here:
DiPietro told me Isles waiving him felt like, "they ripped my heart out, stabbed it, set it on fire and flushed it down the toilet."

— Kevin Maher (@KMaherNews12) February 28, 2013
We withheld the jokes earlier because of what seemed to be poor taste, but now? Gee, it was awfully nice of the Islanders to throw his heart in the toilet water after setting it on fire, wasn't it? Are we sure DiPietro didn't have his dog run over, too? If so, we have the making of a country song here, folks.
DiPietro was waived by the Islanders after three games this season. In those three games, he posted a .855 save percentage and 4.09 goals against average, obviously not what he was hoping for.
The Islanders were made aware of DiPietro's comments and had their own brief statement on the matter from GM Garth Snow.
"We are aware of Rick's comments today and the severity of them. We will handle them internally as we do with all player matters. This is an opportunity for Rick to play lots of games in Bridgeport."
Regardless of the suicidal thoughts or not, let this be a reminder that we're talking about people here, not just athletes. It's still shows how these guys have feelings and emotions like everybody else, and their money doesn't shield them from their own inner thoughts. DiPietro has been hammered over and over and there is still a lesson to learn here. It's one thing to be critical; it's another to go beyond critical.
For more hockey news, rumors and analysis, follow @EyeOnHockey and @StubitsCBS on Twitter, subscribe to our YouTube account and like us on Facebook.
The former Boston Bruin was the first black player to play in the NHL

Inclement weather led to the Charlotte Checkers and Bridgeport Sound Tigers playing in front...

The NHL chose the Detroit rocker as its All-Star Game entertainment and not everyone is th...
NHL fans from all over seem to agree on one thing: Hating Kid Rock

The team tweeted on Monday that Shaw would be re-evaluated in 7-10 days

The Montreal forward was hospitalized after taking a Zdeno Chara slap shot to the head