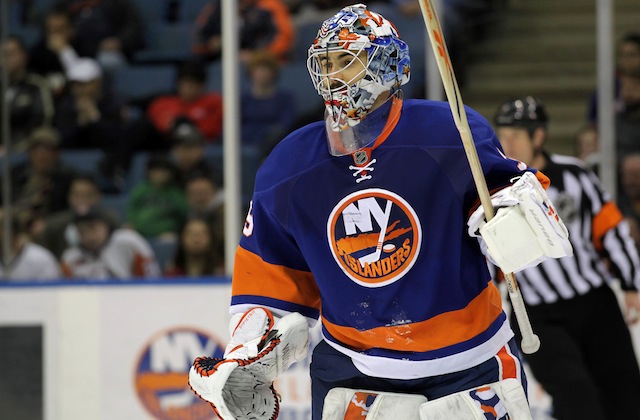 More NHL offseason: Rumors | Top 50 Free Agents | Top 50 Prospects | Mock Draft
The Rick DiPietro era in New York came to an end on Wednesday when the Islanders confirmed they have used a compliance buyout on the remainder of what has to be one of the worst contracts in NHL history.
If not the worst.
Though the Islanders will still be paying him $1.5 million per year through 2029 to not play for them, they will clear $4.5 million in salary cap space off their books. 
"It was an extremely tough decision to use the compliance buyout on Rick's contract," general manager Garth Snow said in a team statement. "His drive to win games and compete at the highest level for the New York Islanders was never questioned. With Rick back at 100-percent health, we wish him nothing but the best as he continues to pursue his career."
Just before the start of the 2006-07 season, the Islanders signed DiPietro, the No. 1 overall pick in the 2000 entry draft, to a massive 15-year, $67.5-million dollar contract extension that was supposed to keep him with the Islanders through the end of the 2020-21 season.
There admittedly is a lot of hindsight in this last stroll down Memory Lane for DiPietro and the Islanders, but it's still pretty amazing to look back on this contract and the events that preceded it. Heck, the only reason the Islanders were using that top pick on DiPietro was because, under the watchful eye of then-general manager Mike Milbury, they traded Roberto Luongo (along with Olli Jokinen!), previously a top-five pick and one of the best young goalies in the league, to the Florida Panthers for Oleg Kvasha and Mark Parrish.
A 15-year contract for any player at any position was a major risk, and the new CBA even eliminated contracts that go beyond eight years. For a goalie, the most unpredictable and volatile position in the league, it's complete madness.
Especially when the goalie in question hadn't yet proven to be a clear No. 1 in the NHL.
DiPietro's Islanders career will no doubt be defined by the endless string of injuries that sidetracked him over the past five years. Those injuries started to pile up just two years into his mega-deal. After appearing in 60 games in each of the first two years, DiPietro was limited to just 50 -- total -- over the ensuing five years, including just three this past season.
Make no mistake, there was a lot of bad luck at play for both the Islanders and DiPietro. Those are the risks a team assumes when it goes all in on a player with a contract that goes on for a decade and a half.
But what really stands about this contract seven years after it was signed was why the Islanders were so confident in handing it out in the first place.
"This is not a big deal," owner Charles Wang said the day the contract was signed. "You have to have a commitment to who you're working with. I've done this all my business career. Now I'm doing it in sports, and everybody is like, 'Oh, my God. How could he do that?' "
Commitment is fine, but this went far beyond commitment and started to border on insanity. At the time it was by far the longest contract ever signed in the NHL and was only matched in 2010 when the New Jersey Devils gave Ilya Kovalchuk a 15-year, $100 million deal. But looking back, it wasn't just the unheard of length or the dollar amount that was so shocking. It was also the fact that DiPietro, at that point in his career, was still a relatively unknown commodity.
They were not only paying for potential. They put the entire franchise on the shoulders of an unproven goalie. He was 25 years old, had spent just two full seasons in the NHL (and parts of two others) and faced just 3,846 shots. And while he still had the promise and potential of a No. 1 overall pick, he hadn't yet played at that high of a level.
DiPietro was coming off a 2005-06 season that saw him post a .900 save percentage, a mark that was tied for 25th in the NHL with Marc Denis, Peter Budaj and Jason LaBarbera and was similar to what he had done over the first three years of his career.
He made his NHL debut during the 2000-01 season and, starting from there and going up through the end '05-06 season, his career save percentage to that point was exactly .900. How did that compare to his peers at the time? Of the 57 goalies who had appeared in at least 82 games over that stretch, DiPietro ranked 48th. He wasn't just an unproven goalie at that point; he had actually been one of the worst ones in the NHL.
DiPietro isn't at fault for the mess that it turned out to be.
Injuries happen, and he simply signed the contract that was offered to him. It was all on management and ownership for allowing it to happen, and it wasn't the first time that it happened. That was just a few years after Alexei Yashin was given a 10-year contract shortly after he was acquired from the Ottawa Senators. That, too, ended with a buyout that the Islanders are still paying ($2 million per season) for two more years. It was all part of a series of moves that led to some ugly years for one of the NHL's proudest franchises, that they're just now starting to dig themselves out of.