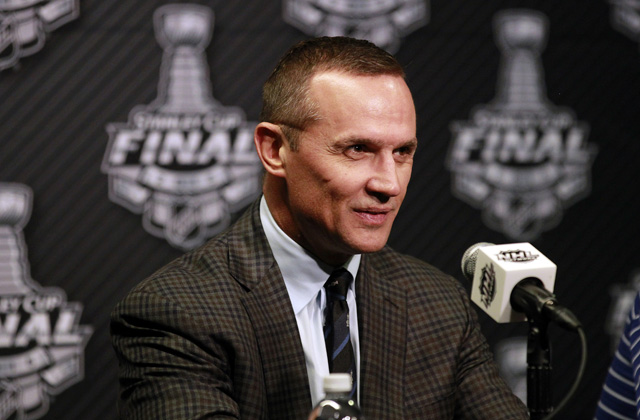 Steve Yzerman is widely regarded as one of the finest captains in NHL history after a stellar 22-year run with the Detroit Red Wings. On the banner honoring his retired No. 19 in Joe Louis Arena also includes a "C" on it, just to let everyone know that he is forever and always the Red Wings' captain.
Some consider Chicago Blackhawks captain Jonathan Toews the modern-day version of Yzerman, who hung up his skates after the 2005-06 season. Since Yzerman is now the general manager of the Tampa Bay Lightning, the team taking on Toews' Blackhawks in the Stanley Cup Final, that was a topic for conversation at media day Tuesday.
Yzerman doesn't agree with the comparison. It's not that he's offended by it, he just thinks Toews is better than he was.
"The reality is Jonathan is bigger, stronger, better. He just is," Yzerman said during his press conference alongside Lightning head coach Jon Cooper. "Just a tremendous all-around player, great person.
"Over the course of my career, my play evolved and became -- through Scotty Bowman, I guess, the way he wanted our team to play -- all of us became kind of more defensive-minded players, more well-rounded players.  Jonathan has been that since Day 1, since he came in the league. He's a complete hockey player. 
"Again, he's bigger, stronger than me. I'm not sure I could even take him in a race either. He's probably faster. Just a better hockey player."
If Tampa-area gas stations are looking for their industrial tire pumps, maybe check Yzerman's office. That's some serious praise from the Tampa GM, who has had plenty of personal contact with Toews over the years.
Yzerman recalled the first meeting with Toews when he selected the talented center for Canada's national team right out of college for the 2007 IIHF World Championship. The Lightning GM noted that even at that young age, Toews was one of the best players on the squad.
On top of that initial connection, Yzerman selected Toews twice to be part of the Canadian Olympic teams in 2010 and 2014 when he was the team's general manager. Toews scored in each of the gold medal games as Canada claimed the top prize each year.
So what does Toews think of the other No. 19's comments? He politely disagrees whole-heartedly.
"Steve is a very complimentary person," Toes said during his media session Tuesday. "I think everyone here knows it's pretty much not true."
Toews still has a long way to go to catch Yzerman's longevity and effectiveness over that long period of time, but Chicago's captain is at least heading in the right direction to be considered among the greats in the game.
If The Blackhawks manage to knock off Yzerman's Lightning, Toews will have hoisted the Stanley Cup three times as a captain. That would match the number of times Yzerman did the same with the Red Wings over his career. However, Toews' previous titles each came before the age of 25. The Red Wings didn't win a Stanley Cup with Yzerman until he was 31 years old and a veteran of 13 NHL seasons.
With the differences in era, it's difficult to compare, but by the time Yzerman had completed eight seasons, he had 800 points in the NHL. Toews is at 506 after his first eight years in the league. Both are former Selke Award winners as best defensive forward and each has a Conn Smythe Trophy as playoff MVP. Then there are those Stanley Cups, of course.
Let's just suffice it to say that both were exceptional players in their respective eras, duly earned the respect of their peers, fans and media, and are at least in a similar discussion together. It sounds like we aren't going to get them to agree on who is or was better. It's the polite Canadian in them, probably.