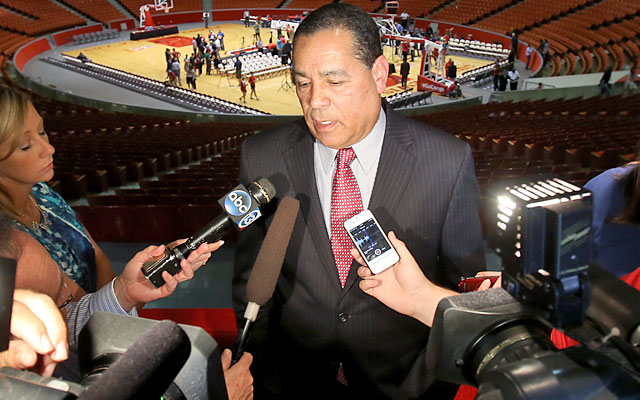 HOUSTON -- The first thing you see in Kelvin Sampson's office is the ladder. It is standard issue aluminum, suited for changing a light bulb or dusting the top of that hard-to-reach book case.
Mostly, it looks like clutter -- like the overnight clean-up crew forgot ... to clean up.
But look closer and there is meaning. There is a piece of stationary bearing Oklahoma letterhead attached to the ladder. There is a message too.
"Congratulations!" it begins, "I hope you'll need to use this a lot during your journey as a Houston Cougar.
Joe."
Now the significance of a random aluminum ladder cluttering up a major-college coach's office becomes clear. It is symbolic, it is karma, it is love.
"Joe" is Oklahoma AD Joe Castiglione. Shortly after Sampson was hired at Houston in April, the gregarious Joe C had a perfect idea for the perfect office-warming gift. The only question was if FedEx could accommodate his idea.
"I was thinking, 'What was he going to do with a plant?'" Castiglione said. "I started thinking a small [ladder], but it would mess with the symbolism.
"He couldn't reach the net with a small ladder."
Sampson is back in the college game, so are his 496 career wins. In April, Houston AD Mack Rhoades took a chance on a proven coach with proven NCAA baggage.
Sampson, Houston, the American Athletic Conference and college basketball are different because of it. There is no doubting he would be a head coach again. The only question was NBA or NCAA.
Because it's hard to rehab a reputation.
For 12 years Castiglione and Sampson were a marvelous and powerful partnership. Sampson -- at a football school -- coaching the Sooners to 11 NCAA tournaments and a Final Four (2002). Meanwhile, Castiglione was wallowing in broad-cased athletic success at that football school.
The ladder recalls a partnership and relationship that life- and career-altering events won't change.
"He and I won three straight Big 12 championships," Sampson said. "Joe was there for every one. Joe always had a metaphor. That ladder was always a big deal to him."
When it was time to cut down the nets again, that ladder would be broken out and Castiglione would remind his coach: "Remember all the people's hands that have been on that ladder, that put you in a position to cut down the nets -- academic, alumni, key administrators, secretaries.
"There's a lot of hands," Castiglione emphasized, "on that ladder."
Sampson is back in college after what can only be called an exile. Indiana fired him in February 2008. The NCAA slapped him with a five-year show-cause penalty following a second investigation for a second round of violations for impermissible phone calls. The first violations had come at Oklahoma.
If Sampson wasn't toxic in the college game, he was pretty darn close. Two major violations at two different schools for the same thing.
"The whole thing was unnecessary," said Sampson, recalling the episodes one more time. "That's the thing that eats at you more than anything else. People can think what they want. I know what my intent is. My intent was never to gain an advantage."
Indiana and the NCAA thought otherwise. There were records showing hundreds of calls to prospects outside the prescribed recruiting periods.
What eventually made it all so galling was the NCAA since has changed its rules. Essentially, what Sampson did is now legal. Coaches can make unlimited calls and texts to recruits following a prospect's high school sophomore year.
"Everything he did," Rhoades said, "was allowed ... Yes, those rules are no longer applicable but rules are rules."
"It's almost laughable," Sampson said, before reconsidering. "That wouldn't be a good word."
No one can give him those five years back. A show-cause is the NCAA's scarlet letter. If a school hires a coach branded as such, penalties can follow the accused to his new place of work. Who wants that aggravation?
Houston became interested last spring when James Dickey stepped down. The show-cause had expired in 2013. By that time Sampson was chasing an NBA dream. Spurs coach Gregg Popovich called within days of his Indiana firing.
Sampson had an undefined role. Consultant, whatever, it didn't matter Popovich said. The legendary coach just wanted Sampson as an extra pair of eyes. Popovich picked up and dropped off Sampson after games. Game post-mortems would sometimes end with them in the car, Pop calling players.
"Kelvin has a good observation ..."
Sampson couldn't believe his critiques were being relayed to Tim Duncan or Manu Ginobli.
"Look at the experience I was getting," Sampson said. "I was so appreciative of that. I was praying, asking the Good Lord to take care of my family, [telling him] 'Thank you for giving me a good friend like Pop.'"
That lasted a couple of months. Milwaukee called in May 2008 and hired him as a full-fledged assistant. That led to a gig with the Houston Rockets.
"My heading was NBA head coach," Sampson said. "I didn't want to be back in college for a lot of reasons."
But life intervened. Sampson's parents -- Ned and Eva -- died within five weeks of each other earlier this year. In January, cancer had spread to his mother's brain. Dementia already had set in.
"She may know you," Sampson recalled, "Two hours later she may not."
When hospice workers back home in North Carolina broached the subject, Sampson had to ask his father, "Would you like momma to die here or go to the hospital?" Ned Sampson -- his son's rock and mentor -- said they would lie there together until the end. Their house, their son said, had been turned into a hospital room.
Ned died those five weeks later on Feb. 18.
Sampson always would call his father after games. Sometimes that meant pulling the team van over in the dead of winter at Montana Tech. That's 30 years ago, no cell phones. No heat in phone booths either. A two-hour time difference didn't matter.
"Mom would always say he wouldn't go to sleep until I called," Sampson said.
Two days before Ned passed, father and son talked for the final time. The air was clearing around Kelvin's career. College coaching interested him again.
"He told me things I was good at," Sampson said. "Basically, he told me I'd be good at those things again."
And so he was. Opportunities opened. Circumstances changed.
Dickey resigned at Houston after four seasons. Rhoades made a bold decision, one he had to sell to his president and regents. He would pursue a proven winner twice penalized by the NCAA.
"Did the show-cause matter? Sure it mattered," Rhoades said. "We talked to a handful of people at every institution, at Oklahoma, at Indiana, at the NCAA.
"He's really a good person who made some mistakes. Now he wants to prove to everybody he wants to run a first-class basketball program."
It is fairly amazing Houston hasn't won an NCAA Tournament game in 30 years. The Cougars have been to the dance only four times since.
The memories are faded. Clyde Drexler's jersey is in a glass case in the school's Hall of Fame. An entire wall is dedicated to greats such as Drexler and Hakeem (he was Akeem then) Olajuwon. The program still plays in ancient Hofheinz Pavilion. A practice facility is in the works.
"I didn't realize how bad the facilities were ...," Sampson said. "I'm going to hold these people accountable for the facilities because they told me they were going to do it. A lot of people here talk about Phi Slama Jama. I love Phi Slama Jama, but we still have the same locker room they had."
In a moment, though, Sampson flips and talks about the possibilities. He's at a program and in a conference where he can win. The defending national champions (UConn) play in the American. SMU is resurgent. Cincinnati and Memphis have been national powers.
So was Houston a long, long time ago. Maybe coach and program need each other. Both wounded, both healing together.
"There's a commitment to this which tells me there's hope. You can win here," Sampson said. "You can't skip steps on that ladder."
Houston's new coach then looks over to Joe C's gift, the one that FedEx squeezed into a box, the one that came with the letter.
"One of these days, we'll be climbing that ladder."