CBS sets Alabama-LSU rubber match for 8 p.m. ET kickoff on Nov. 3
The biggest game of the college football season is back in primetime. Adjust your travel, viewing and meat-smoking schedules accordingly.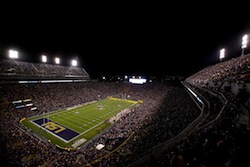 Alabama and LSU fans don't need any extra time or incentive to whip themselves into a proper frenzy, especially when it involves playing one another. But this fall they'll have both: For the second year in a row, CBS has designated the 'Bama-LSU tilt as the lone primetime game on the network's SEC schedule, setting the
Crimson Tide
's trip to Baton Rouge for a
8 p.m. ET kickoff on Nov. 3
. Adjust your travel, viewing and meat-smoking schedules accordingly.
It's impossible to imagine a bigger, more intense stage than last year's regular season showdown in Tuscaloosa, a blockbuster pitting No. 1 vs. No. 2 after weeks of hype. LSU prevailed in appropriately dramatic fashion, escaping with a touchdown-free, 9-6 win in overtime. From there, the Tigers ran the table through the SEC Championship Game and into their third appearance in the BCS Championship Game.
As it turned out, the only team good enough to beat the SEC champion in the main event was the SEC runner-up. Alabama's 21-0 revenge romp for the BCS crown marked the conference's sixth consecutive win in the title game, and also its first loss in nine appearances since the BCS lurched into existence in 1998.
This year, all signs point to LSU as the favorite to top the preseason polls in August, although the Tigers are facing a new starting quarterback and a significant exodus of talent to the NFL. As are the Crimson Tide: Between them, LSU and Alabama lost 13 players in April's draft, eight of them in the first two rounds. But both are bound to start the year ranked in the top five, and both will be favored to come into Nov. 3 with perfect 8-0 records. If they fulfill the hype again, the only way the rubber match could be bigger is if the election was riding on it.
Craig Kuligowski is reportedly leaving Miami to take the same job with Alabama

BT Potter is about to be very popular in the Clemson locker room

McElwain will coach receivers and help coordinate the offense for the Wolverines
Nathaniel Watson Jr. was involved in a car accident that injured a passenger in early Febr...

The honorable Tom Fornelli presides over the ASU vs. UM case

Arkansas State is seeking $650,000 for a canceled home game last September due to Hurricane...