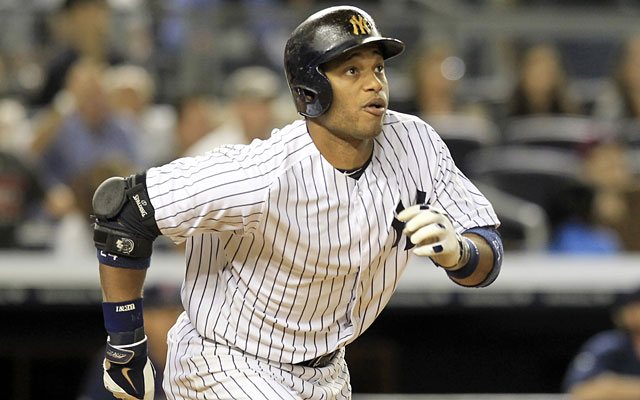 Star second baseman Robinson Cano asked the Yankees for a record $300 million contract in negotiations within the past couple of weeks, and with the Yankees not offering in that ballpark, the sides understand he will test the free-agent market.
Cano's request is said to cover 10 years, meaning he's seeking to become baseball's first $30-million-a-year player. Sources confirm the request was for $300 million, or slightly over that amount.
Cano, a five-time All-Star, was believed all along to be seeking a deal in the range of Alex Rodriguez's record $275 million deal, so it isn't necessarily a major surprise he would seek that figure. Rodriguez was looking for something in that range before signing the deal with the Yankees after the 2007 season following his decision to opt out of a 10-year, $252 million contract.
Cano is in good position as the top free agent in a market flush with cash. However, it isn't known whether any team would pay in that range.
The Dodgers, the top candidate to spend, would like to lock up star pitcher Clayton Kershaw. The Cubs like Cano very much but see themselves as a year away from contention and are reluctant to give a very long contract to a player over 30. Cano, who finished in the top six in MVP voting the past three years and may do so again after another productive season this year (.315, 27 home runs, 106 RBI), is 30 and will turn 31 next month.
The Yankees have said they do not want to repeat a contract of Rodriguez's size. They obviously now view Rodriguez's contract as an error, though his career path took its own turn with the steroid revelations and two hip surgeries. Cano is healthy and has never been linked to anything untoward.
Word has been the Yankees made a "substantial" offer, but it apparently isn't close enough to keep negotiating.
Earlier the Yankees were believed to be trying to use David Wright's $138-million deal as a comp, though now that Cano is aabout to be a free agent, the equation changes a bit. The Yankees are believed willing to go higher than that considering the need to keep Cano.
The Red Sox also gave Dustin Pedroia a $100-million, even-year extension, but Pedroia but Pedoria wasn't a free agent, either. Other possible comps may include Mark Teixeira ($180 million, eight years) and Prince Fielder ($214 million, nine years).
Free agency has seemed like a likelihood for months, as was reported here in June.
Cano's agent, Brodie Van Wagenen said, "Out of respect for both parties, we have agreed all along with the Yankees not to comment publicly on discussions regarding Robinson's contractual future and I will not comment any further whether there have been offers by either side. As Robinson said yesterday he hasn't made any decisions on his future. Robinson is among the elite talents in the game and in the final few days of his contract, but he and I will continue to respect the process and our promise not to discuss specifics."
Yankees general manager Brian Cashman also said he is not commenting.
The Yankees' first offer, made in spring training, is thought to have been for about $140 million over seven years. But they raised their bid in a recent session, presumably at about the same time Cano's camp made its request.
Cano told some friends he would prefer to stay with the Yankees sometime in the past year. "He'll be a Yankee," one former teammate predicted a few months ago.
However, it may be a long road of negotiations before anything is settled.
ESPN first reported the request was for $305 million.