Bradley Beal's teammates call him 'Big Panda' because he eats a lot
The Big Panda is devouring opponents lately. Or something.
• 1 min read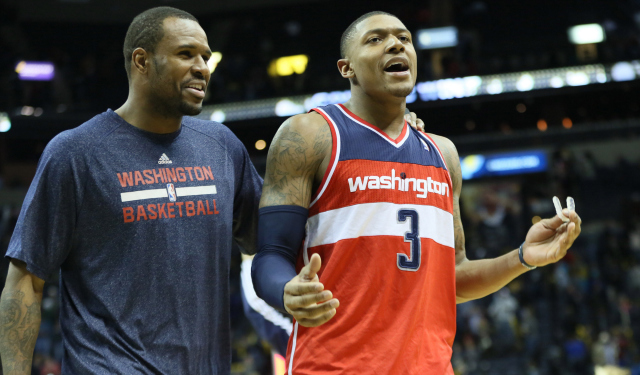 More NBA: Season Awards | Grades: East | Grades: West | Seasons in Review
The Washington Wizards call guard Bradley Beal "Big Panda." This was first revealed back in December:
Garrett Temple said #wizards have given Bradley Beal the nickname, "Big Panda." Why? Beal: "Because I eat a lot, like a Panda bear."

— Michael Lee (@MrMichaelLee) December 17, 2013
Somehow, it took amost five whole months for someone to follow up on this. The Washington Post has more details, including the fact that he's a "big pizza guy," a fact offered by John Wall and corroborated by his backcourt partner. Kings guard Isaiah Thomas better hope Beal is never traded to Sacramento, lest he lose his endorsement deal.
"Whenever we go out to eat, he might get the biggest meal, and he's gonna finish it," Wall explained. (Pandas also apparently eat a lot.) "Sometimes I'm gonna be honest and I'm like, 'Man I can't finish, I've got to take it to go,' " Wall continued. "He finds a way to be the only one to finish his meal."

"You got to get your second wind," Beal chimed in.

"He finds his second wind," Wall agreed. "It's like playing in Denver, he finds that second wind and he keeps going."
Beal has been phenomenal in the playoffs, averaging 20 points, five rebounds, five assists with a true shooting percentage of 56.7 percent.
Anthony Davis
is still the best of the beunch from the 2012 draft and
Damian Lillard
also made the All-Star team this year, but
Beal's development
means he's right there with
Andre Drummond
in the future-star category. It's also now worth discussing who has the better nickname: Big Panda or
Big Penguin
?
The reserves will be drafted playground style by LeBron James and Stephen Curry

Seven players from each conference will join the starters

A report last week indicated Charlotte is looking to move Walker, along with one of its hefty...
Barea responds by claiming that none of Wall's teammates like him; the Wizards continue to...

Cousins finished with 44 points, 24 rebounds, and 10 assists

Love left Saturday's game, which the Cavs lost 148-124, due to illness