Back in 2011, the Philadelphia Eagles signed a slew of big named free agents, including Vince Young, who decided Philly needed a nickname -- so he came up with one: The Dream Team. 
Not original, but it stuck. 
The "Dream Team" included newly signed free agents Jason Babin, Nnamdi Asomugha, Cullen Jenkins, Dominique Rodgers-Cromartie, Johnnie Lee Higgins, Ronald Brown, Donald Lee and Steve Smith -- Not that Steve Smith, the other Steve Smith -- and of course, Young.
"Dream Team," Young said when asked his thoughts on the Eagles free agent class in 2011. "From Nnamdi to Cromartie, to Jason to myself. I know they are going to do some more things...  It's just beautiful to see where we're trying to go."
Four years later, the Dream Team that only brought nightmares to Philadelphia has officially been dismantled.
With the release of Evan Mathis on Thursday, there are no players left from the 2011 free agent class on the Eagles current roster, which is probably a good thing because the Dream Team combined to go 12-20 before Chip Kelly's arrival in 2013. 
So what happened to Philly's high-priced free agents? 
Let's take a look. 
Asomugha: The veteran corner signed a five-year contract in 2011, but didn't make it through that deal. Asomugha was cut in March 2013 and will mostly be remembered for being horrible in Philadelphia. He did get a Sports Illustrated cover for this struggles though.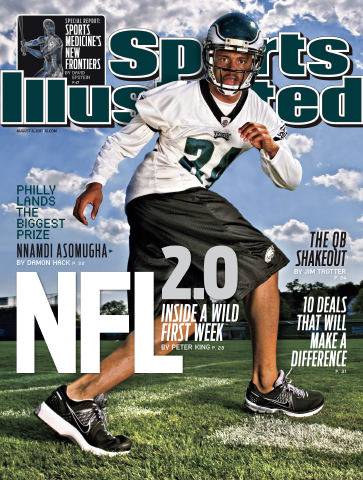 Babin: Like Asomugha, Babin also signed a five-year deal and like Asomugha, he was cut before Year 3. As a matter of fact, Babin didn't even finish Year 2 in Philly. The Eagles cut Babin IN THE MIDDLE of the 2012 season, just one year after he had tallied 18 sacks for the team. It was probably a sad day for Babin because he's one of the people who actually embraced the Dream Team nickname. 
Before the season @JasonBabin93 tweeted "I feel like we're the Miami Heat of the NFL." You got that right!

— Darren Rovell (@darrenrovell) December 2, 2011
Brown: Although the running back only signed a one-year deal with the Eagles, he almost didn't make it through the end of his contract. In October 2011, Philly tried to trade Brown to Detroit, but the trade was voided after a Lions player failed his physical. Brown ended up finishing the season with the Eagles, but left via free agency after one year. 
Higgins and Lee: Both players signed one-year deals and both were cut before the 2011 season started. Higgins never played in the NFL again, while Lee ended up playing in nine more games, which all came with the Bengals in 2011. 
Jenkins: Jenkins signed a five-year deal and if you've read this far, you probably already know what happens when a guy from the Eagles 2011 free agent class signs a five-year deal: He gets cut well before the deal is over. Jenkins was released in February 2013, after only two seasons in Philly. 
Smith: The Eagles paid Smith $2 million for nine games and 11 catches in 2011. I'd say he got the better end of that deal. Smith left via free agency after the 2011 season.  
Rodgers-Cromartie: Rodgers-Cromartie ended up in Philadelphia after the Eagles acquired him in a trade with the Cardinals. The cornerback then left the team via free agency in 2013. Considering the Cardinals got Kevin Kolb in the Rodgers-Cromartie trade, I'm going to go ahead and say both teams lost in that deal. 
Young: The man who came up with the Dream Team moniker only lasted one season in Philly. After his stint with the Eagles, Young decided to spend all of his money at Cheesecake Factory. That's not exactly a joke either, he was reportedly spending $5,000 a week there in 2012.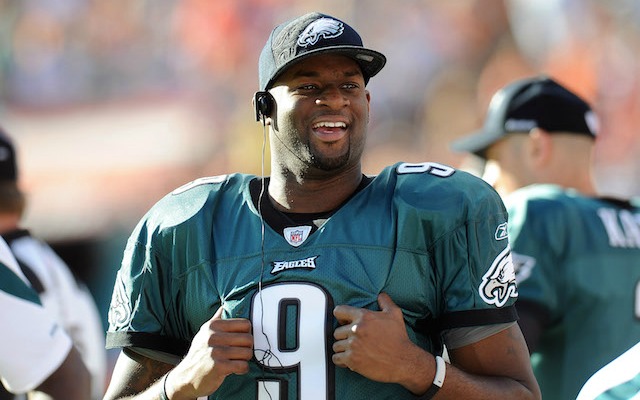 Mathis: The left guard originally signed a one-year deal with Philly in 2011, before signing a five-year extension in 2012. Ironically, Mathis lasted the longest with the Eagles even though his garnered the fewest headlines when he signed with the team in 2011.  
We can also probably include Michael Vick in this group since he signed a contract extension in 2011. Obviously, he's no longer with the team. Or any team.  
The moral of the story here is "don't let Vince Young come up with your team's nickname."
Man i wish we had the damn Eagles on the schedule. All this "Dream Team" talk is killin me..

— Jermichael Finley (@JermichaelF88) August 2, 2011