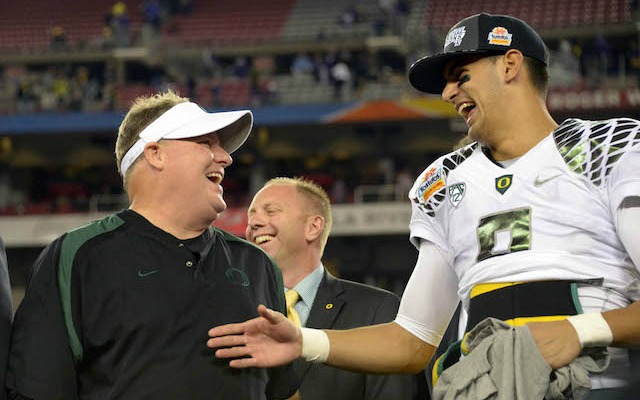 Going into the 2015 NFL Draft, it was pretty clear that Chip Kelly wanted to land Marcus Mariota. 
The big problem for Kelly was that the Eagles were picking at No. 20 and there was no way Mariota was going to last past the No. 2 pick. 
Moving up 18 spots in the NFL Draft isn't easy, but Kelly definitely tried, and he tried hard. According to Peter Schrager of Fox Sports, the former Eagles coach basically offered the Titans anything they wanted.  
And I mean anything.
"Last year the Eagles offered the Tennessee Titans a 2015 first-round pick, a 2015 second-round pick, a 2016 first-round pick," Schrager said on the Herd with Colin Cowherd. "They said 'take any of our quarterbacks' -- that's Bradford, that's Sanchez, that's whoever -- 'and take anyone on our defense; we want that No. 2 pick.'"
Basically, if the Titans had taken the deal, they'd have received the 20th and 47th picks in the 2015 draft plus the 13th overall pick in the 2016 draft plus Bradford or Sanchez plus any defensive player of their choosing.
The Titans probably also could've gotten every Philly first-round pick for the rest of time if they had asked. Plus, they probably could've gotten Kelly to throw in free cheesesteaks for life. 
The deal didn't go down though and that's because the asking price was too "steep," according to Kelly. In the end Kelly didn't get his quarterback, then he lost his job and now he's going into the 2016 draft with a new team. 
Even worse for Kelly is that he still has a quarterback issue, this time in San Francisco, and it's a problem that doesn't look like it's going to be solved anytime soon.