Risers and fallers for Week 2 of the preseason. (US Presswire/AP)
The second week of the NFL's preseason is (almost) in the books, and while there's only so much that can be gleaned from production during brief periods of times against defenses that aren't necessarily playing at full speed, there are still plenty of value shifts around the league.
Let's take a look at some. Don't forget to let me know who I left out in the comments (and make sure to do so angrily, otherwise it doesn't count) and/or put your top choices there as well.
Chris Johnson, RB, Titans -- Johnson got killed during a lackluster 2011 for his yards-related nickname, but against the Buccaneers, he definitely looked a lot more like "CJ2K" than he did during all of last season. The "it's only the preseason" caveat definitely applies here, of course, because he went against the Buccaneers defense, but some of his cuts were just sick. It's nice hearing him admit that missing training camp really hurt him too.
Wayne Hunter, T, Jets -- I'm not sure that Hunter's stock was ever up, but it bottomed out on Saturday night when he did his matador impression against the Giants. If you had to pick one goat of the weekend, it was the Jets pass protection (Tim Tebow and Mark Sanchez were sacked seven times) and Hunter's the posterboy for bad blocking in New York. There's just a little bit of talk about the Jets quarterback situation, but the reality is that they have many more problems on that roster than Tebow vs. Sanchez. Hunter is one of the biggest ones.
Andrew Luck, QB, Colts -- He was here last week but Luck's performance on Sunday night is worth of a little repetition. Yes, he threw two interceptions against Pittsburgh, but they're not too concerning. Here's why: the first pick was terrible all the way around. Luck stared down Reggie Wayne the whole way and got torched for Ike Taylor, who took the pick to the house. So Luck "scored" on his first pass and his first interception, but more importantly, he showed a lot mettle to bounce back and lead the Colts on an impressive drive down the field. The second pick was simply T.Y. Hilton's fault. And he also happened to score a rushing touchdown on a triple-option zone read play on fourth down. Maybe he's the next Cam Newton.
Kevin Kolb, QB, Cardinals -- Kolb may very well be correct that he's not "scared." In fact, by the very nature of him getting under center and taking the hits he does, he almost can't be "scared." But that doesn't mean he's played well while trying to win the Arizona job, which is kind of what Tommy Kelly was hinting at. (Skittish certainly seems more fair.) 5-of-15 for 47 yards and a pick is simply not the sort of numbers that will even manage to beat out John Skelton. Which means Kolb really needs to step things up between now and the end of the preseason.
Atlanta Falcons Offense -- Pick your delicious poison between Matt Ryan and Julio Jones here, because both guys have looked electric in the early-going. Ryan's gone 27-of-34 for 329 yards and is averaging 9.7 yards-per-attempt. Jones has 150 of those yards and a score and could really be poised for a monster year. Sleeping on Roddy White (eight catches, 100 yards) would also be silly.
San Diego Chargers Offense -- The Bolts will be good as long as Philip Rivers is upright; we've seen proof of that as recently as 2010. But he's now lost the two biggest potential breakouts on the San Diego offensive unit in Ryan Mathews and Vincent Brown. Mathews says he'll be back by Week 1 ("no doubt" even), but last I checked, he's not a doctor. And Brown, who just underwent surgery, could miss more than two months. Lot of important flies dropping for San Diego on offense right now.
Chicago Bears -- If you're the type of person who's worried about Brian Urlacher's injury, or, ahem, bearish on Chicago's defense regressing a little bit, that's OK. Because for the moment, it looks like it won't be as big an issue, what with Jay Cutler and Brandon Marshall doing their best impersonation of themselves from their Denver days. Cutler, who missed the first preseason game, looked spry, sharp and enthused about a new offensive system. Marshall looked rejuvenated to be playing with his old buddy. Oh, and hello there Alshon Jeffrey, who might very well end up being a very good pick for Chicago. Is this offense suddenly quite explosive?
Brown gets his levitation on. (AP)
Mike Wallace, WR, Steelers -- Wallace is reportedly close to returning to the Steelers, but Pittsburgh isn't exactly geeking out about their need to have him join the team. They signed Antonio Brown to an extension this offseason and then they made sure to feed him the ball on national television on Sunday night. Obviously the Steelers want to get Wallace back in the fold, but there shouldn't be any notion that he's going to remain the top target in that offense once he returns. Pittsburgh appears willing to move on without him. Oh, and this picture to the right of Brown scoring a touchdown upside down by the AP's Don Wright (who I incorrectly tweeted out as Don Brown) probably deserves an up arrow of its own. But I'm out of room so I'm mentioning it here.
Jacksonville Jaguars* -- If you saw Blaine Gabbert's performance coming, you're either a) a Jags homer, b) Mike Mularkey, c) a liar, or d) Pete Prisco. ("All of the above," by the way, is a terrifying football Frankenstein I never want to meet.) Gabbert looked cool, calm and collective against the Saints. And while overreacting to a pair of preseason games is the definition of insanity, not only did I give you a disclaimer, but you can just see a difference in the Missouri product this year. It doesn't hurt that guys like Rashad Jennings are stepping up and producing with a certain someone missing. Also not hurting: Justin Blackmon looks like he's ready to make people forget about his nightmarish preseason.
*Maurice Jones-Drew, RB, Jaguars -- Rough week for last season's leading rusher, huh? His team looked great without him, Jennings looked like he could take his job, and while the Jags were dogpiling the Saints in the first half, his owner Shahid Khan was taking part in an interview where he shrugged off MJD's holdout as something that "doesn't even move the needle." Neither one of these sides really feels like they're bluffing a whole lot, right? And if, as reported, MJD isn't going to get $600,000 back in fines for missing training camp, this thing could legitimately drag out for a while. I'm just about taking him off my board in fantasy.
Peyton Manning's Two-Minute Drive: Something really seemed to click with Peyton when a) the Broncos started working in crunch time, and b) he took his first hit of the season against the Seahawks. Although there was definitely a second before everyone began rejoicing ...
I got hit! I got hit! I'm still on my neck! #Broncos

— Peyton's Head (@PeytonsHead) August 19, 2012
Manning was fine and kept rolling down to the end zone. The drive should've resulted in six points, but Jacob Tammedropped a ridiculously easy touchdown pass. Seeing Manning get in a rhythm and start rolling in his element was a pleasant thing indeed ...
Peyton Manning's Deep Ball: ... But it wasn't all sunshine and rainbows for the new Broncos quarterback. He threw one bad interception (the other on Saturday night, an incredible tip by Red Bryant, wasn't his fault) and on his two deep attempts, he definitely looked off. There's a reason we haven't see Manning take a ton of shots down the field, and might not for a while longer: his arm strength isn't completely back. That shouldn't be breaking news, but if he's not able to test defenses deep, it will certainly change the way that they play him early on.
Russell Wilson, QB, Seahawks: The nation, one geographic pocket at a time, is falling in love with Wilson. First it was North Carolina. Then it was Wisconsin. Now it's Seattle, and there aren't that many folks out there who will tell you that Matt Flynn is definitely better than Wilson. The rookie looked like anything but that against Denver, orchestrating three touchdown drives, throwing for two passing TDs himself and just missing on a few deep balls. Of course, unlike Flynn, he was lucky enough not to be throwing to ...
Terrell Owens, WR, Seahawks: Owens first live-game audition for the 'Hawks did not go well. At one point, Flynn was 4-of-9 and T.O. had been targeted five times. Guess which five times they were based on Flynn's stats. Yup, the ones that weren't caught. Two were drops -- including an embarrassingly bad touchdown drop: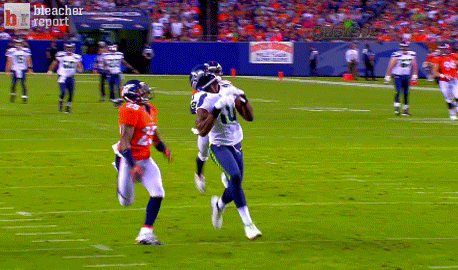 That pass, a beautiful deep ball from Flynn, hit Owens in the breadbasket and he just completely egged it. Whether that's rust, nerves or whatever, it's not the type of thing that you want to do when trying to make a roster, especially when Seattle appeared to be going out of their way to feed him the ball in the first half.
Audie Cole, LB, Vikings -- Cole's was just a seventh-rounder in the past draft and when you're a guy in his position fighting for a roster spot, a good thing to do is pick off a pass and take it to the end zone. A better thing to do is pick off the very next pass and do the same thing. Can't say I ever remember any player, much less a linebacker, pulling of back-to-back pick-sixes in the NFL before.
Graham Harrell, QB, Packers -- If Harrell has an impact this season, the Packers are already in a world of trouble, because it means Aaron Rodgers is hurt. But a hallmark of Ted Thompson's tenure in Green Bay has been keeping a quality backup quarterback on the roster. Rodgers was the future behind Brett Favre and while other teams weren't salivating over Matt Flynn until late 2011, it's clear why Green Bay was confident in having him back up Rodgers.
Ryan Williams, RB, Cardinals -- I can't say I'm driving the Lil' Sweetness bandwagon, since Dave Richard, CBSSports.com's fantasy guru, has been behind the wheel for a while. But I'm definitely on the ride, and Williams showed why over the weekend. Less than a calendar year after tearing his patellar tendon, Williams rushed five times for 25 yards including a score. And all the while Beanie Wells was nowhere to be seen thanks to injury. People keep talking about a committee in Arizona, but I'm not so sure Williams couldn't just hijack the majority of carries.
Jonathan Martin, T, Dolphins -- Miami used the 42nd overall pick in the 2012 draft on Martin, who spent his career at Stanford protecting Andrew Luck. But the early returns on Martin, who's playing at right tackle thanks to the presence of Jake Long, indicate that Luck might've played a role in his success with the Cardinal (see what I did there?). Joe Philbin said Martin, who committed a pair of penalties and was beaten for a pair of sacks on Friday, wasn't "God awful," which is nice, I guess.
D.J. Smith, LB, Packers -- When Green Bay lost Desmond Bishop for the season, it was a big blow. But a little fellow could help them fill the void that Bishop's absence creates and Smith looks like the latest in a line of surprising Packers defenders who can step up and play a major role for a unit that needs to bounce back in a big way.
Jake Locker, QB, Titans -- There's a pretty good chance Locker ends up starting for Tennessee anyway, because they need to roll with the future now, and his mobility creates bigger running lanes for the aforementioned Mr. 2K. Plus, he's kind of been handed a free shot at winning the gig from Matt Hasselbeck this offseason. The problem is he did a terrible job taking advantage of that shot on Friday, playing about as poorly as he could against a really bad Buccaneers defense. It's not good when it's hard to tell if you badly overthrew one receiver or badly underthrew a different receiver on a single interception.
Trindon Holliday, KR, Texans: Just like you have to keep Cole for the pick-sixes, don't you kind of have to keep Holliday when he does this:
And this:
In the same preseason? Dude's a speedy weapon who can make you more explosive in the return game. He admitted you have to be "special" in order to make a football team as a return guy. But, uh, that's exactly what he's been so far.
For more NFL news, rumors and analysis, follow @EyeOnNFL on Twitter, subscribe to our RSS Feed and subscribe to our Pick-6 Podcast and NFL newsletter. You can follow Will Brinson on Twitter here: @willbrinson.