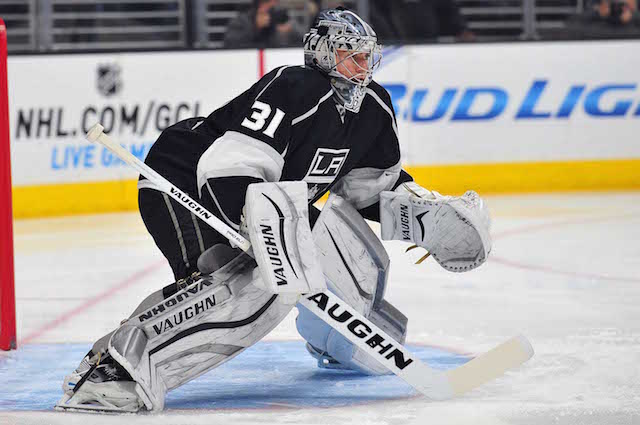 The Boston Bruins are not done dealing. 
The team completed another trade on Tuesday, their fourth in less than a week, when they sent goaltender Martin Jones to the San Jose Sharks in exchange for a 2016 first-round draft pick and prospect Sean Kuraly. 
Boston had just acquired Jones on Friday as a part of the Milan Lucic trade with the Los Angeles Kings. Because the Bruins already have so many quality goalies in the organization, including Tuukka Rask and Malcolm Subban, there really wasn't much room for him in Boston. Add in the fact he was a restricted free agent and the Bruins' cap situation there was also the chance a team in need of a goalie -- like, say, San Jose -- might have come along with an offer sheet for him. 
In the end, this means the return for Lucic in Boston is two first-round draft picks (No. 15 overall in 2015 and the Sharks' first in 2016) and prospects Colin Miller and Kuraly.
Considering that Lucic only had one year remaining on his contract that is actually a heck of a return for Boston.
The problem for the Bruins has been the other moves they've made over the past week, including the trade of young defenseman and emerging star Dougie Hamilton to the Flames for draft picks, giving Adam McQuaid more than $2.5 million per year over the next four years, and feeling the need to some reason trade a third-round draft pick for Zac Rinaldo.
The Sharks, meanwhile, were in need of a goaltender after trading Antti Niemi's free agent rights to the Dallas Stars during the NHL draft and then not acquiring any of the other goalies that were on the move, including Eddie Lack, Robin Lehner, and Cam Talbot. 
Jones, 25, has spent the past two years as Jonathan Quick's backup in Los Angeles and recorded a .923. His numbers dropped a bit this past season down to .905, but having only appeared in 15 games it's hard to make any sort of complete judgement on that. Any goalie can look great or bad in such a small stretch of games. 
The Sharks are now prepared to go into the 2015-16 season with Jones and Alex Stalock as their goaltending duo.