NHL rumors: Sabres trying 'to pursue a proper trade' with Ryan Miller
Before it was a matter of if not when for a Ryan Miller trade. Now it sounds like when as GM Tim Murray said the goal is to pursue a proper trade.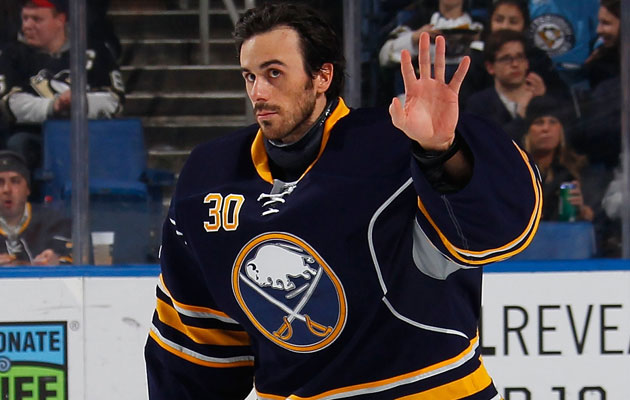 More NHL: Scores | Standings | League Leaders | Odds | Injuries | Power Rankings
Every game from now until the March 5 trade deadline will have a common theme for the Buffalo Sabres; was this Ryan Miller's final game with the organization?
From the sounds of it, the answer will be yes for one of Buffalo's three games before the deadline comes. Miller has been on the trade block for what feels like forever now but it's never been entirely clear if he would actually be traded before hitting free agency this summer. The last time GM spoke about Miller's situation, he said it was a matter of if they trade him, not when.
It sounds a lot more like "when" now after Murray spoke prior to Tuesday night's game (via NHL.com).
"The route we're looking at is to get value for him, to put him in a position to succeed as a ... good soldier [to the Sabres]," Murray said. "By trading Ryan to a contender, a good team that's lacking only his position, I think that we've certainly not done a disservice to him and helped the organization in our own right. Our goal right now I think, on both sides, is to pursue a proper trade."
Miller doesn't seem to mind very much either.
"I don't want to close anything off right now but I know they're kind of looking around for an opportunity, and I think that's probably best for everybody."
Next comes the matter of trying to find a team and the right deal to trade Miller and that's the tough part. Dealing goaltenders to contenders is always tough because usually contenders are set in net, it's close to a prerequisuite. There is also the issue of Miller's salary fitting under the cap and his status as a rental player.
Still, three teams keep hanging around in the hypotheses about Miller; the Blues, Wild and Capitals. Or maybe a deal could involve multiple teams; Darren Dreger of TSN reports there have been discussions of a possible three-way deal involving the Blues and Wild. These things change all the time so who knows, but what is clear is that it sure sounds like Miller will be playing his last game as a Sabre very soon. At least that's the goal.
Miller has been very good for a very bad Sabres team this season. His .923 save percentage and 2.72 GAA are strong all things considered.
Stacia Robitaille says Donald Trump told her in an elevator that she was coming home with...

Vladislav Yeryomenko was the Teddy Bear Toss goal scorer for the Calgary Hitmen

The Golden Knights are finally getting their No. 1 goalie back after a 25-game absence
Washington has won four straight, and the Kings are also on a tear right behind the Lightn...

The NHL says it's only interested in expanding to Seattle, but here's a look at all the moving...

The NHL says it is only looking toward Seattle for the next expansion team