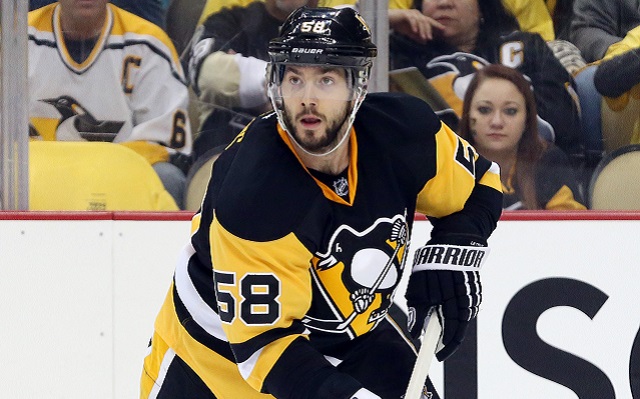 Pittsburgh Penguins defenseman Kris Letang will miss Game 4 of his team's second-round series against the Washington Capitals after being suspended one game by the NHL's Department of Player Safety. Letang's suspension comes on the heels of his late, high hit on Capitals forward Marcus Johansson in the first period of Game 3.
According to the Department of Player Safety's explanation, Letang was guilty of interference and made significant contact with Johansson's head on the play in question. He did receive a minor penalty for interference on the ice, but it seemed inevitable that there would be more coming. After Letang's hearing Tuesday, the league handed down their decision.
In the video, Patrick Burke of the NHL noted that Johansson was not eligible to be checked by the time Letang went to initiate contact. The puck was already away and Letang's contact came outside of the allowable window for finishing his check. Additionally, it is noted that while there is significant head contact, Johansson's head is not the main point of contact which is why this hit does not fit the description of an illegal check to the head. The other point that was made was that Letang's feet did not leave the ice before contact, eliminating charging as an additional infraction.
Here's the full explanation:
The lateness and the head contact combined are why this hit rose to the level of supplemental discipline. The league also took into account that Letang has been fined once and suspended once in his career. Additionally, it was also taken under consideration that Johansson was not injured on the play.
Some may wonder if this is too lenient, especially considering the three-game suspension Capitals defenseman Brooks Orpik received for his hit on Olli Maatta in Game 2. The Orpik hit was considered "excessively late," however, and Orpik had two suspensions in his career. Based on the explanation, it's not a terribly surprising result.
Now the Penguins will have to try to extend their series lead to 3-1 without their No. 1 defenseman. Additionally, it would appear unlikely that Maatta will be back in time to play Wednesday night. That puts a lot of pressure on Pittsburgh's blue line, which will likely have to insert both Justin Schultz and Derrick Pouliot into the lineup despite their limited postseason experience.
Letang is the team's leader in ice time this postseason, averaging more than 29 minutes a game. He played 34-plus minutes in Games 2 and 3 of this particular series. There's really no way to adequately replace him, which opens the door for Washington to have a better chance at evening the series before it goes back to D.C.
However, this suspension just shows that this series has had a lot of ugliness in it, which is unfortunate given the talent of both of these teams. There have already been two suspensions and a fine doled out over the first three games and the intensity shows no signs of fading.