Sidney Crosby's journey back to the lineup (again)
Sidney Crosby will be returning to the Penguins lineup on Thursday night, and his latest return was another long, and at times bizarre journey.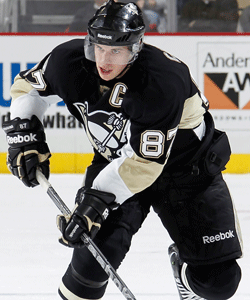 If there is one person other than
Sidney Crosby
that is happiest for his return to the lineup, I would imagine that it might be Penguins head coach Dan Bylsma.
Not only because he's getting his best player -- and his captain -- back in the lineup, but also because he no longer has to answer the daily question, of which there usually wasn't a clear answer to give, as to whether or not there was any change in his status.
It had to be maddening to deal with every single day, especially as the team on the ice continued to pile up wins.
Finally, after missing three months and 40 games, Crosby will be back on the ice when the Penguins visit the New York Rangers on Thursday night, in what was already going to be an enormous game due to its potential impact on the standings and the Eastern Conference playoff picture.
And it's been a pretty long, and at times strange journey.
He originally returned to the lineup in November after missing the second half of last season and the first month of this season and appeared in eight games for the Penguins, recording 12 points (two goals and 10 assists) before suffering an injury during an early December game against the Bruins.
He hasn't played since, and here is a quick timeline of the events that led us to this point.
November 21:
Crosby makes his season debut against the New York Islanders and plays like he never missed a game, scoring two goals, adding two assists, recording eight shots on goal and winning 14 of 21 faceoffs in a 5-0 win over the New York Islanders. 
December 5:
During a 3-1 loss to the Bruins, Crosby took a number of big hits throughout the night, including an elbow from David Krejci. It was initially believed that he would only miss a couple of games, but "a couple" quickly turned into 40.
December 28:
While he was doing light workouts with the team, the Penguins announced that even though Crosby had passed an ImPACT test he was still suffering from concussion symptoms and that there was still no timetable for his return.
January 13:
Things start to get bizarre. In the middle of what turned out to be a six-game losing streak -- the time such things usually surface -- a report comes out in the
Pittsburgh Tribune Review
that said
a number of players in the Penguins locker room believed Crosby had been symptom free for a while
, and that some players held a meeting to discuss a temporary captain until he returned to the lineup.
The report was disputed by the Penguins (and still is), while the players responded the next day by hitting the ice for practice in Florida
all wearing a "C" on their practice sweaters
. All except Evgeni Malkin. He was wearing a K on his (because he's Russian).
January 31:
After reports come out that Crosby had actually suffered a vertebrae injury, the Penguins hold a press conference before their game with the Toronto Maple Leafs and announce that Crosby
was dealing with a soft tissue injury in his neck
that could have been causing symptoms that are similar to concussion symptoms.
March 6:
One of the biggest, and most important, steps in his return takes place
when he is finally cleared for contact
.
March 13:
It's finally announced that Crosby
will return on Thursday against the Rangers
, where he will initially play on a line between forwards
Tyler Kennedy
and
Matt Cooke
.
And now, here we are.
When the Penguins didn't make a move at the trade deadline, the first time that happened under general manager Ray Shero, there was plenty of talk around Pittsburgh that the best possible trade they could make would be to get a healthy Crosby back in the lineup. And that was certainly true, the only question was whether or not it would actually happen this season. 
Thursday's game will be just the 10th time since the start of last season that all three of the Penguins franchise centers (Crosby,
Evgeni Malkin
and
Jordan Staal
) will be in the lineup together, and even though Crosby has only appeared in eight games this season, and Malkin and Staal have also missed time, the Penguins are still the third-highest scoring team in the league for the season.
Even more impressive is that since January of 2011, Crosby has missed 101 of the Penguins past 109 games, and in the games he's missed they've put together 60-32-9 record, which is a points percentage of over .630.
Crosby Returns
More NHL coverage
To put that in perspective, that would be the sixth best mark in the NHL right now, so this is hardly a one-man or one-line team.
When Crosby first came back this season expectations were through the roof, and there was even talk about him coming all the way back and winning the scoring title, which seemed to be crazy even then. Hopefully things are a little more calm and reasoned this time around. Keep in mind, he's only scored a goal in one game this season, and before getting injured against the Bruins had gone seven consecutive games without a goal, tied for the third-longest streak in his career.
The Penguins plan is to limit Crosby's minutes early on, which is one of the reasons he's going to initially play between Kennedy and Cooke.
I also think there's something to be said for sticking with what's working on their other two lines, which are centered by Malkin and Staal, and by keeping everything else as is, it allows the Penguins to spread their top three centers throughout the lineup and give them the type of depth down the middle that no other team in the league can match up with.
Photo: Getty ImagesFor more hockey news, rumors and analysis, follow @EyeOnHockey and @agretz on Twitter and like us on Facebook.
Boston gave New York a hefty haul for the 33-year-old winger

We'll be here to keep track of all the deals that go down before the NHL trade deadline

Toronto picks up a versatile depth piece in the 35-year-old Plekanec
SportsLine's Mike McClure, a DFS pro with more than $1M in winnings, gives optimal lineup...

David Kelly has nailed 43 of his last 54 NHL picks and just released a play for Sunday's m...

A look at 10 veterans who figure to be on the market as Monday's deadline draws near