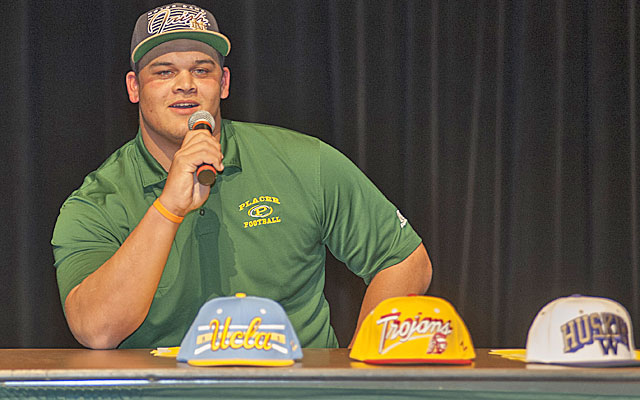 The National Letter-Of-Intent board can make amends for the selfish hypocrisy of Notre Dame coach Brian Kelly as soon as Monday, when it's scheduled to hear the final appeal of former Irish recruit Eddie Vanderdoes.
Vanderdoes, a five-star defensive lineman from Northern California, signed with Notre Dame in February but changed his mind. He says he wants to play for a school closer to home to be near his ailing grandmother, and he chose UCLA. The grandmother story doesn't matter to me. The kid changed his mind before reporting to Notre Dame? That's all I need to know.
It's all the NLI board needs to know, too.
The board -- which already has ruled against Vanderdoes once -- won't necessarily make a ruling Monday, but it won't take long. Vanderdoes needs the NLI board to do what Brian Kelly would not, and release him fully from his NLI, or he will lose a full season of eligibility.
Way too harsh, and way too hypocritical considering coaches like Brian Kelly can leave -- and Brian Kelly has left -- one school for another at the drop of a hat. Kelly has done it twice in Division I, leaving Central Michigan for Cincinnati in 2006, and then leaving Cincinnati for Notre Dame during the 2009 season. He considered leaving Notre Dame for the NFL a few months ago, but decided to stay.
How noble.
But Eddie Vanderdoes, an 18-year-old kid, will lose a year of eligibility because Brian Kelly wants to teach him a lesson -- and cater to the other Division I schools hoping he sends the "right" message to recruits, that message being this:
Coaches can leave one school for another -- for more money -- whenever they want. But high school seniors? You cannot change your mind. Not for free, anyway. It'll cost you a season.
Fans of Notre Dame are calling Vanderdoes a liar, or playing the "make a decision and stick to it!" card, which is laughable. We change our mind a lot -- all of us. At age 18? It happens even more often. My older son turns 18 in a few weeks, so I'm feeling the pain of Eddie Vanderdoes and his family. I'm not feeling the pain of Notre Dame fans who want to make Vanderdoes pay, just because they don't want their coach to be wrong.
Pathetic, that rationale. Absolutely awful.
Good luck, Eddie Vanderdoes. Do the right thing, NLI board.
You're wrong here, Brian Kelly.