MESA, Ariz. -- 2015 was a banner season for the Chicago Cubs. They made the playoffs for the first time in seven years. They won 97 games, their second-highest total since 1945. They bagged the Rookie of the Year, Manager of the Year, and Cy Young awards. Of their eight primary position players, five were 25 years old or younger. The Royals might've won the World Series, but the Cubs' future was the envy of baseball.
None of that was good enough for Theo Epstein. The Cubs' president of baseball operations saw a team that struck out an astonishing (and MLB-high) 1,518 times, and yearned for better contact hitting. After witnessing frequent defensive lapses, he sought updates in the outfield and at second base. There was room for more speed and better baserunning. And despite a Jake Arrieta-led starting staff that fared well last year, a deeper rotation couldn't hurt either.
So he, Jed Hoyer, and the rest of the Cubs brass concocted a plan to address those issues. On the pitching front, they replaced the retiring Dan Haren with veteran righty John Lackey, coming off his best season in eight years and reeled in on a modest, two-year deal. They performed addition by subtraction, unloading liability Starlin Castro on the Yankees and nabbing Adam Warren in the process, strengthening their relief corps and adding a capable fill-in starter for good measure. To replace Castro, they signed jack-of-all-trades Ben Zobrist, checking the boxes for better defense, contact hitting, and strong baserunning in one fell swoop. For their coup de grace, they inked Jason Heyward to a monstrous eight-year, $184 million deal, figuring Heyward's youth, Gold Glove D, speed, and plate discipline trumped the modest 13 homers he hit in his walk year.
Their work seemingly done, the Cubs geared up for spring training with arguably the best roster in baseball in tow. When the compensation pick attached to Dexter Fowler drove all suitors away, he too landed in Chicago, returning to the place where he'd put up an excellent all-around season, and adding even more speed, defense, and versatility to a team now loaded with it. That stacked 2015 team that bowed out one round short of the World Series?
"We're definitely better now," said Arrieta. "For a lot of reasons. Adding guys like Zobrist, Heyward, and Lackey, guys with postseason experience, guys with high character who are great teammates. But it's also the experiences that everybody was able to to acquire last season, young players and veterans included. The added experiences from last year, the new players we have, the culture that's being developed here with Joe [Maddon] as our manager. All those things considered, we look forward to having a lot of fun this year."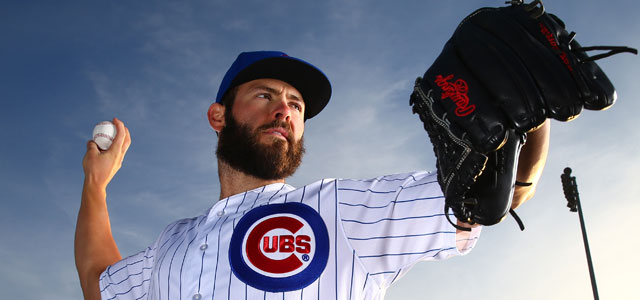 The idea of young players becoming more prepared for the spotlight as they experience more high-pressure situations makes sense on paper; it's just tough to prove conclusively, leaving aside different players reacting in different ways. What we do know is that most players need to get a few years and a few at-bats under their belt before they can hit their peak. Even if the age curve has shifted to where players now peak closer to their mid-20s than their late-20s, that still leaves the Cubs in great shape. Addison Russell just celebrated his 22nd birthday, Kyle Schwarber his 23rd. Fellow 2015 rookies Kris Bryant and Jorge Soler are 24, Javier Baez is 23, Anthony Rizzo 26. And here's a fun fact for you: Heyward has already banked the six years of major league experience necessary to trigger the free agency eligibility that landed him in Chicago...yet he's just one day older than Rizzo, the team leader and star first baseman.
A full season of Schwarber helping the offense, Russell continuing the second-half 2015 progress that lifted his numbers dramatically, Soler tapping into the huge run he went on last postseason and faring better when not exposed as an everyday player...these are all feasible scenarios that could further propel a team built on years of drafting, developing, and collecting young talent. Given the way the game has evolved for young players, the Cubs' youth could serve them well.
"When you talk about a player's prime, it's always been when they're still young enough to still be healthy and spry and have those quick-twitch abilities, but old enough to grow into their man strength, and to intersect with the mental side," said Epstein. "You want to be in a place where you can be comfortable and find your instincts, develop a deep knowledge about your own game, knowledge about your opponents, to be sound mentally as well as physically. That's happening sooner now. All the player development measures going on, from a strength and condition standpoint, nutrition, sports science, the mental side of the game, year-round training, the amount of baseball they play in their youth...there are a lot of tools that allow you to adjust quickly to the game, to start your prime years sooner. And we try to help players adjust even more quickly, by letting them be themselves in a fun atmosphere."
The man in charge of cultivating that atmosphere is Maddon, the oft-smiling skipper who helped turn around the fortunes of both the Cubs and Tampa Bay Rays. He's done so by implementing a loose approach that current and former players swear helps them succeed amid the grind of a long season. He's also done so by playing mad doctor with his lineups and pitching decisions. Years ago in Tampa Bay, a revolutionary Maddon move would be to stack his lineup with hitters who batted from the same side as the opposing pitcher, against both knuckleball specialists like Tim Wakefield but also changeup artists like John Danks.
In a pre-game spring training scrum last week, Maddon's eyes lit up when reporters asked about the wealth of options he has this year. The late addition of Fowler alone creates countless mix-and-match opportunities for how to use the team's outfielders, especially the big-bat, shaky-gloved Schwarber. The factors he'll consider for playing time go so far beyond righty-or-lefty matchups. Does the opposing pitcher throw two- or four-seam fastballs? Slider or curves? Heavy or light diet of changeups? Then there's the makeup of your own pitcher: Does he pitch to contact or strike tons of guys out? Give up lots of flyballs, or grounders? Which ballpark's hosting this particular game? How's the wind blowing? And on a basic level, how's everyone's health, and how fresh is everyone -- with Epstein adding that he doesn't see much point in any player appearing in more than 155 games a season, given how beneficial rest can be.
Even seemingly small factors could add up to bigger results. The Cubs figure to start the season with four relievers -- righties Trevor Cahill and Warren, and lefties Travis Wood and Clayton Richard -- who have significant experience as starters too. Even if the rotation proves to be a strength this year again, Maddon has big plans for his versatile bullpen quartet.
"Being able to turn the game over early to any of those four guys is a real nice luxury to have," Maddon said. "Then if [back-of-the-bullpen] guys have been pitching too often, those four have no problem pitching late in games."
That foursome's usefulness could show up in situations that go beyond, say, fifth starter Kyle Hendricks laboring in the middle innings of a game. Arrieta's incredible run last year added up to 248 2/3 innings pitched, with his two final starts being shakier ones in the playoffs. If the Cubs plan to go even deeper this year, even their workhorse of an ace will need to be handled intelligently.
"We're going to look more closely at getting [Arrieta] out of games with the lead," Maddon said. "Last year was important for the number of innings he pitched, in terms of confidence. From a psychological perspective that benefited him. So now it's, you know you can do it, but let us also permit us to protect you a little sometimes."
Armed with a deeper stable of talent and more strategic options than perhaps any other team, the Cubs could be well equipped to match or even eclipse those lofty 2015 accomplishments. On a sunny morning in Arizona, seven months before things could get really exciting, Fowler doesn't mince his words.
"We'll be disappointed," he said, "if we don't win the World Series."