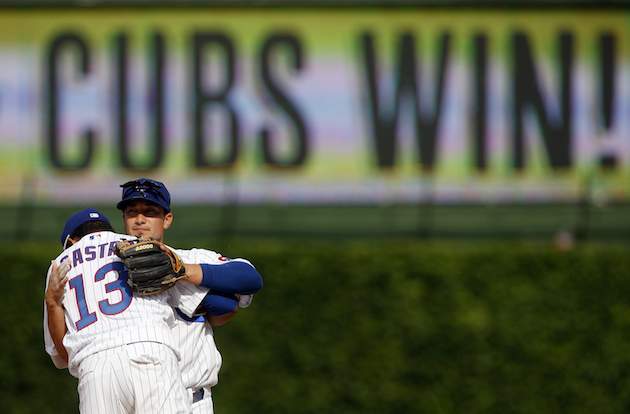 The
Cubs
win! The Cubs win! The Cubs win! Chicago broke a 12-game losing streak on Monday, so there's reason for a little exuberance. Even thought the Cubs won, they're still 16-32, and the
Twins
also picked up a win to keep pace with the Cubs for the worst record in baseball. The longest losing streaks in baseball now belong to the
Braves
(eight), A's (six) and
Mariners
(five).
Full Monday scoreboard with box scores and recaps for all games
3 UPMark Trumbo, Angels:
Trumbo hit the third pitch he saw from
Yankees
reliever
Cory Wade
deep into the left-field seats at Angel Stadium of Anaheim for a walk-off home run. Trumbo had three hits, finishing a single shy of the cycle. The Angels have won seven straight, with Trumbo homering in each of the last two.
Giancarlo Stanton, Marlins:
After his slow start, Stanton has put to rest any doubts that he could hit balls out of the new Marlins Stadium, hitting his 11th home run of the month on Monday. Stanton has 12 homers on the season -- six at home and six on the road. Stanton entered the month hitting .247/.286/342 with just one home run (coming on April 29) and is now hitting .291/.361/.571. Of his 5 extra-base hits in 2012, 20 have come this month.
Chris Sale, White Sox:
The left-hander struck out 15
Rays
and allowed just three hits in 7 1/3 innings. Sale's strikeout total was the second-highest for the White Sox since 1918 and 80 of his 113 pitches were for strikes. With a 6-2 record, he's second behind
Justin Verlander
with a 2.34 ERA.
3 DOWNAtlanta Braves:
Now that the Cubs' 12-game losing streak is over, the Braves own the game's longest losing streak at eight. Atlanta started its slide last Monday in
Cincinnati
as the National League East leaders and are tied for last place in the division following the latest loss, four games behind the
Nationals
along with the
Phillies
. Not only has Atlanta dropped eight straight overall, they've also lost all eight of the games they've played on Mondays this season.
Ryan Cook, A's:
The reliever hadn't allowed a run in 23 innings entering Monday's game -- and then he was touched up for two by the lowly Twins. Coming into Monday's game in the eighth inning with a one-run lead, Cook retired the first batter he faced before giving up a single to
Joe Mauer
, walking
Josh Willingham
and then allowing a double to
Justin Morneau
for the first run he'd allowed all season.
Ryan Doumit
then hit a sacrifice fly to give Minnesota the lead.
Jed Lawrie, Astros:
With the score tied with two outs in the eighth inning, Lawrie had a chance to end the inning when he fielded
Dexter Fowler
's grounder, flipping the ball to
Jose Altuve
at second to try to get pinch-runner
Jeremy Guthrie
for the force. Instead of getting the ball to Altuve, his underhand toss hit Guthrie on his right foot and bounded into the outfield, allowing Guthrie to go to third and Fowler to second.
Jordan Pacheco
followed with a bloop single, giving the
Rockies
a 9-7 win in the first game of a doubleheader.

Time for a new kind of streak:
Fresh off a 12-game losing streak, the Cubs have a chance to start a winning streak on Tuesday. Right-hander
Jeff Samardzija
has been impressive for the Cubs this season -- and even better at Wrigley Field. Samardzija is 4-3 with a 3.00 ERA overall and 2-1 with a 1.52 ERA in four starts at home.
2:20 p.m. ETVerlander time:
Every time Justin Verlander takes the mound, he's worth watching. Tuesday he faces the
Red Sox
at Fenway Park, opposite
Daniel Bard
. Verlander is 2-1 with a 3.19 ERA in five career starts at Fenway.
7:10 p.m. ETWelcome back:
Matt Kemp is expected to be activated for Tuesday's game against the
Brewers
. Kemp had been hobbled much of the last month with a strained left hamstring, first trying to play through the injury and then going on the DL. It appears that worked. In two games for Triple-A Albuquerque, Kemp went 5 for 7 with two homers and a double. That's not a nice way to welcome Brewers right-hander Michael Fiers, who will be making his first big-league start. Los Angeles right-hander Nathan Eovaldi makes his 2012 debut for the
Dodgers
.
10:10 p.m. ET
Tuesday's probable pitchers for all games
• More Memorial Day:
It's not Memorial Day anymore, but we can always remember those who gave their lives for our country.
Gary Cieradkowski of the Infinite Card Set did this beautiful card of Bill Niemeyer
, a minor-league pitcher who died at the Battle of the Bulge. He also passed along the link to the wonderful website,
Baseball in Wartime
. Be sure to check it out.
• Are umpires biased against the Blue Jays?
That's the accusation some are making as a result of several calls that haven't gone Toronto's way since
Brett Lawrie
tossed his helmet, hitting umpire Bill Miller. [
Slam Sports
]
• Freeman frustrated:
It's not as simple as a trip to LensCrafters for Braves first baseman
Freddie Freeman
, who is expecting a new pair of goggles to arrive in the mail today. Freeman has had trouble with his eyes being too dry and has not been able to wear contact lenses. He's  been fitted for goggles, but because he needs ones that can wrap around his eyes for his peripheral vision, it's taking longer to have them made. Freeman ordered one pair from Oakley and another from Under Armour to have a choice when they do arrive. [
MLB.com
]
• A game in Japan:
A writer describes his first baseball game in Tokyo. [
Arizona Republic]
• Between two palm trees:
Dodgers catcher
A.J. Ellis
does his best Zach Galifianakis with a takeoff of Between Two Ferns with Between Two Palm Trees, complete with guest
Clayton Kershaw
.
For more baseball news, rumors and analysis, follow @EyeOnBaseball on Twitter, subscribe to the RSS feed and "like" us on Facebook.