More NFL: Photos |   Videos & GIFs |  Stories | Training Camps | Johnny Manziel watch
ANDERSON, Ind. -- Few teams have been struck as hard with training camp injuries as the Colts, particularly season-ending blows to key players already coming back from previous injuries. So, excuse Colts coach Chuck Pagano if he is erring on the side of caution, particularly with game-breaking wideout Reggie Wayne.
Wayne, 35, has been holding back Father Time for quite some time already, and, after watching running back Vick Ballard and guard Donald Thomas already go down for the year before the calendar has turned to August, the receiver and his coaches and trainers are being very judicious about how much he does in camp.
Wayne, who suffered a torn ACL on Oct. 20, is practicing on a limited basis as he works back, and has drawn oohs and aahs from teammates with some of the catches he has made the first week in camp. But it's quite another thing to line up across from physical cornerbacks whose paycheck requires them to shut you down, and occasionally try to beat you up, and the Colts will be judicious with how much live contact they expose Wayne to, especially under the backdrop of their star-crossed first week of camp.
"So far, so good," Wayne said. "I haven't had any problems. Nothing out of the norm. They still have me on a pitch count ... but I don't have any doubts about it at this point."
His expeditious return has been nothing short of breathtaking to the Colts brass who have actually had to hold him back. "For him to be where he is, at this age, is nothing short of unbelievable," Pagano said. "I mean, people talk about [Adrian Peterson], and his comebacker, but he's not 35 years old."
General manager Ryan Grigson has been amazed with the precision and explosion with which Wayne is coming out of his breaks, "but we just have to make sure we bring him along at the right pace," he said. The Colts are still figuring out if Wayne will make his debut in one of the first two preseason games, or later.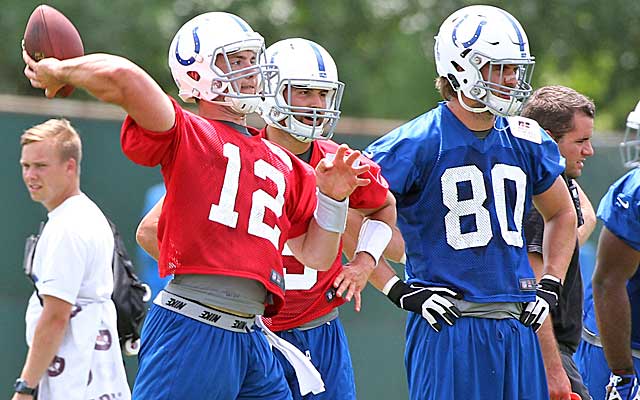 Wayne's import to this offense is beyond debate. Through seven games last season (really six, as he got hurt in the seventh), he had 38 catches for 503 yards -- obviously on pace for another 1,000-yard-plus season -- and he was averaging 13.2 yards per catch (his highest total since 2008). He was young quarterback Andrew Luck's most trusted target, and already had 28 catches for a first down. Indianapolis was 5-2 when he went down and certainly in the conversation as one of the best teams in football.
They went on to win the sad-sack AFC South, and win a playoff game, but it was much more of a struggle without Wayne to count on (and particularly with the tight end position not yet giving them what they imagined it would). Luck, at the time, had a 91.3 rating, with 10 touchdowns and three interceptions; without Wayne he would go on to throw 13 touchdowns and six interceptions with an 84 rating. There were fewer targets to key on for opposing defensive coordinators, and, with a healthy Wayne, the Colts may have gone even deeper into the postseason.
So, just having Wayne back on the field has provided an immediate boost of confidence and hope.
"Seeing him out there running routes and participating in drills and making plays," Luck said, "It's like, 'OK, this guy's got it. He's a stud.' And also just his presence for the younger wide receivers and younger guys on offense, he's sort of the epitome of a professional. The way he approaches things is a great example for every player, young or old."
Alas, but how to approach his return from injury?
Wayne admits he has done some mental gymnastics about it himself, figuring out exactly when to subject the knee to the rigors of live contact. For a while, as Wayne explained, "I've done everything I've wanted to do. I've run every route. There is nothing holding me back."
He knows it's not the same when your doctors and some trainers are lining up at corner against you, which was the case for much of his recovery from the surgery.
Wayne, who had the longest active consecutive games streak in football (189) prior to tearing his knee ligament, would not normally see too much action in the preseason, and that's likely to be the case again. But how much? He feels like he needs a certain number of live reps to feel prepared for the regular season, and he'd like to expose himself to physical contract prior to Week 1.
"I don't want my first tackle to be in a regular-season game," he said.
Pagano, very close with Wayne since their days together at the University of Miami, is mindful of all of this. He has already seen Ballard, who was expected to be a part of a committee backfield, lost for the season with a torn Achilles, and Thomas go down for the year with a torn quad after missing almost all of last season with a similar injury. ("It's like a scene from Final Destination," Wayne said of the early-camp carnage).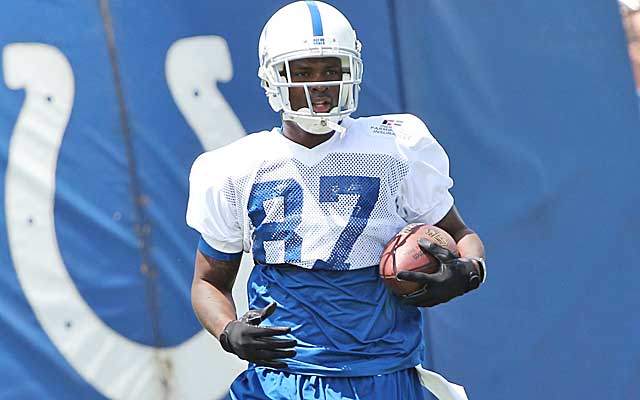 The Colts spent significant time studying their injuries and if anything further could be done to prevent them, and Pagano had built in plenty of rest and recovery time at the start of camp, with some players coming off injury given an extra day off every third day.
"We had a plan for all of those guys," the coach said. Sometimes, it's simply bad luck. Some things are unavoidable in a game like football. "Some of them were noncontact, freak things," as Pagano said. "We're doing our due diligence."
The football Gods, sometimes, are too cruel. "They're downright ruthless," said Grigson, whose heart goes out to Ballard and Thomas. "They did everything they possibly could be in great shape for camp, and then their season is gone on one play in camp."
So, I wouldn't expect to see Wayne do much until the final two preseason games, and losing him again would be a huge blow. The first year back from an ACL injury certainly generally slows a receiver down, but at his age Wayne's game is based on superior positioning, hands, intellect and craftiness as much as anything. Luck won't hesitate to throw him the ball, and, with their division there for the taking, having Wayne hit his stride in January will be more important of all for a team with Super Bowl aspirations.
Focus on the red zone
Luck continues to develop quickly, and few around the NFL don't expect him to be one of the best very soon. He cut his interceptions in half from his rookie season -- from 18 to nine -- and lifted his passer rating from 76.8 to 87.
Making a major leap this season would come as no surprise, and if that is the case, then look for the Colts to be markedly better in the red zone. Coordinator Pep Hamilton is devoting significant time to refining the offense in those areas after a poor showing there in 2013, and getting Wayne back alone should help some.
Luck was 29th in the NFL in red-zone passing, with a 75.1 rating, throwing 14 touchdowns and three interceptions. The NFL average red-zone rating was 91, and the average for playoff quarterbacks was 96.8. That's a big chasm from where this offense was. Luck completed just 44.6 percent of his red-zone passes; the average for playoff teams was 58.2. Focusing on third down and red-zone passing is imperative for Luck, and generally when this kid puts his mind to something he conquers it.
"You do your self scout just before the coaches point out who we were, and who the numbers say we were," Luck said, "and we were average in the red zone and average on third down. And we realize if we want to be a great team than we've got to be great on third down and in the red zone. Spaces get constricted down there and things happen quicker, and turnovers are absolutely killers down there. You want touchdowns and you try not to settle for field goals. It's a big focus and having some dynamic receivers and tight ends back, I think we'll have a chance. But we have to put the work in."
Wayne said: "Three points are great, but we need to get six points. That's our motto."
The Colts were 14th in the NFL in red-zone touchdown percentage, and, given how the field shrinks down there, having a full complement of tight ends would be huge. Dwayne Allen continues to flash this time of year, but has succumbed to injury each of his first two seasons in the NFL. Getting him and Coby Fleener on the field together in the red zone would be huge, and that's a position group the Colts figure will contribute much more this season.
"They create tremendous matchup problems," Luck said, "and I think we've got four tight ends that are really good. Dwayne being back is big. He is so explosive and so dynamic and he can do so many things that create natural problems. And hopefully that will be to our advantage."
Defensively, red zone is a concern as well. The Colts ranked 24th in the NFL in red-zone passing defense, allowing opposing quarterbacks a gaudy 101.4 rating there. Plenty of special situation sessions are planned for this training camp. "You play 70 plays in a game and for 65 of them it's pretty much a stalemate," Pagano said. "You're holding serve. And then there are five or six plays that determine the game. It always comes down to special situations. That's where we have to be better."
Colts camp notes
• I'm not one to bank on Trent Richardson to have a bounce-back season, and at this point he probably is who he is. The Colts will give him every opportunity to show otherwise, especially with Ballard out, but will the explosion ever be there? Richardson has been heckled some at camp by fans and held out of practice for "precautionary reasons" as well, with his hamstring acting up early in camp. Pagano said on Thursday that Richardson was "better than he was before" but the running back position is thin here and I can't help but wonder if a wheeler-dealer like aggressive general Ryan Grigson doesn't make a move or two. Just thinking out loud, but the Colts have plenty at tight end and the Bills are barren at that position, and C.J. Spiller might be more of a luxury than a necessity in the Bills backfield. Plenty of running backs will be cut as well in the coming weeks and Grigson will be scanning the wire. Colts depth tight end Weslye Saunders, who will drop a ball from time to time but has some great speed and at 6-foot-5 is flashing well in camp, could be someone who other teams take note of during preseason scouting. If second-year back Daniel Herron, off to a great start in camp, cannot maintain this output, all the more reason to believe the Colts will be working the phones for a tailback a month from now.
• Rookie Jack Mewhort, a second-round pick, has had a strong start to camp and the loss of Thomas could result him seeing a lot of action with the starters. The Colts had to shuffle their line far too often last season. Mewhort has impressed coaches with his toughness and he's a no-nonsense kid who has a lot of the intangibles Grigson looks for in a lineman. I have a feeling he will factor into this season.
• Grigson re-signed former Towson University tackle Eric Pike with Thomas placed on IR Thursday. Pike was with the team in the offseason and is yet another product from the small school to make it to an NFL camp (the Browns have three rookies from Towson on their current roster, for instance). Kudos to Coach Rob Ambrose there with the Tigers.
• The Colts may have to go by committee at pass rusher in the first quarter of the season to try to replace Robert Mathis, who is suspended the first four games. He'll be a big boost down the stretch, however, and youngsters will garner invaluable reps in the interim. Jonathan Newsome, a fifth-round pick from Ball State, just down the road from training camp here, has opened eyes early and could help fill that void. "He's ahead of where we thought he'd be at this point," Pagano said. "He is picking things up."
• One of the first things you notice about this team at practice is just how big they are. The transformation from former Bill Polian's smaller squads jumps out at you in all position groups. Grigson, a hulking former lineman himself, knew he needed to address that to have the kind of bodies to play Pagano's scheme, and it took a few years naturally to rework the roster. The rewards are coming, however, and this will be a much tougher team, physically, to play against. "We're so much bigger than we were when we got here in 2012," Grigson said, "and I really don't think we've given up that much athletically."
• The Colts ran at least as many times as they passed in three of their first five games last season, then it happened only once the rest of the year. It certainly seemed like they balanced the need to protect Luck behind an unproven line with the ability to expand the passing game. I Have a hunch they open it up even more this season. I drafted Luck in my fantasy league one year too soon.
• Colts running backs lost only one fumble last season. I Wonder if they regress to the mean more in that area this season.
• Not sure what this means, but Luck was actually a better passer outdoors in 2013 than he was in the dome(s). In seven dome games (Lucas Oil Stadium has a retractable dome, remember) he tossed nine TDs, six INTs, was sacked 17 times, fumbled four times, lost two of them, and had an 83 rating. Outdoors, in nine games he was 14-3 in TD/INT ratio, suffered 15 sacks, fumbled once (none lost) and had a rating of 92.