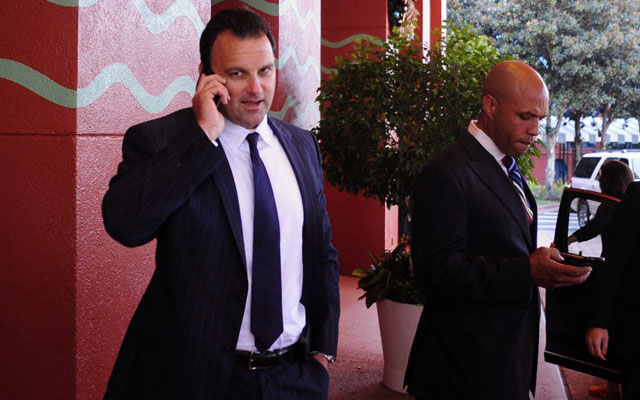 After almost three years of legal wrangling, it looks like the dispute between DeSean Jackson and his former agent, Drew Rosenhaus, might finally be over. 
A federal court judge in California ruled in Jackson's favor on Friday over a legal dispute that involved more than $500,000, according to the Sports Business Journal.
Jackson confirmed on Instagram that the ruling came out in his favor. 
The judge's ruling means that Jackson won't have to pay back the $516,415 that he was ordered to pay after he lost an NFL arbitration case to Rosenhaus in April 2014. 
The dispute between the Redskins receiver and Rosenhaus actually started in June 2013 when Jackson fired the super agent and hired Joel Segal. Shortly after the firing, Rosenhaus filed a grievance with the NFLPA, claiming that Jackson owed more than $400,000 in unpaid loans for money he borrowed from Rosenhaus between 2009 and 2012. 
In April 2014, an NFLPA arbitrator ruled that Jackson owed Rosenhaus a total of $516,415 for unpaid loans and agent fees.
The case didn't end there though. 
In June 2014, Jackson claimed that he was bribed by Rosenhaus to sign with him. According to Jackson, Rosenhaus gave him a Louis Vuitton bag stuffed with cash. The big problem there for Rosenhaus is that it's against NFLPA rules for agents to bribe or induce players to sign with them.
The case took another turn in August 2014 when Jackson's legal team challenged the NFLPA arbitration ruling because Rosenhaus didn't disclose the fact that he had a prior relationship with arbitrator Roger Kaplan.
According to sports law attorney Daniel Wallach, the judge ruled in Jackson's favor partly because Rosenhaus paid Kaplan $140,000 in fees for arbitrating an earlier dispute that didn't involve Jackson. 
In making his final decision, U.S. District Judge Michael W. Fitzgerald also noted that the NFLPA uses the same arbitrator almost all the time and that agents win almost 80 percent of all cases against players, which almost makes it seem like the NFLPA's arbitration system is stacked against the players. 
Jackson's most recent contract, which he signed with the Redskins in April 2014, was the first deal he signed after firing Rosenhaus.