Texans fans booed so loudly, Texans offense had to use silent count
The boos at Reliant Stadium were so loud on Sunday that the Texans had to use a silent count. After the game, running back Ben Tate called the booing fans 'wishy-washy.'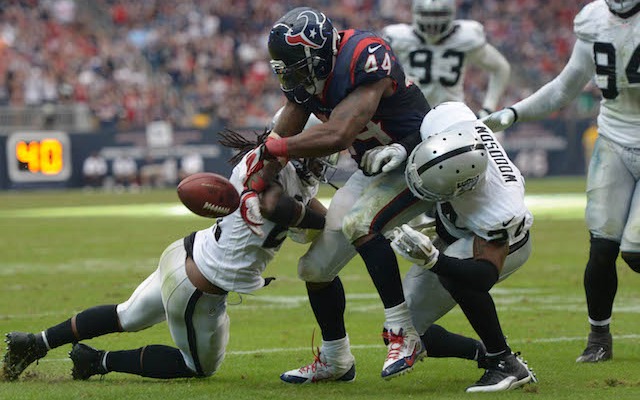 It's been a rough two months for fans of the Houston Texans. The Texans are on an eight-game losing streak and haven't won since Sept. 15. That losing streak continued on Sunday against the Raiders in a 28-23 loss.
Fans took out their frustrations on the team -- and quarterback Matt Schaub in particular -- by booing loudly in the third quarter when Schaub replaced Texans starting quarterback Case Keenum. As a matter of fact, the booing was so loud that the Texans offense had to use a silent count. 
"It was disappointing because we had to go to our silent count at home because we couldn't hear," left guard Wade Smith said. "It was disappointing because it was effecting how we had to play. Besides that, we are all grown men and have thick skin. But the fact we had to adjust what we were doing to put us at a disadvantage like we were on the road that was a disappointing thing. But we are grown men. When there are accolades we don't shy away from it, so when there is criticism we can't shy away from that."
Houston running back Ben Tate was not amused by the boos and after the game, he called the fans 'wishy-washy.'
"These fans here in Houston are so up and down and so wishy-washy," Tate said, via KHOU.com. "Actually, you know, I'm just shocked because this organization has come a long way."
Tate said that fans need to stick with the team through thick and thin.
"I just think if you're a true fan you will stick with the team through the tough times and we're going through a tough time right now," Tate said. "Regardless of who was back there, fans are going to be fans I guess, so it is what it is."
The fans weren't the only ones frustrated with Schaub, wide receiver Andre Johnson was too. Johnson had words with Schaub after the game, but he still didn't approve of the fans booing Schaub or the Texans. 
"They're fans; I mean they have their opinion. It doesn't matter what I say or what anybody in this locker room says. They choose to boo, they're going to boo," Johnson said. "I feel like it's very unnecessary. They may not feel that way, and I can't control what they do. At the same time I don't really approve of it."
The Texans season has been hovering dangerously close to rock-bottom lately and it could finally get there in Week 12. Of course, rock-bottom in the NFL this year means losing to the Jaguars. Houston hosts Jacksonville on Sunday and if the Texans manage to lose, not only will they be in last place in the AFC South, but they'll be tied for the worst record in the NFL. 
This matchup isn't quite as glamorous as it looked when the schedule was released in the s...

Patriots-Steelers highlights a week filled with playoff-caliber games

Cleveland's quarterback has recently improved, but his turnovers have been a big part of the...
Warren Sapp was one of several players named in a lawsuit against NFL Network

Check out the uniforms that Denver and Indianapolis will be wearing on Thursday

The Cowboys are going to need a few things to go their way to get into the postseason