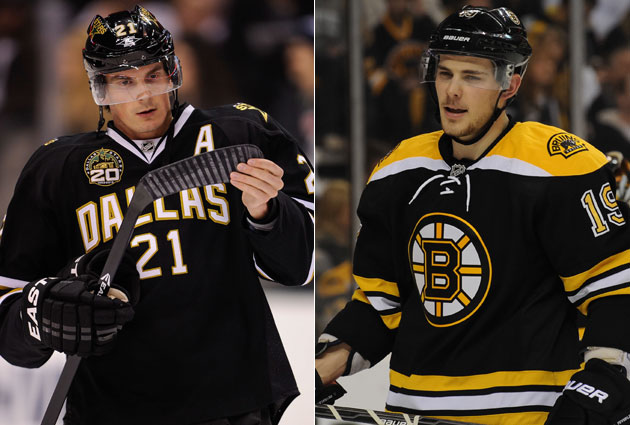 More NHL offseason: Rumors | Top 50 Free Agents
When word started to surface just before the NHL Draft that the Boston Bruins were shopping Tyler Seguin, it was a bit of a shock.
As it turns out, there was something to it.
On Thursday the Bruins and Dallas Stars have completed a blockbuster trade that will send Seguin to the Stars in exchange for a package centered around Loui Eriksson.
The Bruins announced the full terms of the deal. The whole trade is Seguin, Rich Peverley, and Ryan Button to Dallas for Eriksson, Joe Morrow, Reilly Smith, and Matt Fraser.
Seguin, 21, is getting ready to enter the first year of a six-year, $34.5 million contract extension. He scored 29 goals in 2011-12. The Bruins have a ton of money tied up in their core and needed to shed some salary to help fit in new contracts for Tuukka Rask and Patrice Bergeron. Eriksson, who will turn 28 this month, has three years remaining on his current deal and will save the Bruins around a million or so in cap space over the next few years when compared to Seguin's contract.
By shedding Peverley's contract the Bruins will save an additional $3.25 million agains the cap.
It's an interesting move for the Bruins and perhaps a very dangerous one long term. Eriksson scored at least 25 goals in each of the past three full seasons, is a wonderful player and excels in all three zones and all situations. But he's seven years older than Seguin, who still has his best days ahead of him. Seguin had a rough playoff run that saw him score just one goal, but he seemed to play better than those numbers indicated.
On Thursday evening Seguin sent a tweet from his account, thanking Boston for this time there.
I want to thank the fans of Boston for all your support you have been great. The city of Boston will forever be a part of me. #BostonStrong

— Tyler Seguin (@tylerseguin92) July 5, 2013
This week, Bruins general manager Peter Chiarelli said Seguin needed to become more of a professional.
"He's got to commit his mind and focus to the one task at hand," Chiarelli said, via Fluto Shinzawa of the Boston Globe. "He's got to become more of a professional. You know what? I can say that about a lot of 21-year-olds. I know he got criticized for playing on the periphery and all that stuff. He did. He's got to commit to being a professional and focusing on the game. Simple as that. He does that, we don't expect him to be crashing and banging. Just play your game."