Devils introduce new head coach John Hynes: 5 things to know
Here are five things to know about New Jersey Devils head coach John Hynes, who was introduced to fans and media Tuesday.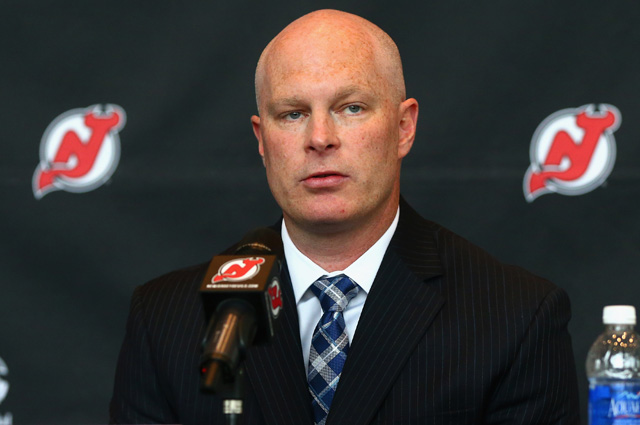 The New Jersey Devils officially announced John Hynes as the team's new head coach. He takes the reins behind the bench after New Jersey ended the season with now former general manager Lou Lamoriello (who stepped away from GM duties, but remains president), and former players Scott Stevens and Adam Oates shared coaching duties.
Hynes just spent the last six seasons in the Pittsburgh Penguins organization as a coach with their AHL affiliate in Wilkes-Barre/Scranton, Pennsylvania.He was the head coach of the team for the last five seasons.
The 40-year-old native of Warwick, Rhode Island, is now the youngest head coach in the NHL. He did not play in the league, nor has he coached in it, but Hynes has been a rising star in the coaching world for the last few years. However, in a free-agent market market that was full of a lot of experienced head coaches, he is relatively an unknown to the hockey world at large.
So here are five things to know about new Devils head coach John Hynes.
1. Wilkes-Barre Scranton has become a cradle of NHL head coaches
After six seasons in Wilkes-Barre/Scranton, Hynes became the fifth former head or assistant coach of the WBS Penguins to be named a head coach in the NHL. He joins a list that includes Dan Bylsma (Pittsburgh Penguins, Buffalo Sabres), Michel Therrien (Penguins, Montreal Canadiens), Todd Richards (Minnesota Wild, Columbus Blue Jackets) and Mike Yeo (Minnesota Wild).
Of those head coaches, it is Hynes who owns the record for most wins in the franchise. He was the AHL coach of the year in 2010-11, his first year with the team and compiled an impressive 231-126-27 record over his five seasons as head coach.
The Baby Pens also had the lowest team goals-against average in the AHL four of the five seasons Hynes was in the league. A lot of people look at that as a goaltending statistic, and it is, but it's also reflective of a team's overall ability to defend and suppress scoring chances.
That's obviously something that will intrigue a team that has been historically excellent defensively, but more on that in No. 3.
2. John Hynes was the only candidate new general manager Ray Shero made an offer to
Hynes' name was among those tossed into the mix early in rumors about the Devils' job once Shero took over for Lamoriello. Shero was the one that gave Hynes his first job in pro hockey, when he was brought in to be Todd Reirden's assistant coach in WBS in 2009-10. When Reirden was elevated to the Penguins' bench as an assistant coach, Hynes took over the Baby Pens.
That familiarity between Hynes and Shero is definitely important. Some might see Shero as biased in his selection, but there isn't a general manager out there that is as familiar with what Hynes can do and what he has done so far. Going into a new job and taking the AHL head coach from his previous stop speaks volumes about what Shero thinks of Hynes.
Shero noted that Hynes was the only person he offered the job to and here's why this is potentially a great match…
3. Shero wants the Devils' identity as a team to be similar, but different to how it has been
During Hynes' introductory press conference Tuesday, Shero identified three things that he wants to be attached to the New Jersey Devils' team identity: speed, attacking and supportive.
Shero noted that he wants the Devils to keep up with the NHL and get faster as a group. That doesn't just mean skate faster. It also means that he wants the team to do everything fast. When you look at the two teams that will play for the Stanley Cup this year, both are among the fastest in the NHL, both in terms of foot speed and in how they move the puck in all zones.
The attacking play is something that Shero thinks works both offensively and defensively. The team wants to be putting pressure on their opponents from an offensive perspective, but they also want to be quick to loose pucks and bringing a physical element to take the puck from their opponents.
When Shero talked about the team being supportive, he talked about the being able to take care of the jobs players are assigned, to make the plays defensively and remain committed to a complete game. Shero also noted the importance of being able to get the puck out of the defensive zone, which requires the forwards to provide support to the defense.
The reason Shero thought Hynes was the right fit is because he felt the new head coach embodied the identity of what he wants the team to be. Hynes' teams have been excellent defensively, but not at the expense of production. They're not trying to sit back and let other teams come at them. They take the game to their opponents, which is one way to win the possession battle.
4. Hynes has a deep development background
On top of being a head coach in the AHL, Hynes spent six years as a head coach at USA Hockey's National Team Development Program. While there, Hynes was responsible for grooming some of the best teenagers in the country into becoming effective players at the next level and beyond.
He's been afforded the opportunity to work with quite a few players and helped them reach the NHL. Some of the notable NHLers that spent two years under Hynes' tutelage include Erik Johnson of the Colorado Avalanche, Colin Wilson of the Nashville Predators and some guy by the name of Patrick Kane, who will be playing for his third Stanley Cup with the Chicago Blackhawks.
Other NHL players that had some time under Hynes' direction include Jason Zucker of the Minnesota Wild, Jarred Tinordi of the Montreal Canadiens, Olympian Justin Faulk of the Carolina Hurricanes and current New Jersey Devils defenseman Jon Merrill.
Having spent the time with that program, there was always an expectation of winning, but the priority was development. Winning is always important in the NHL, but sometimes there needs to be a little short-term pain for long-term gain.
That is going to be the case initially in New Jersey as Shero looks to retool. He spoke of needing patience to build up the team over time, and that there will be no quick fixes. Hiring Hynes means he has a coach that has won a lot of games at the AHL level, but someone that also has been able to develop players in the process at a variety of levels. Young players should flourish under Hynes if that is to be the case.
5. Hynes is a detail-oriented and driven individual
In another life, I personally worked with Hynes at the National Team Development Program as a young PR guy. Even then, you could see a coach with a bright future ahead of him.
Hynes has had the respect of his players, wherever he has been. Part of that comes from the presence he brings with him to the ice in practices or in meeting rooms. He exudes confidence, but not in that cocky kind of way. Beyond that, he prepares meticulously and focuses on all of the little details to make sure he's giving his players the tools to succeed.
Those players will always know they have a coach that has put the work in for any given game, any practice and every meeting. They'll know exactly what is expected of them and they'll be expected to execute.
There's also a real focus on continual improvement with Hynes at the helm. That is going to be especially important in New Jersey as they figure out how to restructure this roster.
Hynes is a self-made coach. He had a fair college career as a player at Boston University as a player, but before he even graduated, he was behind the bench. He spent time as a graduate assistant at both BU and with USA Hockey at the NTDP. He also spent time as an assistant at UMass-Lowell and the University of Wisconsin, before he was handed the keys to one of the NTDP's two standing national teams. From there it was on to the pros and now, it's on to the NHL. It's not an easy road to take.
Hard work pays off. Knowing Hynes, though, just getting the job is not considered the payoff. It's the beginning.
CBS Sports HQ Daily Newsletter
Get the best highlights and stories - yeah, just the good stuff handpicked by our team to start your day.
Please check the opt-in box to acknowledge that you would like to subscribe.
Thanks for signing up!
Keep an eye on your inbox for the latest sports news.
Sorry!
There was an error processing your subscription.
Emery, 35, spent time with the Senators, Flyers, Ducks and Blackhawks

The 33-year-old veteran goalie signed a three-year, $21 million extension to stay in Vegas

Chicago frees up immediate cap space to use in another deal, but it comes at a price
Hellebuyck, a restricted free agent, has a deal that will be worth $37 million

The new Maple Leafs star penned an essay explaining the struggle of making a decision in free...

The NHL star and skiing legend have made this their summer