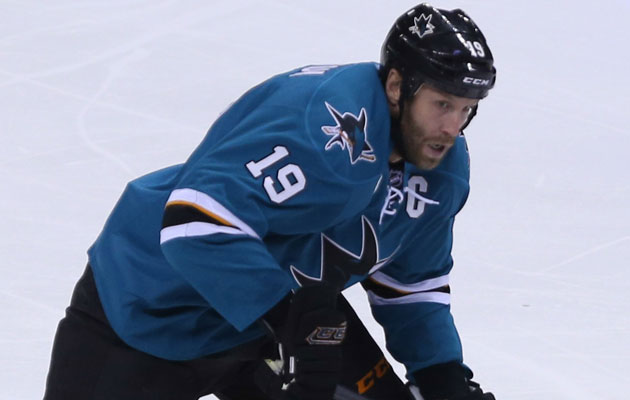 More NHL: Scores | Standings | League Leaders | Odds | Injuries | Power Rankings
The New York Rangers should be glad it wasn't Joe Thornton scoring four goals on them on Tuesday night.
In the Sharks' impressive 9-2 beatdown of the Rangers, rookie Tomas Hertl scored four goals. It was his fourth goal of the night that had people talking and talking some more. It also had people, like Capitals coach Adam Oates, wondering if it was TOO much, if he crossed some kind of show-boating line.
That kind of questioning made its way into the San Jose dressing room on Thursday and that's when Sharks captain Joe Thornton gave the most ... interesting (and best!) answer you could possibly give. From the Province:
Hearing a question to Marleau about Hertl and whether he was showboating, Thornton said: "Shut up, have you ever played the game?"

When the press turned his way, he then added: "I'd have my [penis] out if I scored four goals. I'd have my [penis] out, stroking it."
I think he's saying he would be excited and it would be a real pleasure. And is it just me or does Jumbo Joe have a, umm, different meaning today?
So I think we can all admit that while Thornton's quote is absolutely amazing and a stroke of genius as it helps take attention away from his young teammate, we should all hope that Thronton doesn't have any four-goal games left in that stick blade of his. I just wonder if people will have a boner bone to pick with Joe about this and disrespecting the game.
UPDATE
Even though everybody seems to be laughing about this quote and nothing more, the Sharks felt the need to set the record straignt. From the San Jose Mercury News:
"I don't think it would be a surprise to anyone in the industry that 'locker room talk' exists," Sharks director of media relations Scott Emmert said in a prepared statement. "Professional reporters understand that concept and respect it."

Emmert called use of the quote "a pathetic attempt to generate some page hits and controversy by reporting an off-the-cuff and off-the-record comment made by someone who wasn't even being interviewed at the time."
Really, everybody should just embrace this quote. It was rather harmless and while off-color it was also quite funny and everybody seems to be getting a kick out of it. A player actually said something interesting and didn't denigrate anybody in the process. It was a funny quote. Let's leave it at that and enjoy a little color in the daily routines.