Marcus Mariota had a very successful rookie season. Despite concerns that he was too much of a "system quarterback" to make the transition to the NFL, Mariota delivered one of the more efficient rookie years for a quarterback in NFL history. Among the 68 post-merger quarterbacks to throw at least 250 passes in their rookie season, Mariota ranked fifth in passer rating, sixth in touchdown percentage (the percentage of throws that turned into touchdowns), 14th in interception percentage (same), fifth in completion percentage and seventh in yards per attempt.
Naturally, now-full time Titans head coach Mike Mularkey (he was the interim coach from Week 9 on last season) sees that information and decides the best course of action is to take Mariota out of his comfort zone and put him under center more often because this is the NFL, damn it, and if there's anything NFL coaches love, it's fitting the player into their preconceived system rather than fitting their system to suit the skills of player.
Mularkey says Mariota will be under center more than he was last year and more than he will be in the shotgun. #Titans

— Paul Kuharsky (@PaulKuharskyNFL) March 10, 2016
A-plus idea, Mularks. Let's ignore the fact that Mariota -- who took somewhere close to 99 percent of his college snaps out of the shotgun -- is clearly more comfortable operating out of the gun for a second and take a look at some NFL trends. First, here's the percentage of snaps taken out of shotgun league wide over the last five years (via an analysis of data from Football Outsiders):
Snaps in Shotgun
Year
Percentage of Snaps
2011
41
2012
49
2013
57
2014
61
2015
62
Next, here's the reason that number is rising with each passing season:
Yards Per Play
Year
Shotgun
Under Center
2011
6.1
5.2
2012
6.0
5.1
2013
5.9
5.0
2014
6.0
5.0
2015
6.0
5.1
Plays out of the shotgun have consistently averaged nearly a full yard more on a per-play basis than plays that originate with the quarterback under center. Per Football Outsiders, the Titans averaged 5.7 yards per play out of the shotgun in 2015 and only 4.4 yards per play on snaps taken from under center, so their split was even wider. In fact, it was the 10th-largest split in the NFL.
Despite that fact, they took only 58.2 percent of their snaps out of the gun, 22nd in the NFL. Now, they apparently want to drive that number down even further, so that less than half of their snaps come out of the gun. (For reference purposes, only seven teams took more snaps under center than out of the shotgun last season and two of those teams were within 0.5 percent of tipping the balance in the other direction.)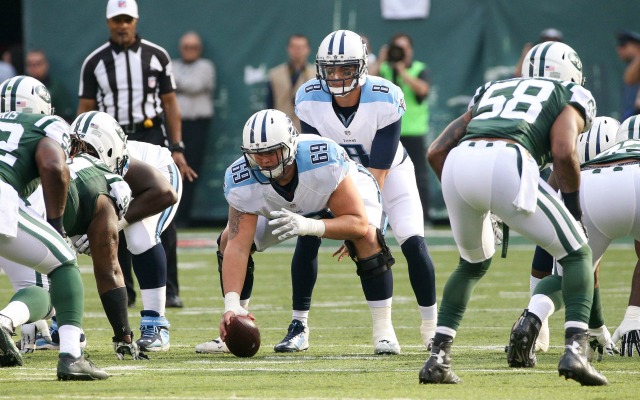 On its face, this does not make much sense at all. When you consider that Mariota himself completed a greater percentage of his passes (62.5 percent to 60.9 percent) for more yards per attempt (7.8 to 7.2) and averaged considerably more yards per carry when running the ball (8.7 to 3.4; and even if you take out his one 87-yard scamper, it's still 5.5 to 3.4) out of the shotgun than from under center, it makes even less sense.
(Note: There's not a huge difference between those figures. So maybe putting Mariota under center more often doesn't necessarily "limit" him because he's just find working from under center, but it's also a way to willingly not take full advantage of his best abilities. Reading defenders and taking off the with ball or throwing quick pop passes out of packaged plays; those are the kinds of things Mariota can already do extremely well. Better than a lot of other quarterbacks, even. Willingly having him do that less often seems pretty unwise, even if he's capable of working in a different way.)
One might want to spin this as a DeMarco Murray-centric shift. He's certainly been more comfortable running out of traditional alignments than the shotgun throughout his career, and over the last four years he has taken 73.4 percent of his carries from quarterbacks that lined up under center.
But in each of the last three seasons, he has averaged more yards per carry out of the gun than under center, and he's also 28 years old and likely to be out of the league before Mariota (still just 22) even hits his prime. The Titans should be making adjustments to make sure Mariota is the one being put in the best possible position to succeed, not catering to the whims of their running back. But maybe we just shouldn't expect that much from a coach with a career record of 18-39 and whose teams have, on average, ranked 22nd in points, 28th in yards, and 28th in Football Outsiders' DVOA.