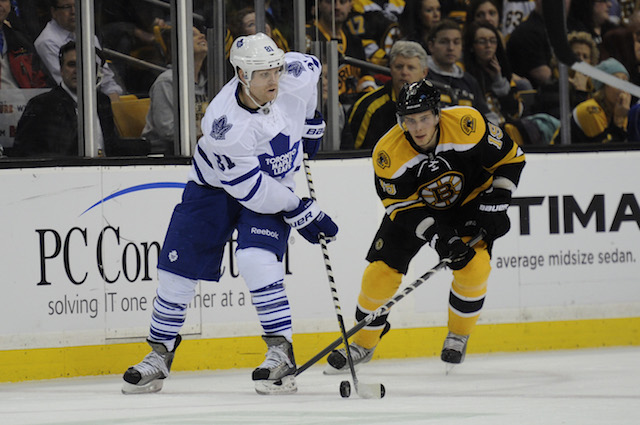 The Toronto Maple Leafs finally went through with it on Wednesday and traded Phil Kessel, sending him to the Pittsburgh Penguins for a package of prospects and draft picks marking what is pretty much the official start of Brendan Shanahan's rebuild of the on-ice product in Toronto.
For Kessel, it ends a six-year run with the Maple Leafs that turned out to be a gigantic waste of his prime years in the NHL.
He missed just 12 games with the team (all in his first year as he recovered from offseason shoulder surgery) and was one of the top goal scorers in the NHL during his time in Toronto. But because he was in the impossible position of being the best player on a bad team he was a consistent target when it came it to assigning blame for the constant losing. And the criticisms often times crossed the line from being about his play, to ridiculous and embarrassing personal attacks, including on his way out the door on Wednesday (big news: Phil Kessel likes hot dogs). 
That criticism was only made worse when combined with his dislike for speaking to the media and the huge price Toronto had to pay to acquire him from the Boston Bruins in September of 2009.
The latter point is what we're going to focus on here, because the initial Kessel trade is one that will be talked about and analyzed for years as the careers of the players involved continue to evolve, and the returns continue to grow for each team. Honestly, it's turned out to be one of the biggest, most controversial, and fascinating trades in recent NHL history. 
After this past week none of the players or picks that were involved in that initial trade remain with the team that acquired them. 
The Trade and the events that preceded it
The Maple Leafs went to great lengths to make sure they acquired Kessel in 2009, and it wasn't necessarily as simple as just putting together a package of draft picks to present to the Bruins. 
Kessel, who the Bruins selected with the No. 5 overall pick in the 2006 draft, had just completed his entry level contract following the 2008-09 season and was unable to work out a contract extension with the team as it was severely limited by the NHL salary cap. The lack of a contract made him, at least in theory, a prime candidate for an offer sheet (sound familiar? If not, it will shortly).
The Maple Leafs, then under the leadership of general manager Brian Burke, were one of the teams most interested and wanted to at least create the illusion that they were going to try and sign Kessel to an offer sheet (something that Burke actually loathed following his days in Anaheim and the whole Dustin Penner situation) to force the Bruins' hands in a trade.
There was just one problem with this: The Maple Leafs did not have the required draft picks to make a large enough offer. The key pick they were missing was their own 2010 second-round selection. That pick had previously been traded in 2008 by then-general manager Cliff Fletcher, along with prospect Greg Pateryn, to get Mikhail Grabovski from the Montreal Canadiens.
What followed was a sequence of trades to reacquire that pick that would have a significant impact on several other teams around the league, including the 2015 Stanley Cup champion Chicago Blackhawks.
1) In July, 2009, the Maple Leafs traded defenseman Anton Stralman, Colin Stuart and a 2012 seventh-round draft pick to the Calgary Flames in exchange for Wayne Primeau and Calgary's 2011 second-round draft pick. 
2) By this point, Toronto's natural 2010 selection belonged to the Chicago Blackhawks because Montreal had traded it to them just three months after acquiring it to get Robert Lang.
That made the Blackhawks the next target to bring everything together.
3) To get the pick back, Toronto traded the 2011 second-round pick it acquired from Calgary in the Stralman trade, as well as its own 2011 third-round pick, to get their 2010 second-round selection back in their possession.
The notable part of this transaction is that Chicago used the 2011 second-round pick (the one that originally belonged to Calgary and was briefly in Toronto's hands) to select Brandon Saad. Saad, of course, would go on to be a key part of the Blackhawks' 2013 and 2015 Stanley Cup winning teams before he was traded this week to the Columbus Blue Jackets.
Now that Toronto had the necessary picks in its possession to at least threaten Boston with an offer sheet, the two sides were able to complete the trade we all know today: Toronto sent its 2010 first-and second-round picks, as well as its 2011 first-round pick, to Boston in exchange for Kessel. The Maple Leafs immediately signed Kessel to a five-year, $27.5 million contract extension. 
The deal was a controversial one from a Toronto standpoint because everybody knew the 2009-10 Maple Leafs, even with Kessel, were going to be a bad hockey team. By trading their 2010 first-round pick there was a very real chance it was going to be a top-five selection. And to the surprise of no one, it was. It turned out to be the No. 2 overall pick which the Bruins used to select Tyler Seguin. The second-round pick was used to select defenseman Jared Knight. He never played a game for the Bruins before he was traded a year ago to the Minnesota Wild for Zack Phillips. 
The 2011 first-round pick proved to be another top-10 selection which the Bruins used to pick defenseman Dougie Hamilton. 
And this was would be a major point of criticism for the Maple Leafs.
The cost to get Kessel turned out to be two potential franchise players that could have been cornerstones for more than a decade in Toronto. Instead, they were set to be building blocks for the Bruins. And that's not including the loss of Stralman, and then the pick that was later used to select Saad, as part of the collateral damage in trying to reacquire their own second-round draft pick to use in the trade. A pick that was used to get Grabovski who would eventually get badly misused by Randy Carlyle, and was then foolishly bought out and lost for nothing. 
Are you still following all of that? 
How much did the return hurt Toronto and how much did Boston gain?
I've long thought that the criticism for this trade from a Toronto standpoint is overstated a bit.
Yes, it was a lot to give up. Yes, it would have been beneficial to potentially have Tyler Seguin and Dougie Hamilton as building blocks on entry level contracts for a few years. But it wasn't as damaging, at least in the short term, as its often times made out to be.
People forget that Kessel was still only 22 years old at the time of the trade and was on his way to becoming one of the top offensive players in the NHL. Players like that do not get traded very often, and when they do they should command a significant return. And it's not like Toronto would have been any better with Seguin and Hamilton in place of Kessel for most of those years. It didn't really start to become an issue until several years later because it took Seguin a few years to even come close to matching Kessel's output, and Hamilton didn't become a regular in the NHL until two years ago. 
Just look at what the three players contributed to their teams offensively over the past six years. 
Phil Kessel vs. Tyler Seguin and Dougie Hamilton
Season
Phil Kessel
Tyler Seguin
Dougie Hamilton
2009-10
30 goals, 55 points
N/A
N/A
2010-11
32 goals, 64 points
11 goals, 22 points
N/A
2011-12
37 goals, 82 points
29 goals, 67 points
N/A
2012-13
20 goals, 52 points
16 goals, 32 points
5 goals, 16 points
2013-14
37 goals, 80 points
37 goals, 84 points
7 goals, 25 points
2014-15
25 goals, 61 points
37 goals, 77 points
10 goals, 42 points
For the first four years after the trade it's pretty much impossible to argue that Toronto wasn't getting more out of Kessel than it would have been able to get out of Seguin/Hamilton. Kessel was by far the more productive and better player and was still young enough to be a core player for a potential championship caliber team. It's not Kessel's fault management messed up pretty much every step of the way when it came to adding talent around him. 
Still, it was a steep price to pay and those great young players now belonged to the Bruins, something that Boston fans at one time enjoyed quite a bit. 
And then things took a turn.
Boston had it all ... and then gave it away
So, about that great return for the Bruins.
After three very promising years from Seguin (they were so good, in fact, that the team even signed him to what has proven to be a steal of a long-term contract extension) the Bruins soured on him following the 2013 postseason because he didn't seem to fit their team identity as a player, and because a 21-year-old had a tendency to act like ... well ... a 21-year-old.
The Bruins then did what should have been unthinkable. They traded a potential cornerstone player (again! Just as they did with Kessel) just before he entered his prime. Only this time instead of getting two young building blocks in return, they went for quantity over quality received Loui Eriksson, Reilly Smith, Joe Morrow and Matt Fraser.
The Bruins went out of their way to pat themselves on the back for this trade.
Not only are none of those players on Seguin's level, two of them are already gone. One of them for nothing. 
Smith was traded to Florida on Wednesday, along with the remaining years of Marc Savard's contract, for Jimmy Hayes.Fraser was lost on waivers during the 2014-15 season to the Edmonton Oilers.
Eriksson is still a solid player, but entering his age 30 season his production has declined considerably in recent years and at this point is more of a complementary piece instead of a player you can build a team around.
The Bruins could have had Seguin and Patrice Bergeron signed through the end of the 2019 season for a combined salary cap hit of $12.6 million, a duo that would have been the envy of just about every other team in the league at that price. Just for comparisons sake, the Blackhawks will have $10.5 million going to Jonathan Toews and Patrick Kane for the next eight years ... each. Instead, the Bruins have Bergeron, a 30-year-old Eriksson (whose cap hit is only about a million less than Seguin's current cap hit for one more year before he becomes an unrestricted free agent after this season) and Jimmy Hayes, who is due for a raise this offseason as a restricted free agent.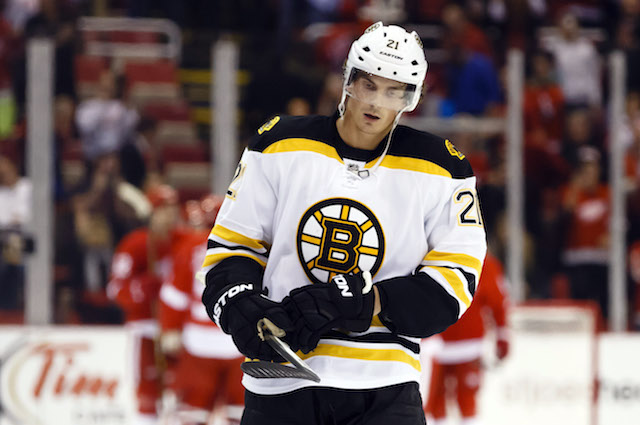 But they still had Hamilton, a defenseman that took a massive step forward this past season and seemed to be on his way to becoming the future of the Bruins' defense.
The key phrase, of course, is "had Hamilton."
With Hamilton unsigned as a restricted free agent and the Bruins pushed to the limits of the NHL salary cap (Hey! We've heard that story before), the Bruins were once again in danger of a potential offer sheet. Especially with their former general manager (and the man that drafted Hamilton), Peter Chiarelli, sitting in Edmonton in a perfect position to step in and steal him away with an offer the Bruins couldn't afford to match.
Rather than wait around for that to happen, and with the two sides unable to agree to a new contract extension (whether it was due to the Bruins playing hardball with a young star or Hamilton looking for a way to get out of Boston is unknown at this point), the Bruins traded Hamilton to the Calgary Flames for three draft picks -- a first and two second-round picks --which was a slightly better return than the might have received on an offer sheet.  
And with that, the Bruins completely squandered what should have been the future of their organization by trading two young stars for pennies on the dollar and what amounts to a couple of lottery tickets. 
Supporters will argue that the Bruins still ended up winning a Stanley Cup in 2011 after the Kessel trade, but neither Hamilton or Seguin were major contributors to that win. Seguin was a rookie and recorded just 22 points during the regular season and only played in 13 playoff games. He recorded just one point in his final 11 games that postseason. Hamilton wasn't even a member of the organization at that point and would not be drafted by the team until two weeks after the Stanley Cup win. Would the Bruins have still won the Cup with Kessel on the roster instead of Seguin? Seeing as how Kessel is a point-per-game player in his postseason career, I am very comfortable saying yes, yes they would have. 
Now, after six years and a series of trades, the Bruins have Loui Eriksson, Jimmy Hayes, Joe Morrow, Zach Phillips, and 2015 draft picks Zachay Senyshyn, Jakob Forsbacka-Karlsson and Jeremy Lauzon to show for the original Kessel trade. It's a lot of players in terms of quantity, but the quality should leave quite a bit to be desired, especially when you consider what it started off as and what it could -- and probably should -- still be today.  
In the end, the only real winners of the original Kessel trade have turned out to be Dallas, who now has one of the best players in the NHL on a bargain contract, the Flames who have a potential top-pairing defenseman to complement Mark Giordano and T.J. Brodie, and the Penguins who finally have a top goal-scoring winner to play alongside one of their top-two centers. 
The Maple Leafs are left hoping a bunch of prospects and draft picks pan out in the future after wasting Kessel's prime years by surrounding him with a dumpster fire of a hockey team, while the Bruins have two good, but not great, players and more prospects.