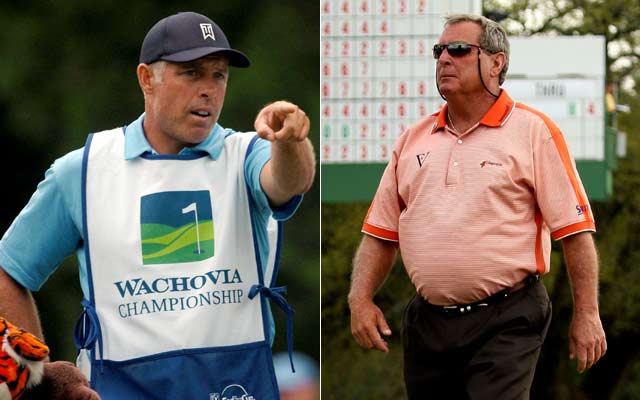 More Golf: Leaderboard | Rankings | Schedule | Expert Picks | Equipment | FedEx Cup
Tiger Woods has been on the receiving end of racist comments (or comments that could be perceived as racist) from his peers, his colleagues, and even some media members over the years.
It's fairly surprising to me these remarks have been made about Woods given that it seemed everyone on tour has fully accepted him regardless of his race  -- at least publicly. He doesn't do or say many things that could be construed as combustible. It actually seems like he stays out of the way of most people.
He has been polarizing, though. It takes about a 10-second search of the Internet to understand that. He attracts equal parts adulation and denigration and that has extended beyond the far reaches of the web into real life.
Everyone has an opinion about the great ones -- they always do. They are magnets for commentary, both good and bad.
Here's a brief history of the really bad -- a timeline of racist remarks made about Woods during his storied career.
1997 -- Fuzzy Zoeller
Fuzzy Zoeller's comments are probably the most infamous of all. As Woods was rolling to his monumental win at the 1997 Masters, Zoeller, in a post-final round interview, had some interesting remarks about the 21-year-old.
"He's doing quite well, pretty impressive. That little boy is driving well and he's putting well. He's doing everything it takes to win. So, you know what you guys do when he gets in here? You pat him on the back and say congratulations and enjoy it and tell him not to serve fried chicken next year. Got it. Or collard greens or whatever the hell they serve."
2008 -- Kelly Tilghman (Golf Channel)
In 2008 during a broadcast on Golf Channel with Nick Faldo, who said younger golfers were going to have to "gang up" on Tiger to be able to take him off his perch as best in the world. Tilghman laughingly responded that they were going to have to "lynch him in a back alley."
The Woods camp almost immediately responded. Tiger's agent, Mark Steinberg, said the Tilghman remark was harmless.
"Tiger and Kelly are friends, and Tiger has a great deal of respect for Kelly. Regardless of the choice of words used, we know unequivocally that there was no ill-intent in her comments."
2011 -- Steve Williams
At the 2011 caddies awards party in Shanghai after Adam Scott won the Bridgestone Invitational, Steve Williams was asked about why he called the win the "greatest victory of his career." He responded by saying he badly wanted to beat former employer, Woods.
"I wanted to shove it up that black arsehole."
Woods and Williams eventually made amends although Woods said he was disappointed by what Williams said.
"Stevie's certainly not a racist. There's no doubt about that. It was a comment that shouldn't have been made and was certainly one that he wished he didn't make."
2013 -- 
Sergio Garcia
You all know about this one. In England on Tuesday night, Garcia was asked about whether or not he would consider hosting Tiger at the 2013 U.S. Open. He said he would.
"We will have him 'round every night. We will serve fried chicken"
Woods responded via Twitter and, again, said he was disappointed.
"The comment that was made wasn't silly. It was wrong, hurtful and clearly inappropriate. I'm confident that there is real regret that the remark was made. The Players ended nearly two weeks ago and it's long past time to move on and talk about golf."
I'm not sure why these comments keep popping up. The Tilghman comment, I believe, was actually pretty harmless but the rest of them, man, there just aren't a lot of different ways you can look at them.
Woods has handled it all with grace but I hope I don't have to add to this post at any time in the future.
For more golf news, rumors and analysis, follow @EyeOnGolf and @KylePorterCBS on Twitter or Google+ and like us on Facebook.