UPDATE (Sunday, 8:46 p.m. ET): If you missed the Lady Gaga's halftime show during Super Bowl LI, things got wild -- SHE JUMPED OFF THE ROOF. You can catch up on all the details of her wild show by clicking here. You can also check out the crazy Twitter reactions by clicking here.)
Here's the original story.
HOUSTON -- The Super Bowl is going Gaga.
Super Bowl LI is getting a full dose of Lady Gaga after the pop star crushed the national anthem at last year's big game. That's fantastic news if you're a Lady Gaga fan or a football fan who was disappointed that her appearance at last year's Super Bowl was so brief.
Country star Luke Bryan will sing the national anthem at this year's Super Bowl, while Gaga will take to the world's biggest stage for the halftime show, and since no one likes to do the Super Bowl halftime show alone, Gaga has invited Tony Bennett to join her.
That's right, the 90-year-old crooner will be singing at the Super Bowl this year.
There was also a rumor that Beyonce might join Gaga for the halftime show since the Super Bowl is being played in Queen Bey's hometown of Houston, however, Gaga shot that rumor down on Thursday.
"She's always very inspiring and gives great advice, she's a very focused and genuine performer," Gaga said.
Gaga also added that she might take a few cues from Beyonce, but that the singer won't be on stage with her.
"I'm going to be taking the spirit of many performers with me on that stage when I go up there," Gaga said. "I'm grateful to have wonderful women in this business that are supportive of me."
The last time the Super Bowl was in Houston, the words "wardrobe malfunction" entered the national lexicon after Janet Jackson's breast was exposed during the show. Gaga said that's not going to happen on Sunday.
One thing Gaga didn't touch on is whether or not there will be drones flying around during her show. CNN has reported that Gaga is going to have "hundreds of lit-up drones" flying around the stadium for her show. The wild thing about that is that Gaga reportedly had to get FAA approval before she was allowed to move forward with her idea.
Anyway, the Super Bowl show is a big deal for Gaga, because apparently, the 30-year-old singer has been waiting 26 years to sing at halftime of the Super Bowl.
"I've been planning this since I was 4, so I know exactly what I'm going to do," Gaga said recently. "For me, it's all about giving to the fans and bringing people together that wouldn't normally come together."
There have been some wild halftime shows over the past few years -- um, everybody remembers Katy Perry, right -- but Gaga seems determined to top them all when she takes the stage at halftime of the Feb. 5 game between the Patriots and the Falcons.
"The thing is, is it's such a big world stage in terms of how many people see it and it's been done so many times," Gaga said. "I think the challenge is to look at it and say, 'What can I do differently, how can I elevate certain little things here and there and also make it about the music?'"
Apparently, Gaga is literally going to try and elevate things. One report has suggested that Gaga may attempt to do part of the show from the roof at NRG Stadium. There's also a chance that Donald Trump's name could be mentioned. If his name does come up, it won't be a compliment, because Gaga is not a Trump fan.
Gaga didn't confirm or deny either report during her pre-show press conference that was held on Feb. 2.
Whatever happens in the show, you can probably expect an A+ performance from Gaga's dancers because they've spent hours rehearsing inside of a giant tent that's set up in Gaga's backyard. If you get dizzy easily, don't watch the video below of the giant tent, because it's sideways and it's confusing.
Finally, here's a preview of the show.
Pepsi is the official sponsor of the halftime show, so of course, they've been documenting Gaga's entire rehearsal process.
Here is the complete list of previous Super Bowl halftime performers and themes
2016 (Super Bowl 50): Coldplay, Beyonce, Bruno Mars
2015: Katy Perry, Lenny Kravitz and Missy Elliott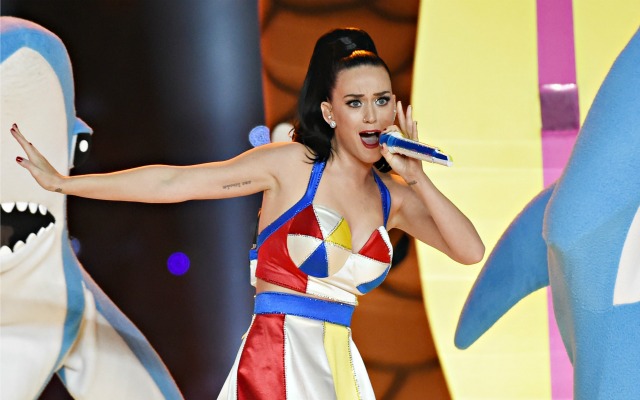 2014: Bruno Mars, Red Hot Chili Peppers
2013: Beyonce
2012: Madonna
2011: The Black Eyed Peas, Usher, Slash
2010: The Who
2009: Bruce Springsteen and the E Street Band
2008: Tom Petty & The Heartbreakers
2007: Prince and the Florida A&M marching band
2006: The Rolling Stones
2005: Paul McCartney
2004: Janet Jackson, Kid Rock, P. Diddy, Nelly and Justin Timberlake
2003: Shania Twain, No Doubt and Sting
2002: U2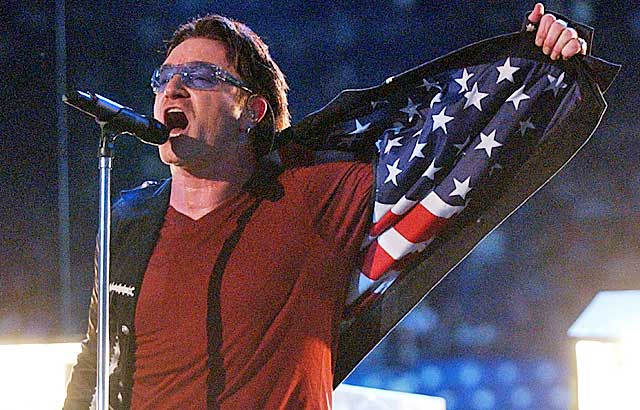 2001: "The Kings of Rock and Pop" featuring Aerosmith, 'N'Sync, Britney Spears, Mary J. Blige and Nelly
2000: "A Tapestry of Nations" featuring Phil Collins, Christina Aguilera, Enrique Iglesias, Toni Braxton and an 80-person choir
1999: "Celebration of Soul, Salsa and Swing" featuring Stevie Wonder, Gloria Estefan, Big Bad Voodoo Daddy and tap dancer Savion Glover
1998: "A Tribute to Motown's 40th Anniversary" including Boyz II Men, Smokey Robinson, Queen Latifah, Martha Reeves and The Temptations
1997: "Blues Brothers Bash" featuring Dan Akroyd, John Goodman and James Belushi (also featuring "The Godfather of Soul" James Brown and ZZ Top)
1996: Diana Ross celebrating 30 years of the Super Bowl with special effects, pyrotechnics and stadium card stunt. Finale featured Diana Ross being taken from the stadium in a helicopter
1995: "Indiana Jones and the Temple of the Forbidden Eye" featuring Tony Bennett, Patti LaBelle, Arturo Sandoval, the Miami Sound Machine and stunts including fire and skydivers. Finale included audience participation with light sticks
1994: "Rockin' Country Sunday" featuring Clint Black, Tanya Tucker, Travis Tritt, Wynonna & Naomi Judd. Finale included flashlight stunt
1993: "Heal the World" featuring Michael Jackson and 3,500 local children. Finale included audience card stunt
1992: "Winter Magic" including a salute to the winter season and the winter Olympics featuring Gloria Estefan, Brian Boitano and Dorothy Hamill
1991: "A Small World Salute to 25 Years of the Super Bowl" featuring New Kids on the Block
1990: "Salute to New Orleans" and 40th Anniversary of Peanuts' characters, featuring trumpeter Pete Fountain, Doug Kershaw & Irma Thomas
1989: "Be Bop Bamboozled" featuring 3-D effects
1988: "Something Grand" featuring 88 grand pianos, the Rockettes and Chubby Checker
1987: "Salute to Hollywood's 100th Anniversary"
1986: "Beat of the Future"
1985: "A World of Children's Dreams"
1984: "Super Bowl XVIII's Salute to the Superstars of the Silver Screen"
1983: "KaleidoSUPERscope" (a kaleidoscope of color and sound)
1982: "A Salute to the 60s and Motown"
1981: "A Mardi Gras Festival"
1980: "A Salute to the Big Band Era" with Up with People
1979: "Super Bowl XIII Carnival" Salute to the Caribbean with Ken Hamilton and various Caribbean bands
1978: "From Paris to the Paris of America" with Tyler Apache Belles, Pete Fountain and Al Hirt
1977: "It's a Small World" including crowd participation for first time with spectators waving colored placards on cue
1976: "200 Years and Just a Baby" Tribute to America's Bicentennial
1975: "Tribute to Duke Ellington" with Mercer Ellington and Grambling State band
1974: "A Musical America" with University of Texas band
1973: "Happiness Is." with University of Michigan marching band and Woody Herman
1972: "Salute to Louis Armstrong" with Ella Fitzgerald, Carol Channing, Al Hirt and U.S. Marine Corps Drill Team
1971: Florida A&M band
1970: Carol Channing
1969: "America Thanks" with Florida A&M University band
1968: Grambling State band
1967: University of Arizona and Grambling State marching bands
Super Bowl LI will be played at NRG Stadium in Houston with kickoff is set for 6:30 p.m. ET on Fox. For more information on how to watch or stream Super Bowl LI, be sure to click here.