Picking all 256 regular season games for the 2015 NFL season, with scores, is a labor of love for me.
For most of you, it's an exercise in hate.
Many of you get downright nasty when it comes to the outlook for your team. Just so you know, there are actually people who document these playing-out-the-season picks that make me look foolish come January. Just look for them then, and hold off on the nastiness.
It isn't easy picking NFL games on a weekly basis, let alone the entire season before it even starts.
Try it sometime.
Injuries can blow the entire thing into a mess in an instant.
Even so, since my bosses love it and I find that it is something I enjoy, I've played out the entire 2015 NFL season for you, starting with a Thursday night upset in New England.
Slow down, Pats fans. I still have your team going 13-3 and getting to the Super Bowl. I just think a slow start is in the works.
I have the Patriots playing the Packers in the Super Bowl. Tom Brady vs. Aaron Rodgers, a game matching arguably the two best quarterbacks in the league, would be a fun one to watch.
When in doubt, pick the best quarterbacks. I don't like picking the chalk, but it makes sense here.
I almost picked the Dallas Cowboys to beat Green Bay in the NFC Championship Game, but decided against it. So it's the Packers and the Patriots, with Green Bay winning it all -- even without Jordy Nelson.
So scan your team's scores and projected record, but before getting too angry, just remember in this same exercise a year ago, I had the Dallas Cowboys going 5-11 and we know how that ended up.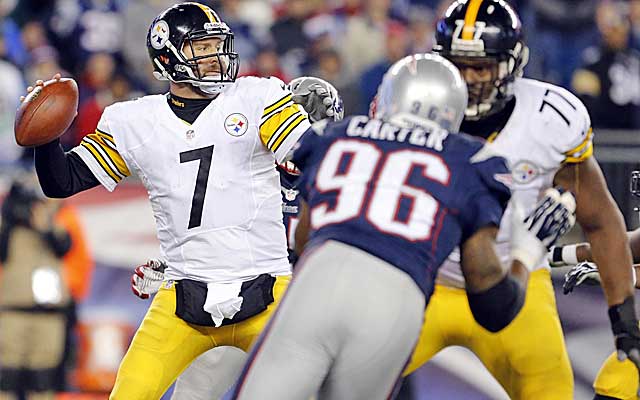 Week 1
Thursday, Sept. 10
Pittsburgh Steelers at New England Patriots -- Steelers 23, Patriots 21
Sunday, Sept. 13
Green Bay Packers at Chicago Bears -- Packers 31, Bears 20
Kansas City Chiefs at Houston Texans -- Texans 23, Chiefs 20
Cleveland Browns at New York Jets -- Browns 18, Jets 17
Indianapolis Colts at Buffalo Bills -- Colts 23, Bills 10
Miami Dolphins at Washington Redskins -- Dolphins 28, Redskins 17
Carolina Panthers at Jacksonville Jaguars -- Jaguars 20, Panthers 14
Seattle Seahawks at St. Louis Rams -- Rams 17, Seahawks 13
New Orleans Saints at Arizona Cardinals -- Cardinals 24, Saints 20
Detroit Lions at San Diego Chargers -- Chargers 20, Lions 17
Tennessee Titans at Tampa Bay Buccaneers -- Bucs 27, Titans 26
Cincinnati Bengals at Oakland Raiders -- Bengals 19, Raiders 14
Baltimore Ravens at Denver Broncos -- Broncos 26, Ravens 23
New York Giants at Dallas Cowboys -- Cowboys 37, Giants 33
Monday, Sept. 14
Philadelphia Eagles at Atlanta Falcons -- Eagles 28, Falcons 24
Minnesota Vikings at San Francisco 49ers -- Vikings 23, 49ers 17
Week 2
Thursday, Sept. 17
Denver Broncos at Kansas City Chiefs -- Broncos 19, Chiefs 17
Sunday, Sept. 20
Houston Texans at Carolina Panthers -- Panthers 24, Texans 10
San Francisco 49ers at Pittsburgh Steelers -- Steelers 28, 49ers 20
Tampa Bay Buccaneers at New Orleans Saints -- Saints 30, Bucs 21
Detroit Lions at Minnesota Vikings -- Vikings 26, Lions 24
Arizona Cardinals at Chicago Bears – Cardinals 23, Bears 21
New England Patriots at Buffalo Bills -- Patriots 19, Bills 18
San Diego Chargers at Cincinnati Bengals -- Bengals 27, Chargers 17
Tennessee Titans at Cleveland Browns -- Browns 17, Titans 14
Atlanta Falcons at New York Giants -- Giants 31, Falcons 20
St. Louis Rams at Washington Redskins -- Rams 21, Redskins 13
Miami Dolphins at Jacksonville Jaguars -- Jaguars 24, Dolphins 23
Baltimore Ravens at Oakland Raiders -- Ravens 21, Raiders 20
Dallas Cowboys at Philadelphia Eagles -- Eagles 30, Cowboys 27
Seattle Seahawks at Green Bay Packers -- Packers 23, Seahawks 14
Monday, Sept. 21
New York Jets at Indianapolis Colts -- Colts 28, Jets 17
Week 3
Thursday, Sept. 24
Washington Redskins at New York Giants -- Giants 20, Redskins 9
Sunday, Sept. 27
Atlanta Falcons at Dallas Cowboys -- Cowboys 30, Falcons 17
Indianapolis Colts at Tennessee Titans -- Colts 26, Titans 20
Oakland Raiders at Cleveland Browns -- Browns 21, Raiders 20
Cincinnati Bengals at Baltimore Ravens -- Ravens 23, Bengals 21
Jacksonville Jaguars at New England Patriots -- Patriots 34, Jaguars 17
New Orleans Saints at Carolina Panthers -- Panthers 23, Saints 14
Philadelphia Eagles at New York Jets -- Eagles 16, Jets 9
Tampa Bay Buccaneers at Houston Texans -- Texans 27, Bucs 19
San Diego Chargers at Minnesota Vikings -- Vikings 26, Chargers 14
Pittsburgh Steelers at St. Louis Rams -- Steelers 23, Rams 14
San Francisco 49ers at Arizona Cardinals -- Cardinals 21, 49ers 13
Buffalo Bills at Miami Dolphins -- Dolphins 24, Bills 16
Chicago Bears at Seattle Seahawks -- Seahawks 20, Bears 13
Denver Broncos at Detroit Lions -- Lions 27, Broncos 26
Monday, Sept. 28
Kansas City Chiefs at Green Bay Packers -- Packers 30, Chiefs 17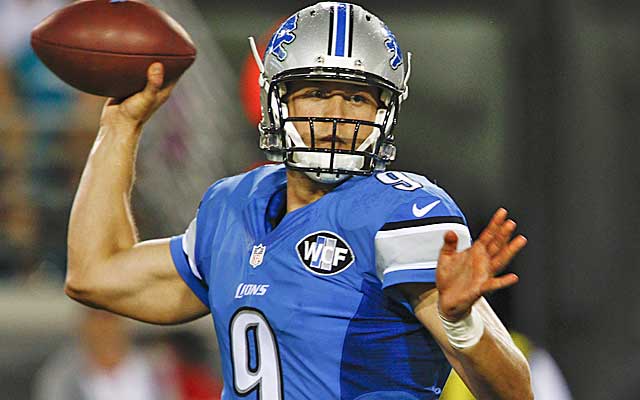 Week 4
Bye teams: Tennessee Titans, New England Patriots
Thursday, Oct. 1
Baltimore Ravens at Pittsburgh Steelers -- Steelers 27, Ravens 24
Sunday, Oct. 4
New York Jets at Miami Dolphins (at London) -- Dolphins 21, Jets 17
Jacksonville Jaguars at Indianapolis Colts -- Colts 24, Jaguars 20
New York Giants at Buffalo Bills – Bills 20, Giants 19
Carolina Panthers at Tampa Bay Buccaneers – Bucs 20, Panthers 17
Philadelphia Eagles at Washington Redskins -- Eagles 31, Redskins 18
Oakland Raiders at Chicago Bears – Raiders 27, Bears 20
Houston Texans at Atlanta Falcons -- Falcons 27, Texans 23
Kansas City Chiefs at Cincinnati Bengals -- Bengals 21, Chiefs 10
Cleveland Browns at San Diego Chargers -- Chargers 31, Browns 21
Green Bay Packers at San Francisco 49ers -- Packers 31, 49ers 21
St. Louis Rams at Arizona Cardinals -- Cardinals 20, Rams 14
Minnesota Vikings at Denver Broncos -- Broncos 31, Vikings 24
Dallas Cowboys at New Orleans Saints -- Cowboys 33, Saints 31
Monday, Oct. 5
Detroit Lions at Seattle Seahawks -- Seahawks 24, Lions 16
Week 5
Bye teams: Carolina Panthers, Miami Dolphins, Minnesota Vikings, New York Jets
Thursday, Oct. 8
Indianapolis Colts at Houston Texans -- Colts 33, Texans 28
Sunday, Oct. 11
Chicago Bears at Kansas City Chiefs -- Chiefs 17, Bears 14
Seattle Seahawks at Cincinnati Bengals -- Seahawks 23, Bengals 20
Washington Redskins at Atlanta Falcons -- Falcons 31, Redskins 20
Jacksonville Jaguars at Tampa Bay Buccaneers -- Jaguars 21, Bucs 17
New Orleans Saints at Philadelphia Eagles -- Eagles 33, Saints 30
Cleveland Browns at Baltimore Ravens -- Ravens 40, Browns 17
St. Louis Rams at Green Bay Packers -- Packers 23, Rams 14
Buffalo Bills at Tennessee Titans -- Titans 21, Bills 17
Arizona Cardinals at Detroit Lions -- Lions 31, Cardinals 24
New England Patriots at Dallas Cowboys -- Cowboys 37, Patriots 31
Denver Broncos at Oakland Raiders -- Broncos 21, Raiders 20
San Francisco 49ers at New York Giants -- Giants 21, 49ers 20
Monday, Oct. 12
Pittsburgh Steelers at San Diego Chargers -- Steelers 27, Chargers 23
Week 6
Bye teams: Dallas Cowboys, Oakland Raiders, St. Louis Rams, Tampa Bay Buccaneers
Thursday, Oct. 15
Atlanta Falcons at New Orleans Saints -- Saints 27, Falcons 20
Sunday, Oct. 18
Washington Redskins at New York Jets -- Jets 23, Redskins 17
Arizona Cardinals at Pittsburgh Steelers -- Steelers 31, Cardinals 10
Kansas City Chiefs at Minnesota Vikings -- Vikings 27, Chiefs 13
Cincinnati Bengals at Buffalo Bills -- Bengals 21, Bills 17
Chicago Bears at Detroit Lions -- Lions 38, Bears 33
Denver Broncos at Cleveland Browns -- Broncos 31, Browns 21
Houston Texans at Jacksonville Jaguars -- Jaguars 20, Texans 17
Miami Dolphins at Tennessee Titans -- Dolphins 30, Titans 20
Carolina Panthers at Seattle Seahawks -- Seahawks 20, Panthers 13
San Diego Chargers at Green Bay Packers --Packers 37, Chargers 23
Baltimore Ravens at San Francisco 49ers -- Ravens 22, 49ers 17
New England Patriots at Indianapolis Colts -- Patriots 29, Colts 28
Monday, Oct. 19
New York Giants at Philadelphia Eagles -- Giants 31, Eagles 24
Week 7
Bye teams: Chicago Bears, Cincinnati Bengals, Denver Broncos, Green Bay Packers
Thursday, Oct. 22
Seattle Seahawks at San Francisco 49ers -- Seahawks 23, 49ers 17
Sunday, Oct. 25
Buffalo Bills at Jacksonville Jaguars (at London) -- Bills 20, Jaguars 13
Tampa Bay Buccaneers at Washington Redskins -- Redskins 24, Bucs 23
Atlanta Falcons at Tennessee Titans -- Titans 31, Falcons 28
New Orleans Saints at Indianapolis Colts -- Colts 30, Saints 23
Minnesota Vikings at Detroit Lions -- Lions 18, Vikings 9
Pittsburgh Steelers at Kansas City Chiefs -- Chiefs 22, Steelers 17
Cleveland Browns at St. Louis Rams -- Rams 19, Browns 17
Houston Texans at Miami Dolphins -- Dolphins 27, Texans 13
New York Jets at New England Patriots -- Patriots 41, Jets 20
Oakland Raiders at San Diego Chargers -- Chargers 28, Raiders 20
Dallas Cowboys at New York Giants – Giants 35, Cowboys 33
Philadelphia Eagles at Carolina Panthers – Panthers 27, Eagles 23
Monday, Oct. 26
Baltimore Ravens at Arizona Cardinals -- Cardinals 16, Ravens 14
Week 8
Bye teams: Buffalo Bills, Jacksonville Jaguars, Philadelphia Eagles, Washington Redskins
Thursday, Oct. 29
Miami Dolphins at New England Patriots -- Patriots 28, Dolphins 20
Sunday, Nov. 1
Detroit Lions at Kansas City Chiefs (at London) -- Chiefs 27, Lions 24
Tampa Bay Buccaneers at Atlanta Falcons --Falcons 23, Bucs 13
Arizona Cardinals at Cleveland Browns -- Cardinals 21, Browns 14
San Francisco 49ers at St. Louis Rams -- Rams 24, 49ers 10
New York Giants at New Orleans Saints -- Saints 37, Giants 31
Minnesota Vikings at Chicago Bears --Bears 27, Vikings 20
San Diego Chargers at Baltimore Ravens -- Ravens 30, Chargers 16
Cincinnati Bengals at Pittsburgh Steelers -- Steelers 30, Bengals 16
Tennessee Titans at Houston Texans -- Texans 27, Titans 13
New York Jets at Oakland Raiders -- Raiders 20, Jets 17
Seattle Seahawks at Dallas Cowboys -- Cowboys 21, Seahawks 20
Green Bay Packers at Denver Broncos -- Broncos 27, Packers 26
Monday, Nov. 2
Indianapolis Colts at Carolina Panthers -- Colts 27, Panthers 21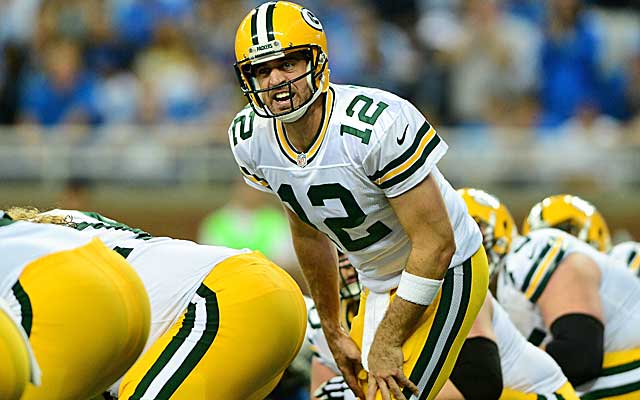 Week 9
Bye teams: Arizona Cardinals, Baltimore Ravens, Detroit Lions, Houston Texans, Kansas City Chiefs, Seattle Seahawks
Thursday, Nov. 5
Cleveland Browns at Cincinnati Bengals -- Bengals 30, Browns 16
Sunday, Nov. 8
Green Bay Packers at Carolina Panthers -- Packers 24, Panthers 20
Washington Redskins at New England Patriots -- Patriots 44, Redskins 23
Tennessee Titans at New Orleans Saints -- Saints 27, Titans 14
Miami Dolphins at Buffalo Bills -- Dolphins 19, Bills 13
St. Louis Rams at Minnesota Vikings -- Vikings 20, Rams 17
Jacksonville Jaguars at New York Jets -- Jets 21, Jaguars 20
Oakland Raiders at Pittsburgh Steelers -- Steelers 27, Raiders 20
New York Giants at Tampa Bay Buccaneers -- Giants 23, Bucs 21
Atlanta Falcons at San Francisco 49ers -- 49ers 28, Falcons 17
Denver Broncos at Indianapolis Colts -- Broncos 33, Colts 30
Philadelphia Eagles at Dallas Cowboys -- Cowboys 27, Eagles 24
Monday, Nov. 9
Chicago Bears at San Diego Chargers -- Chargers 21, Bears 20
Week 10
Bye teams: Atlanta Falcons, Indianapolis Colts, San Diego Chargers, San Francisco 49ers
Thursday, Nov. 12
Buffalo Bills at New York Jets -- Jets 17, Bills 16
Sunday, Nov. 15
Detroit Lions at Green Bay Packers -- Packers 31, Lions 27
Dallas Cowboys at Tampa Bay Buccaneers -- Cowboys 31, Bucs 14
Carolina Panthers at Tennessee Titans -- Panthers 20, Titans 13
Chicago Bears at St. Louis Rams -- Rams 23, Bears 20
New Orleans Saints at Washington Redskins -- Redskins 20, Saints 17
Miami Dolphins at Philadelphia Eagles -- Eagles 27, Dolphins 17
Cleveland Browns at Pittsburgh Steelers -- Steelers 37, Browns 14
Jacksonville Jaguars at Baltimore Ravens -- Ravens 30, Jaguars 13
Minnesota Vikings at Oakland Raiders -- Raiders 21, Vikings 14
New England Patriots at New York Giants -- Patriots 28, Giants 24
Kansas City Chiefs at Denver Broncos -- Broncos 30, Chiefs 17
Arizona Cardinals at Seattle Seahawks -- Seahawks 21, Cardinals 10
Monday, Nov. 16
Houston Texans at Cincinnati Bengals -- Bengals 20, Texans 10
Week 11
Bye teams: Cleveland Browns, New Orleans Saints, New York Giants, Pittsburgh Steelers
Thursday, Nov. 19
Tennessee Titans at Jacksonville Jaguars -- Jaguars 22, Titans 9
Sunday, Nov. 22
Oakland Raiders at Detroit Lions -- Lions 30, Raiders 20
Indianapolis Colts at Atlanta Falcons -- Colts 24, Falcons 20
New York Jets at Houston Texans -- Texans 17, Jets 14
Tampa Bay Buccaneers at Philadelphia Eagles -- Eagles 31, Bucs 21
Denver Broncos at Chicago Bears -- Bears 24, Broncos 20
Green Bay Packers at Minnesota Vikings -- Packers 30, Vikings 28
St. Louis Rams at Baltimore Ravens -- Ravens 27, Rams 13
Dallas Cowboys at Miami Dolphins -- Cowboys 24, Dolphins 17
Washington Redskins at Carolina Panthers -- Panthers 27, Redskins 14
Cincinnati Bengals at Arizona Cardinals -- Cardinals 16, Bengals 10
San Francisco 49ers at Seattle Seahawks -- Seahawks 27, 49ers 13
Kansas City Chiefs at San Diego Chargers -- Chargers 21, Chiefs 13
Monday, Nov. 23
Buffalo Bills at New England Patriots -- Patriots 26, Bills 16
Week 12
Thursday, Nov. 26
Philadelphia Eagles at Detroit Lions -- Lions 31, Eagles 30
Carolina Panthers at Dallas Cowboys -- Cowboys 20, Panthers 17
Chicago Bears at Green Bay Packers -- Packers 37, Bears 27
Sunday, Nov. 29
New Orleans Saints at Houston Texans -- Texans 21, Saints 13
St. Louis Rams at Cincinnati Bengals – Bengals 19, Rams 6
Minnesota Vikings at Atlanta Falcons -- Vikings 27, Falcons 26
New York Giants at Washington Redskins -- Giants 28, Redskins 20
Tampa Bay Buccaneers at Indianapolis Colts -- Colts 43, Bucs 24
Buffalo Bills at Kansas City Chiefs – Chiefs 17, Bills 13
Oakland Raiders at Tennessee Titans -- Titans 21, Raiders 20
San Diego Chargers at Jacksonville Jaguars -- Chargers 23, Jaguars 17
Miami Dolphins at New York Jets – Dolphins 28, Jets 24
Arizona Cardinals at San Francisco 49ers -- Cardinals 20, 49ers 17
Pittsburgh Steelers at Seattle Seahawks -- Seahawks 26, Steelers 24
New England Patriots at Denver Broncos – Broncos 34, Patriots 27
Monday, Nov. 30
Baltimore Ravens at Cleveland Browns -- Ravens 16, Browns 13 Week 13
Thursday, Dec. 3
Green Bay Packers at Detroit Lions -- Lions 30, Packers 27
Sunday, Dec. 6
New York Jets at New York Giants -- Giants 22, Jets 10
Arizona Cardinals at St. Louis Rams -- Cardinals 17, Rams 16
Atlanta Falcons at Tampa Bay Buccaneers -- Bucs 20, Falcons 17
Carolina Panthers at New Orleans Saints -- Panthers 23, Saints 20
Seattle Seahawks at Minnesota Vikings -- Vikings 21, Seahawks 16
Houston Texans at Buffalo Bills -- Bills 18, Texans 14
Baltimore Ravens at Miami Dolphins -- Dolphins 28, Ravens 24
Cincinnati Bengals at Cleveland Browns -- Bengals 23, Browns 17
Jacksonville Jaguars at Tennessee Titans -- Titans 16, Jaguars 14
San Francisco 49ers at Chicago Bears –- Bears 24, 49ers 18
Denver Broncos at San Diego Chargers -- Chargers 30, Broncos 21
Kansas City Chiefs at Oakland Raiders -- Chiefs 17, Raiders 10
Philadelphia Eagles at New England Patriots -- Patriots 31, Eagles 27
Indianapolis Colts at Pittsburgh Steelers -- Steelers 30, Colts 28
Monday, Dec. 7
Dallas Cowboys at Washington Redskins -- Cowboys 31, Redskins 15
Week 14
Thursday, Dec. 10
Minnesota Vikings at Arizona Cardinals -- Cardinals 25, Vikings 24
Sunday, Dec. 13
Buffalo Bills at Philadelphia Eagles -- Eagles 23, Bills 18
San Francisco 49ers at Cleveland Browns – 49ers 17, Browns 14
Detroit Lions at St. Louis Rams -- Lions 24, Rams 20
New Orleans Saints at Tampa Bay Buccaneers -- Saints 24, Bucs 20
Tennessee Titans at New York Jets -- Jets 27, Titans 21
Pittsburgh Steelers at Cincinnati Bengals -- Bengals 30, Steelers 27
New England Patriots at Houston Texans -- Patriots 32, Texans 20
Indianapolis Colts at Jacksonville Jaguars -- Colts 28, Jaguars 27
San Diego Chargers at Kansas City Chiefs -- Chiefs 21, Chargers 20
Washington Redskins at Chicago Bears -- Bears 17, Redskins 13
Atlanta Falcons at Carolina Panthers -- Panthers 24, Falcons 14
Oakland Raiders at Denver Broncos -- Broncos 33, Raiders 13
Dallas Cowboys at Green Bay Packers -- Packers 35, Cowboys 33
Seattle Seahawks at Baltimore Ravens -- Ravens 19, Seahawks 17
Monday, Dec. 14
New York Giants at Miami Dolphins -- Dolphins 24, Giants 23
Week 15
Thursday, Dec. 17
Tampa Bay Buccaneers at St. Louis Rams -- Rams 20, Bucs 17
Saturday, Dec. 19
New York Jets at Dallas Cowboys -- Cowboys 27, Jets 16
Sunday, Dec. 20
Chicago Bears at Minnesota Vikings -- Vikings 27 Bears 26
Atlanta Falcons at Jacksonville Jaguars -- Jaguars 21, Falcons 17
Houston Texans at Indianapolis Colts -- Colts 31, Texans 23
Arizona Cardinals at Philadelphia Eagles -- Eagles 28, Cardinals 22
Carolina Panthers at New York Giants -- Giants 20, Panthers 14
Tennessee Titans at New England Patriots -- Patriots 33, Titans 13
Buffalo Bills at Washington Redskins -- Bills 17, Redskins 10
Kansas City Chiefs at Baltimore Ravens -- Ravens 24, Chiefs 21
Cleveland Browns at Seattle Seahawks -- Seahawks 23, Browns 6
Green Bay Packers at Oakland Raiders -- Packers 37, Raiders 21
Denver Broncos at Pittsburgh Steelers -- Steelers 33, Broncos 30
Miami Dolphins at San Diego Chargers -- Chargers 23, Dolphins 20
Cincinnati Bengals at San Francisco 49ers -- 49ers 21, Bengals 16
Monday, Dec. 21
Detroit Lions at New Orleans Saints -- Lions 35, Saints 30
Week 16
Thursday, Dec. 24
San Diego Chargers at Oakland Raiders -- Chargers 19, Raiders 16
Saturday, Dec. 26
Washington Redskins at Philadelphia Eagles -- Eagles 28 Redskins 18
Sunday, Dec. 27
New England Patriots at New York Jets -- Patriots 23, Jets 10
Houston Texans at Tennessee Titans -- Titans 24, Texans 20
Cleveland Browns at Kansas City Chiefs -- Chiefs 28, Browns 16
Indianapolis Colts at Miami Dolphins -- Dolphins 30, Colts 27
Jacksonville Jaguars at New Orleans Saints -- Saints 24, Jaguars 21
San Francisco 49ers at Detroit Lions -- Lions 27, 49ers 21
Dallas Cowboys at Buffalo Bills -- Cowboys 19, Bills 16
Chicago Bears at Tampa Bay Buccaneers -- Bears 27, Bucs 20
Carolina Panthers at Atlanta Falcons -- Panthers 17, Falcons 14
New York Giants at Minnesota Vikings -- Vikings 27, Giants 26
St. Louis Rams at Seattle Seahawks -- Seahawks 12, Rams 9
Green Bay Packers at Arizona Cardinals -- Packers 27, Cardinals 24
Pittsburgh Steelers at Baltimore Ravens -- Ravens 24, Steelers 17
Monday, Dec. 28
Cincinnati Bengals at Denver Broncos -- Broncos 28, Bengals 25
Week 17
Sunday, Jan. 3
New York Jets at Buffalo Bills -- Bills 21, Jets 16
New England Patriots at Miami Dolphins -- Patriots 26, Dolphins 24
Tampa Bay Buccaneers at Carolina Panthers -- Panthers 20, Bucs 17
New Orleans Saints at Atlanta Falcons -- Falcons 21, Saints 20
Baltimore Ravens at Cincinnati Bengals -- Bengals 28, Ravens 27
Pittsburgh Steelers at Cleveland Browns -- Steelers 14, Browns 10
Jacksonville Jaguars at Houston Texans -- Texans 23, Jaguars 20
Tennessee Titans at Indianapolis Colts -- Colts 37, Titans 27
Oakland Raiders at Kansas City Chiefs -- Chiefs 19, Raiders 13
Washington Redskins at Dallas Cowboys -- Cowboys 31, Redskins 27
Philadelphia Eagles at New York Giants -- Giants 24, Eagles 23
Detroit Lions at Chicago Bears -- Bears 35, Lions 31
Minnesota Vikings at Green Bay Packers -- Packers 27, Vikings 17
San Diego Chargers at Denver Broncos -- Broncos 34, Chargers 30
Seattle Seahawks at Arizona Cardinals -- Cardinals 19, Seahawks 14
St. Louis Rams at San Francisco 49ers -- 49ers 21, Rams 17
PLAYOFFS
First-round byes -- AFC: Patriots, Steelers.
First-round byes -- NFC: Packers, Cowboys
Wild-card round -- AFC: Broncos beat Bengals, Ravens beat Colts
Wild-card round -- NFC: Cardinals beat Seahawks, Giants beat Panthers
Divisional round -- AFC: Patriots beat Ravens, Steelers beat Broncos
Divisional round -- NFC: Packers beat Giants, Cowboys beat Cardinals
Conference championships: Patriots beat Steelers (AFC); Packers beat Cowboys (NFC).
Super Bowl: Packers beat Patriots