The Lineup: Big bounce-backs
Hey, every team has played at least one home game now! All the special openers have concluded, so we can officially look forward to the grind. Friday night was yet another great night of baseball, with some huge pitching performances, a few good offensive displays and a pair of extra-inning contests. Let's start with some bounce-backs.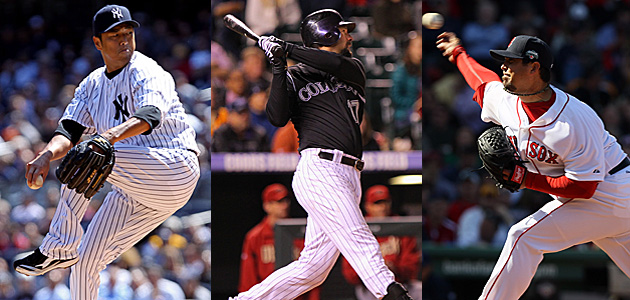 Hey, every team has played at least one home game now! All the special openers have concluded, so we can officially look forward to the grind. Friday night was yet another great night of baseball, with some huge pitching performances, a few good offensive displays and a pair of extra-inning contests. Let's start with some bounce-backs.
Click here for complete Friday scoreboard with recaps and box scores for all 15 games

3 UPJosh Beckett, Red Sox.
Coming off
possibly the worst outing of his career
, Beckett went out and shut down the
Rays
in
a 12-2 victory
. The burly right hander worked eight innings, allowing only five hits and one earned run. He only needed an economical 94 pitches to get through the eight innings, too. Surprisingly, Beckett only had one strikeout, but he didn't need more, at least on this day.
Hiroki Kuroda, Yankees.
His Yankee debut last week against the Rays was terrible, but Kuroda came out and was masterful against the
Angels
Friday afternoon. He threw eight shutout innings against the high-powered -- or at least it's supposed to be -- Angels offense, allowing only five hits and two walks while striking out six.
Todd Helton, Rockies.
The 38-year-old first baseman entered Friday night with four hits and three RBI on the season. Not only did he collect three hits and three RBI on the night, but he had the big blow in a
7-6 Rockies victory
over first-place
Arizona
. With one out and a man on third base, Rockies reliever
Bryan Shaw
came through with a huge strikeout of
Troy Tulowitzki
, but Helton followed with a clutch two-out double, driving home the eventual winning run.
Note:
Matt Cain
would obviously be here, too,
but we already covered his stellar outing
.
3 DOWNAdam Wainwright, Cardinals.
It's been a rough start for Wainwright, as he returns from Tommy John surgery. His first outing wasn't horrible, as he allowed three earned runs in 5 2/3 innings (4.76 ERA), but it wasn't too great, either. Friday, in the Cardinals' home opener, he was shelled by the Cubs. An
Ian Stewart
3-run homer and
Bryan LaHair
grand slam headlined the offensive fireworks, as Wainwright allowed seven hits and eight earned runs in just three innings. And I'm pretty sure he's OK with me having him here, because he said "this is the worst game of my career, no doubt," after the game (
via Joe Strauss
).
The Royals' start.
Poor
Kansas City
fans. They were genuinely excited for their team heading into the season. Then the Royals took two of three from the mighty Angels. Even after losing two of three to the A's, a 3-3 record still didn't seem too bad for a west-coast road trip. So the Royals come home to 40,000-plus fans in Kauffman Stadium and were down 7-0 before even getting to bat.
Luke Hochevar
allowed five singles, two doubles and a triple. He also uncorked a wild pitch. The
final score was 8-3
, but it would seem the Royals have lost all momentum. The good thing about baseball is they'll get a chance to change things up Saturday.
Joe Thatcher/Andrew Cashner, Padres.
Obviously coming in to face Andre Ethier with the bases loaded in the bottom of the ninth inning isn't easy. But there were two outs and Thatcher didn't even throw a strike, walking in the decisive run on a four-pitch walk (
the final score was 9-8
). Prior to that, Cashner walked three straight Dodgers, and this was after recording two outs. So the Dodgers drew four straight walks with two outs in a tie game in the bottom of the ninth. That just cannot happen.
Special mention:
It didn't really cost his team much, but
Brett Gardner
got picked off on the ol' fake-to-third-whirl-to-first move early in the Yankees win. I'm guessing he heard plenty of taunting in the locker room after the game. And I'm also guessing that he'd agree with every taunt.

Yu again?
Yeah, it's overplayed by now to do a pun with
Yu Darvish
's first name. It won't happen again, I promise. Anywho, the Japanese import will make his second start of the season Saturday. Things didn't go quite as planned his first time out, as he coughed up eight hits and five earned runs in 5 2/3 innings. He added a wild pitch and hit-by-pitch, too. On the flip-side, Darvish learned right away what kind of run support his
Rangers
teammates can provide, because he still picked up the win. Saturday Darvish and the Rangers get the Twins and
Nick Blackburn
in
Minnesota
's Target Field.
1:10 p.m. ETStreak-breaker.
The
Atlanta Braves
tied a major-league record Friday
night when
Jair Jurrjens
failed to record an out in the sixth inning. In seven starts, not once has a starting pitcher worked more than five innings (statistically speaking, since a few have pitched into the sixth but not gotten an out). Saturday, it's
Mike Minor
's turn. He'll get the nod against
Shaun Marcum
and the
Brewers
.
7:10 p.m. ETHella ... OK?
Rays starting pitcher
Jeremy Hellickson
took a shot off the head during batting practice Wednesday in
Detroit
while throwing a bullpen session (turns out it was a BP home run by
Delmon Young
). Fortunately, Hellickson avoided serious injury, so he'll get the nod Saturday in
Boston
. The Red Sox send
Clay Buchholz
to the hill.
4:05 p.m. ET
Full Saturday scoreboard
•
Out of the box.
The White Sox grounds crew evidently had the batter's box too close to the pitcher Friday. After two Tigers batters didn't notice,
Miguel Cabrera
notified the home plate umpire that he thought something was up. And the box ended up being re-chalked. Good eye on Cabrera or whoever in the dugout pointed it out to him (
MLB.com
).
•
Circus act.
In that same game, well, just watch Delmon Young for yourself (
via Mock Session
):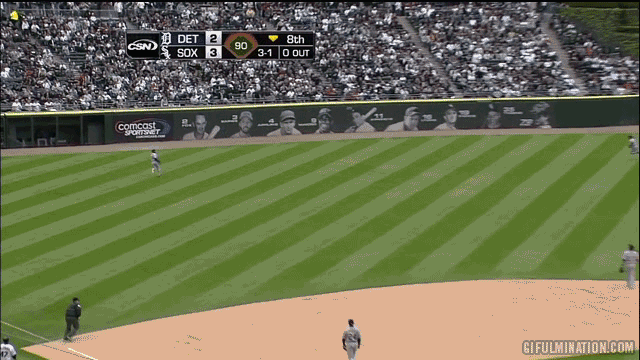 •
No GIF for you.
It's the perfect spot to mention this nugget, considering I posted a GIF of Delmon Young right above. Major League Baseball is pushing to ban the use of
MLB
GIFs on the Internet (
Businessinsider.com
). The league already refuses to allow YouTubes of footage and doesn't make clips from MLB.com embeddable until after a set amount of time (most of the time it feels like 24 hours, but sometimes the option still isn't there). Simply, MLB only wants you to be able to see anything MLB-related on MLB.com, where they control which clips are used.
•
Dare to dream.
Cubs manager Dale Sveum has made it mandatory that he players watch from the dugout Saturday when the Cardinals receive their World Series rings in order to fully respect what a special moment it is (
Chicago Tribune
).
•
Belt benched.
The
Giants
decided to bring
Brandon Belt
with the big-league club to start the season, and the sentiment was that he was going to get his chance to play everyday. I mean, he's a 23-year-old with massive upside. Instead, Bruce Bochy has benched Belt four straight games. And it doesn't sound like patience is a virtue, as Bochy said "we're going to go with the hot bats" and "guys sometimes dictate where they play." (
via Giants Extra
) That's fine, Bruce, but you're delaying a kids' development by sitting him. Either let him play in Triple A or the bigs. Otherwise it's counter-productive.
•
Rocket trial.
Jury selection is set to begin Monday for Roger Clemens' perjury trial (
MLB.com
).
•
Honoring Jackie.
This coming Sunday, Major League Baseball will honor the 65th anniversary of Jackie Robinson breaking the color barrier with pregame ceremonies across the nation and all players wearing Robinson's No. 42 (Associated Press).
•
Just make him the mayor.
Tigers (and Red Wings) owner Mike Ilitch has helped build two powerhouses in Detroit. He's not satisfied, though, because he wants to do his part in rebuilding all of Detroit.
This is long story -- by Internet standards -- from USA Today's Bob Nightengale
but definitely worth a read.
For more baseball news, rumors and analysis, follow @EyeOnBaseball on Twitter, subscribe to the RSS feed and "like" us on Facebook.
Rasmus essentially walked away from baseball during last season

Forrest Whitley is the Astros' top pitching prospect and set to work in Double-A this year

Jonah Keri talks to Orioles manager Buck Showalter
Contreras said on Tuesday that he's willing to pay the price

And their offseason decisions prove it

Hosmer recently signed an eight-year contract with San Diego, and his usual No. 35 was spoken...