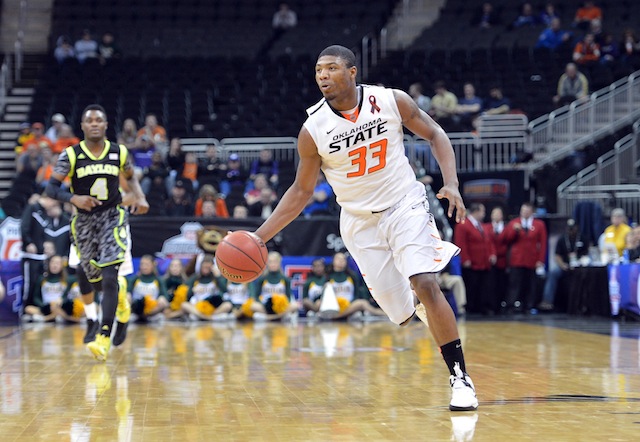 CBSSports.com's college basketball trio of Gary Parrish, Jeff Borzello and Matt Norlander spent the July recruiting period at various NCAA-sanctioned events, where they sat and talked with coaches from all levels of the sport. Parrish, Borzello and Norlander asked for opinions on prospects, players, coaches and issues. They'll be sharing those opinions to specific questions here in the blog over the next three weeks.
With so many potential draft picks deciding to return to school this season, there is plenty of experienced talent in college basketball. But the incoming group of freshmen is also one of the best in years.
As a result, the battle for the preseason Player of the Year award and All-American teams could come down to proven production against pure talent.
That conundrum is at the crux of our second question:
Which player in college basketball would you most want on your team next year?
Others receiving votes: Montrezl Harrell(Louisville), Jabari Parker (Duke), C.J. Fair (Syracuse), Aaron Gordon (Arizona), Mitch McGary (Michigan), Chris Obekpa (St. John's), Andrew Harrison (Kentucky), Aaron Harrison (Kentucky), Travis Bader (Oakland)
FIVE QUOTES THAT STOOD OUT:
On Marcus Smart: "He just has something a little different in him. There's just something extra him that he's going to beat you. Also, guys play for him. Not many kids like that anymore. Almost none actually."
On Doug McDermott: "He's a throwback. Plays the game the right way. Makes everyone around him better, big-time winner, and scores it every way you can imagine. Better defender than people him credit for. Really good team defender."
On Andrew Wiggins: "You're going to get a lot of Andrew Wiggins answers as long as coaches don't make this too complicated. Why wouldn't you want the No. 1 pick in the NBA Draft on your team?"
On Aaron Craft: "I love what Craft brings to the table, each and every night on both ends of the floor. And he is a bonafide leader. And that everyone loves to hate on him. He's the perfect model of the kid you hate with a passion if you are playing against him, but you would want on your team every day of the week and twice on Sunday."
On why freshmen didn't get more votes: "Coaches like to think they are outsmarting people. Also, it's probably the element of the known vs. the unknown."
THE TAKEAWAY (BY JEFF BORZELLO) 
Despite all the talent coming into college basketball this season – from Andrew Wiggins and Julius Randle to Jabari Parker and Aaron Gordon – this is a race that came down to two returning stars: Marcus Smart and Doug McDermott. A year ago, when we asked coaches this same question, Smart was one of the unproven freshmen, and only received one vote. After one season at Oklahoma State, he's looked at as the best leader and winner in the sport – and that's what coaches valued in this poll.
Of course, Smart winning this question isn't surprising. He immediately changed the culture of Oklahoma State when he arrived on the scene last fall, leading the Cowboys to 24 wins and a No. 5 seed in the NCAA tournament. With a year under his belt – and plenty of talent surrounding him – expect more of the same in 2013-14.
One interesting name that didn't receive a single vote is Louisville guard Russ Smith. Likely to be a preseason All-American by most outlets, Smith was one of the biggest game-changers in college basketball last season – at both ends of the floor. He also averaged 25 points in the first five games of the NCAA tournament. But his risky, sometimes haywire style of play clearly isn't for everyone.
Several coaches admitted that they avoided voting for Wiggins or Randle or any other freshman, primarily because they were unproven. Will Wiggins be the No. 1 pick in the NBA draft? Likely. Is Smart the most talented player in the country? Doubtful. But many coaches thought that getting a productive, experienced player was more advantageous than choosing someone with a higher ceiling.
If we asked this question again before the NCAA tournament, would we have the same results? After coaches see Wiggins, Randle, etc. in action, that probably won't be the case. For now, though, more than two-thirds of the coaches polled are looking for experience and a proven commodity.