More 16 vs. 1: Why it can happen | It will take a quality 16-seed | Please don't let it happen
So you think it's about time a 16 beats 1, huh? Well I've got three reasons why it's not going to happen.
1. It's already happened (in women's basketball)! 
So you want to toss all the numbers at me, huh? Dr. Ed Feng points that even a world where 1-seeds have a 99 percent chance of winning and 16-seeds have a one percent chance of winning, there is a 33.1 percent chance a 16-seed will beat a 1-seed once in a ten-year span. The probabilities given by SportsLine and other services are almost always going to be higher than 1 percent for 16 seeds, on average, so you should be working with even better odds for the ultimate upset. 
Is this the year a 16 beats a 1?
   Based on the matchups of Jerry Palm's most recent NCAA Tournament projected bracket here are the percentages via SportsLine for his No. 1 seeds defeating the No. 16 seed it is predicted to face in the first round this year.

•

  85.7 percent: Chance of all four No. 1 seeds advancing vs. a No. 16


•

  14.3 percent: Chance of a No. 16 seed upsetting a No. 1
No. 1
No. 16
Pct.
Kansas
Texas Southern/Wagner
97.2
Oklahoma
Bucknell/Hampton
96.7
Michigan State
High Point
98.8
Villanova
North Florida
92.3
There have been 120 1 vs. 16 games since the tournament expanded in 1985, so if we haven't had one by now, we'll certainly have one soon, right? 
Well, it's already happened once in women's basketball. 
No. 16 Harvard beat No. 1 Stanford 71-67 in 1998 and it remains the only 1 vs. 16 upset in NCAA Tournament history. The situation surrounding the game was unique, and helps explain the loss. Stanford lost two key players to injuries leading up to the game. 
"The hard thing was just the injuries," then-Stanford coach Tara VanDerveer told the New York Times in 2008, after admitting at the time that she never watched the game after the loss as a defense mechanism. "The game itself to me wasn't really a sad thing. The sad thing happened during the week when we had two kids go down from ACL injuries. It was absolutely depressing." 
Harvard was also no slouch of a 16-seed. The Crimson had the nation's leading scorer, Allison Feaster, and a 22-4 record on the season. You won't get that perfect combination of a team getting the number one seed with two injured players and a 16-seed with the kind of firepower as that Harvard team. 
2. The Selection Committee will give a potential loser the Kenyon Martin treatment 
Cincinnati was No. 1 in the polls at the end of the regular season and No. 1 in the RPI, but after losing Kenyon Martin to an injury in the Conference USA tournament, the Bearcats were sent to the South Region as the No. 2 seed. 
"We talked about Cincinnati very early and came back to them a couple times," Craig Thompson, now Mountain West commissioner and then-chairman of the selection committee, said at the time. "But when you lose a potential player of the year, that's going to affect your team." 
The No. 1 seeds are put under tremendous scrutiny by the selection committee. In the case of Cincinnati, Thompson argued that the since the selection committee did not get a chance to see the Bearcats play a full game without Martin, they could not comfortably slide them in on the one line. For a tournament that is often championed for its parity, an awful lot of work is put in to make sure the top seeds have the easiest path to the Final Four.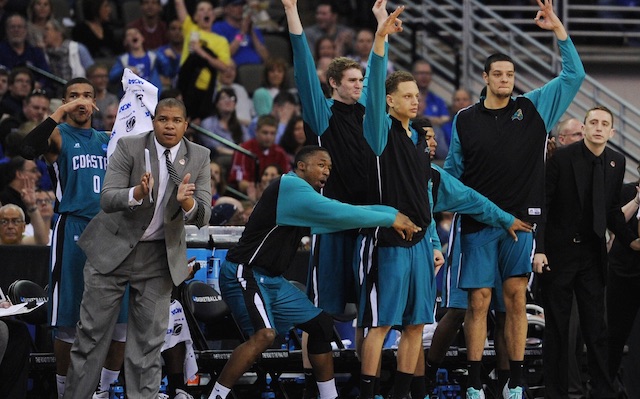 3. No one wants to be that team 
Princeton's one-point loss to Georgetown in 1989 is one of the most famous narrow losses for 16-seeds, giving fans a flurry of near upsets in the first years of the 64-team tournament. East Tennessee State nearly did it against Oklahoma that same year, then Murray State pushed Michigan State before ultimately losing in 1990.
But eventually the tournament fell into a rhythm of expectations and standards, including the aforementioned favoritism -- like the modern advantage of early round site selection -- given to top seeds. Syracuse nearly lost to UNC Asheville and Gonzaga was lucky to escape against Southern, but for the most part even the "close" games between 1 and 16 are decided by double digits. 
I think some of that is because no team wants to be that team to lose to a 16-seed. College basketball teams that earn the weighty status of a 1 seed these days has developed a tremendous amount of pride, and chances are these 1-seed teams will always have a significant talent advantage against the opposition. At some point in the game, if there is any chance of losing, a previously care-free team full of stars will lock in with heightened intensity on every possession. Usually it only takes a few quick buckets with defensive stops on the other end to create some space and put the opponent away, at which point you will see the coach breathe a sigh of relief. 
Considering the easier path to success, superior talent and potential embarrassment of losing, I don't think we'll see a No. 16 seed beat a No. 1 seed in the current NCAA Tournament format.