2012 All-Breakthrough Team: The Defense
Twelve up-and-coming new starters for the new season.
Twelve up-and-coming new starters for the new season. See also: The All-Breakthrough Offense.
- - -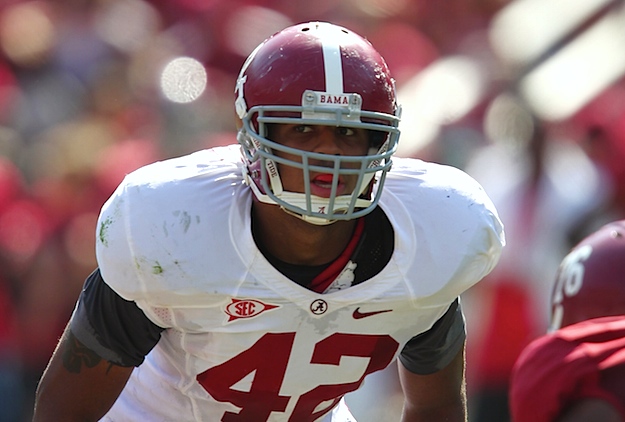 A few preliminary rules for the road: All players are second or third-year guys – no incoming freshmen or new transfers – set to start for the first time this year, or otherwise to contribute heavily after a redshirt year or a season (or two) as a backup. No one on the team was feted with awards or freshman All-America notices, and none has more than two career starts; the vast majority have never started. Because they weren't instant-impact stars, you won't find any of these guys near the top of the preseason position lists, but you should expect to be well-acquainted with all of them by this time next year.
If your team's budding star was left off, it's probably because we know too much about him already. And what's the fun in that?
End • Ray Drew, Georgia
Most head coaches in the Internet age treat recruiting sites and the overcooked drama they stoke as the bane of their existence. But there was the usually mild-mannered Mark Richt in early 2011, actively fueling the hype by referring to in-state targets as the "Georgia Dream Team" and the full class on signing day as the "largest and most talented and the best bunch"in his 11-year tenure. Either the group was really that good, or its embattled head coach desperately needed it to be.
One year and one SEC East title later, Richt's job is no longer on the line, and the 2011 recruiting class has already lost its headliner, tailback Isaiah Crowell. But anticipation has not dimmed at all for his five-star counterpart, Ray Drew, who has shed his 'tweener status by adding 25 poundsto his 6-foot-5 frame – the ideal size for a hand-on-the-ground end in Georgia's 3-4 scheme. Drew will still share the position as a sophomore with senior Cornelius Washington, another bulked-up outside linebacker, but the question this time around won't be how he's going to get on the field so much as how the Bulldogs are going to keep him off.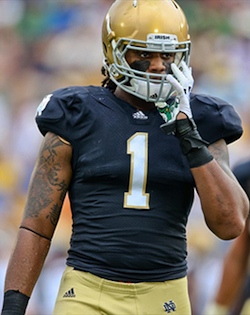 End • Ishaq Williams, Notre Dame
Of the three blue-chip defensive ends that headlined Notre Dame's 2011 recruiting class, Williams was arguably the most hyped, and easily the least productive as a freshman: Where classmates Aaron Lynch and Stephon Tuitt immediately worked their way into the regular rotation – and, in Lynch's case, onto a few postseason awards lists – Ishaq collected just six tackles in spot duty, prompting a postseason retreat to his home in Brooklyn, N.Y., to reconsider his future. By April, though, it was Lynch who had decided to transfer, taking his talents to South Florida, and Williams who was beginning to look like the up-and-comer after recommitting himself to the Irishover the winter. The latter spent much of spring practice filling in for injured senior Prince Shembo at "Cat" (the hybrid defensive end/outside linebacker position in Notre Dame's 3-4 scheme), finishing with an interception and a fumble recovery in the spring game and likely playing his way into a starting role opposite Shembo in the process.
Tackle • Danny Shelton, Washington
The last time we saw Washington, the Husky defense was being churned into a fine paste in the Alamo Bowl, site of a 482-yard, eight-touchdown rompby the Baylor ground game alone. The next time we see Washington, it will boast an entirely new defensive coaching staff and a new anchor in the middle of the line: Danny Shelton, a former high school wrestler and state shot put champion who assumes a full-time role after coming off the bench in 12 of 13 games as a true freshman. (He started once, in the Apple Cup win over Washington State.) Under most circumstances, replacing a veteran like Alameda Ta'amu – a three-year starter taken in the fourth round of the draft – would be a tall order. But on this defense, there's nowhere to go but up.
Tackle • George Uko, USC
Uko has just two starts to his credit in three years on campus, but compared to the rest of the interior line, he's positively grizzled: The Trojans' other options inside are all second-year guys who either redshirted last year as true freshmen (Christian Heyward, Antwaun Woods) or probably should have (J.R. Tavai). Frankly, Uko was a peripheral presence himself behind seniors DaJohn Harris and Christian Tupou, whose departures leave defensive tackle as the most glaring question mark on the entire depth chart. Given the extreme youth and lack of depth around him, Uko is the answer whether he's ready or not.
Linebacker • Kris Frost, Auburn
Initially, there was some minor debate last summer over whether Frost would be allowed to ply his blue-chip talents at wide receiver, as he seemed to prefer, or whether he would be funneled directly to a more natural position at linebacker or safety. The answer, as it turned out, was none of the above: A lingering shoulder injury kept him watching from the bench as Auburn sunk to the nether regions of the SEC rankings on both sides of the ball. That left no time for experimentation this spring, where the absence of returning starter Jonathan Evans allowed a healthy Frost to move to the top of the rotationat strongside linebacker. Once his understanding of the defense catches up with his athleticism, the competition will be moot.
Linebacker • Adrian Hubbard, Alabama
Statistically speaking, Alabama's defense in 2011 was the best college football has seen in decades. It didn't get there by devoting itself to developing freshmen. But for as little as Hubbard saw the field last year (he was credited with nine tackles in nine games) behind seniors Courtney Upshaw and Jerrell Harris, he's wasted no time picking up the slack: Coaches awarded Hubbard in April as the team's best linebacker over the course of spring drills, and more than a few fans came away from the spring game convinced he was the best player on the entire defense– at least, for that afternoon. Of the six new starters on that side of the ball this fall, Hubbard for Harris on the strong side is the safest bet for avoiding a drop-off.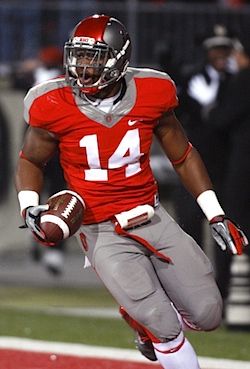 Linebacker • Curtis Grant, Ohio State
With the possible exception of Texas, no major team was more open to throwing freshmen to the wolves in 2011 than Ohio State; by the end of the year, first-year players were holding down major roles at quarterback, wide receiver, linebacker and cornerback, and contributing significantly on the defensive line. Somehow, that number did not include the five-star headliner of Jim Tressel's final signing class, Curtis Grant, whose advance hype bought him just enough time to record two tackles and blow his redshirt. No more waiting in 2012: The new coaching staff was impressed enough with Grant in the spring to promote him in front of returning starter Storm Klein at middle linebacker, and Klein's subsequent departure from the teamin the wake of a domestic violence arrest leaves the MIKE job to Grant and Grant alone.
Linebacker • Tony Steward, Clemson
First, Steward has to get on the field, no small feat after consecutive knee injuries as a senior in high school and as a freshman at Clemson. A torn ACL last October cost him his first year of eligibility after just five tackles in five games (his appeal for a medical hardship was denied by the NCAA) and his first spring practice. At full speed, though, Steward and equally hyped classmate Stephone Anthony still have plenty of time to make good on their five-star potential.
Cornerback • DeShazor Everett, Texas A&M
Between the installation of the "Air Raid," the four-man derby at quarterback and the much-anticipated arrival of Oklahoma transfer Brandon Williams, there wasn't a lot of headline space left this spring for the A&M defense – especially in the secondary, where there was no shortage of familiar faces. By all accounts, though, it was an unheralded sophomore, DeShazor Everett, who most impressed the new coaches and fans alike and quickly passed the veterans as the No. 1 cover man heading into the season. (At one point, head coach Kevin Sumlin told reporters that the most experienced player in the secondary, senior Dustin Harris, "looks like a 10th grader out there.") Both corners are expected to be manned by second-year guys, Everett and Floyd Raven, who relegated to special teams as freshmen.
Cornerback • Wayne Lyons, Stanford
Lyons could have gone to school just about anywhere, and given that he's the type of kid who followed up recruiting letters by mailing lengthy questionnaires to interested coaches, it's no surprise he wound up picking Stanford. On the eve of his first game, coach David Shaw called Lyons "a physical freak" who would play right away as a true freshman; two weeks later, Lyons' season was over courtesy of a broken foot. Assuming he's at full speed by the fall – he claimed to be "100 percent" in March, though defensive coordinator Derek Mason thought it was closer to 75 percent– the only thing stopping him from becoming a four-year starter is an early exit for the next level, be it the NFL or a Rhodes scholarship.
Safety • Kyshoen Jarrett, Virginia Tech
At the end of last season, Jarrett and fellow freshman Detrick Bonner looked like the heirs apparent to a long line of first-rate Virginia Tech corners – a lineage that included their teammate, NFL-bound Jayron Hosley, whose position Jarrett and Bonner both coveted. By the end of the spring, though, they had both been moved to safety to make way for strong safety Antone Exum's conversion to corner, a swap Jarrett initially resisted: "At first I was (unhappy), because I've seen the great corners that came through Virginia Tech," he told the school newspaper, "and I was like, 'I want to be a corner, I have to be a corner, I want to be one of them.'" And maybe he'll still get his chance. For now, Jarrett has decided to embrace the move, which will make him and Bonner the only new starters on the entire defense.
Safety • Karlos Williams, Florida State
Frustrated by his lack of playing time as a true freshman, Williams briefly considered a switch to tailback over the winter, just for the opportunity to get on the field. Instead, coaches decided in February to move senior Nick Moodyfrom a likely starting role at free safety to fill a vacancy at outside linebacker, thus freeing up Williams to grab the brass ring at his natural position.
They're still waiting: By his own admission, Williams didn't spend enough time with the playbook last year and failed to push past junior Terrence Brooks in the spring, two ominous signs that his five-star billing is beginning to slip away. But it's not gone yet. Williams should see an expanded role in the defense, and for a player with his raw talent, the moment the light comes on is the moment he's on his way to becoming a star.
It was one of the busiest offseasons for the assistant coaching ranks

Oliver's star has already been born, but 2018 is when it will truly be recognized

Craig Kuligowski is reportedly leaving Miami to take the same job with Alabama
BT Potter is about to be very popular in the Clemson locker room

McElwain will coach receivers and help coordinate the offense for the Wolverines

Nathaniel Watson Jr. was involved in a car accident that injured a passenger in early Febr...