Night Court: VCU unleashes havoc, Michigan bounces back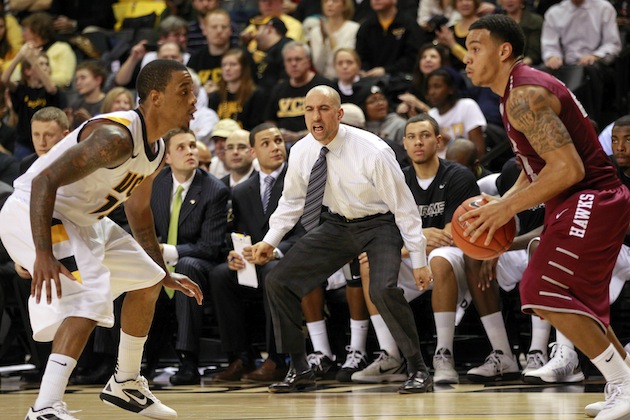 When the time calls for it, everyone seems to get into a defensive stance for VCU. (US Presswire)
Here's everything that you need to know from college basketball's Thursday …
Game of the Night: VCU clamps down, knocks off Saint Joseph's in overtime.
For 39 minutes, Saint Joseph's did what any team has to do in order to beat VCU. It limited turnovers and didn't allow VCU to get hot from 3-point range or momentum with transition baskets. And then it all went awry. The Hawks turned the ball over three times in the final minute, blowing a four-point lead in the final 15 seconds. Once in overtime, VCU simply wore down Saint Joseph's for a 92-86 victory. The Hawks looked gassed for most of the extra period, with Carl Jones missing time due to cramps.
It was a microcosm of the season for Saint Joe's, which is talented but has lost several close games and is only 9-6 on the year. As for VCU, is there a more entertaining team to watch in the country? Also, pick your star of the night for the Rams: Darius Theus (22 points, 10 assists), Treveon Graham (25 points, seven rebounds) or Juvonte Reddic (15 points, 17 rebounds). VCU has won 12 in a row, its longest winning streak since 1977-78.
What else we'll be talking about in the morning: Michigan is a notch above Minnesota.
Heading into Thursday, we were all interested to find out how Michigan would bounce back after its first loss of the season, at Ohio State on Sunday. We got our answer pretty quickly. The fifth-ranked Wolverines went into the Barn and outplayed No. 9 Minnesota from start to finish in an 83-75 win. Tim Hardaway Jr. had 12 points in the first 10 minutes, and Trey Burke was back to his old playmaking self, scoring 18 points and dishing out nine assists. Minnesota dug itself into a hole yet again, turning it over too often in the first half and not going inside early. Once Michigan turned it on in the second half, the Golden Gophers couldn't recover. Tubby Smith's troops will be fine, but it was clear on Thursday that they are not a true top-10 team.
Fun note: Michigan's last road win against a top-10 team came on Dec. 8, 1996, when the Wolverines knocked off No. 10 Duke.
That's a good win: Valparaiso comes back from a huge deficit to win at Detroit.
Valparaiso was down 18 at the half and trailed by as many as 22 points. With 3:01 left in the game, the Crusaders trailed by 11 -- but Detroit didn't score again. Two Ryan Broekhoff free throws with 17 seconds left ended up being the difference. Detroit missed two contested 3-pointers in the final seconds to fall 89-88. Although Wright State is undefeated in the Horizon, the Crusaders might now be the team to beat in the conference.
But that's a bad loss: Illinois falls to Northwestern by double digits at home.
Northwestern isn't exactly known for big road wins. Under Bill Carmody, the Wildcats were 2-33 on the road against ranked teams (before Thursday), dropping 21 of their last 22. They hadn't won one since 2009, when they won at both Michigan State and Purdue. The last time Northwestern took the court, the Wildcats were drilled by Iowa at home 70-50. All signs pointed to Illinois bouncing back from its two-game losing streak with a victory; the signs were wrong. Illinois shot just 3-for-20 from 3-point range, and players not named Brandon Paul combined to shoot 10-for-33 from the field for 33 points. Northwestern got 22 points from Reggie Hearn in the 68-54 win.
Illinois has now dropped three in a row and five of its last seven. A year ago, the Fighting Illini started 15-3 before losing 12 of their final 14 games. John Groce is hoping to avoid a repeat.
Players with impact
The Valparaiso vs. Detroit game had arguably the two best individual performances of the day. Detroit's Nick Minnerath had 36 points, while Valpo's Kevin Van Wijk went for 31 points on 13-for-15 shooting.
Oral Roberts big man Damen Bell-Holter is playing as well as any big man right now. He had 27 points and 13 boards on Thursday against Texas A&M-Corpus Christi. He has scored 25 points in four of his last five games and is averaging 12.8 rebounds in that span.
Louisiana Tech's Kenneth Smith had scored 17 points total in his last four games, but he went for 22 points and eight assists on Thursday against Idaho.
Numbers to figure:
2000: Nate Wolters became the first player in South Dakota State history to surpass 2,000 points, as the Jackrabbits handed Western Illinois its first Summit loss.
20: Montana has now won 20 games in a row against Big Sky competition, moving to 7-0 in the league this season with a win over Southern Utah.
38: That was the margin of victory in North Dakota State's win over IUPUI -- the most lopsided road win for NDSU since it joined Division I. NDSU is 7-0 in the Summit.
Other outcomes of note:
Notebook:
-- Massachusetts can still be a threat in the Atlantic-10, even without Jesse Morgan. Freddie Riley played 38 minutes as his replacement on Thursday in the Minutemen's win over Duquesne.
-- Don't look now, but Louisiana Tech is 6-0 in the WAC after coming back in the second half against Idaho.
-- Utah State saw its 13-game winning streak snapped at the hands of New Mexico State.
-- Amazing: Bryant is 5-0 in the Northeast Conference after escaping in overtime against Mount St. Mary's 79-78. Bryant won two games last year.
-- I couldn't be less sold on Rutgers, but the Scarlet Knights are 12-4 overall after beating South Florida. Keep an eye on them through the rest of the month.
-- Long Beach State and its team of transfers and tons of talent is 5-1 in the Big West after winning in overtime at UC Riverside. Keala King led four guys in double figures with 18 points.
-- Stephen F. Austin is on the verge of cracking the top 50 at Kenpom.com, and for good reason. The Lumberjacks are 15-1 overall (6-0 in Southland) after handling SE Louisiana by 12.
-- Montana is getting more attention right now, but Weber State is also 7-0 in the Big Sky. The Wildcats and Grizzlies will wage a heckuva league race.
-- Denver was a huge disappointment in the non-conference, but the Pioneers are suddenly 6-1 in the WAC after beating San Jose State by 36.
-- Shot of the night: Idaho State's Chris Hansen buried an 88-footer at the halftime buzzer. (h/t @BigSkybball, @Troy Machir)
For more college basketball news, rumors and analysis, follow @EyeOnCBB on Twitter, subscribe to our RSS Feed and subscribe to our College Basketball Newsletter. You can follow Jeff Borzello on Twitter here: @jeffborzello