Night Court: Top teams make statements in conference play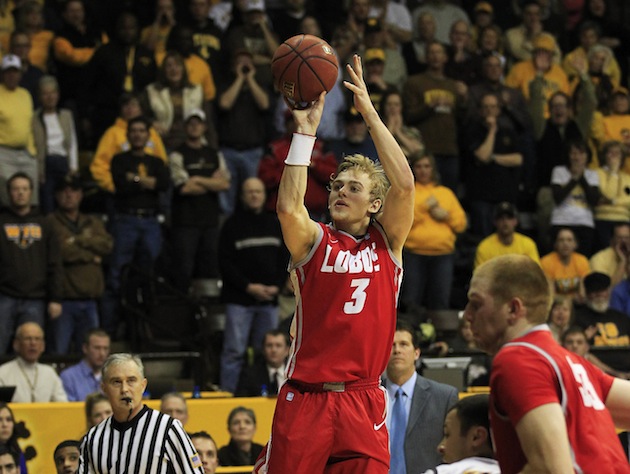 Hugh Greenwood's jumper in the final seconds kept New Mexico atop the Mountain West. (US Presswire)
Here's everything you need to know from college basketball's Wednesday …
What we'll be talking about in the morning: Florida continues to treat the SEC like it's the Big South. (And Michigan and Indiana weren't too bad, either.)
Heading into Wednesday, Florida had defeated its six SEC opponents by an average of 26.5 points per game. That apparently wasn't enough for the Gators. They dominated South Carolina 75-36 holding the Gamecocks to 10 first-half points in the blowout victory. Florida is just simply on a different level than the rest of the SEC this season. The Gators have yet to play Ole Miss or Kentucky (among others), but I honestly don't see a team finishing within two or three games of them in the conference standings. They haven't let anyone score above 52 points in league play, with five opponents scoring 47 or fewer. Billy Donovan combines that stingy defense with a balanced offense with plenty of weapons. Who will stop them?
In the Big Ten, both Michigan and Indiana made statements. The Wolverines cruised to a 68-46 win over Northwestern, committing just two turnovers and shooting 51 percent from the field. The No. 1 ranking hasn't been kind to many teams, but it didn't bother Michigan. Meanwhile, Indiana went into Purdue and came out with a 97-60 victory. This sets up an epic tilt on Saturday night between the Hoosiers and Wolverines.
Game of the Night: Hugh Greenwood's jumper keeps New Mexico atop the Mountain West.
Another night, another great finish in the Mountain West. With plenty of contenders nipping at its heels, New Mexico needed a jumper from Hugh Greenwood with 7.3 seconds left to beat Wyoming 63-59. On the ensuing play, the Cowboys inexplicably threw a home-run pass that sailed out of bounds, essentially sealing the Lobos' victory. New Mexico is 18-3 this season and continues to boost its resume. On the other hand, Wyoming is falling -- fast. Second-leading scorer Luke Martinez is still injured and/or suspended, and the Cowboys have lost three in a row and five of seven. The feel-good 13-0 start feels like ages ago.
Shot of the Night: Michael Snaer hits yet another game-winner to lead Florida State past Maryland.
By now, everyone knows not to leave Snaer open when Florida State needs a last-second 3. He hit a 3-pointer to beat Clemson last week and also knocked down two game-winners last season. Maryland didn't get the memo. The senior guard hit a 3-pointer with 1.1 seconds left to give the Seminoles a 73-71 win. Maryland drops to 3-5 in the ACC and, without much non-conference heft, the Terrapins are in NCAA trouble. Meanwhile, the Seminoles improved to 4-3 in the league -- with a monster game coming up on Saturday against Duke.
Big 12 battles: Oklahoma goes into Baylor and gets a road win, while Oklahoma State comes back to take down Iowa State.
The Big 12 pecking order saw some movement on Wednesday. Oklahoma went into Baylor and made a statement against the Bears, while Iowa State fell just short yet again on the road. The Sooners got 20 points from Amath M'Baye, led by 12 at halftime, but needed to hold off a late Baylor charge to preserve the victory. Meanwhile, Oklahoma State almost blew its game against Iowa State -- committing an offensive foul with one second left -- but the Cowboys picked up a much-needed victory. No one is going to catch Kansas in the league, but the logjam of five teams at 5-2 and 4-3 is entertaining.
But that's a bad loss: Even with Laurence Bowers back, Missouri is still struggling.
Since Laurence Bowers went down with a knee injury, Missouri had lost two games -- blowout defeats at Mississippi and Georgia. The Tigers were OK at home, but Bowers was what they were missing. Right? Well, not so much. In Bowers' first game back, Missouri was knocked off on the road by LSU 73-70. Missouri is 0-4 on the road, a number that does not look good when it comes time to talk NCAA tournament seeding. The Tigers need to start winning away from home -- and getting some quality victories.
Another bad loss: This is how UCLA followed up its Arizona road win: losses to Arizona State and now USC.
The Bruins had all the momentum in the world last week. They had just beaten Arizona on the road, their 11th win in 12 games -- and looked like a legitimate contender for the Pac-12 crown. A loss on Arizona State on Saturday was disappointing but acceptable. But this? A loss at home to USC? The Bruins were down by as many as 15 points in the second half before storming back to tie it up on a Jordan Adams jumper in the final minute. In overtime, though, USC finished the game on a 5-0 run to get the 75-71 victory. UCLA is supremely talented, yes, but the Bruins need to be more consistent if they want to be a threat come March. Going 2-for-19 from 3-point range isn't going to cut it with the way that they play defense.
More Pac-12 fun: Oregon backed up its No. 10 ranking -- with a 24-point loss to Stanford.
Much like Ole Miss on Tuesday, Oregon wasn't as good as its ranking indicated. But also like Ole Miss, the Ducks aren't as bad as Wednesday's shellacking showed. With starting point guard Dominic Artis still out with a foot injury, Oregon just couldn't get anything going against host Stanford. They turned it over 21 times and shot below 35 percent from the field. On the other side, it showed Stanford has the potential to be much better than it has performed this season. The Cardinal have some pieces, and now they are .500 in the Pac-12. This is still Oregon's race to lose -- as long as Artis comes back soon.
Players with impact
Numbers to figure:
36: The 36 points by the Gamecocks against Florida were the lowest in school history for a conference game.
37: Indiana smacked Purdue around on Wednesday with a dominant 97-60 win. The 37-point margin was the worst loss by Purdue in Mackey Arena history. (h/t @GoldandBlackcom)
1: The number of road wins that Duke has this season after winning at Wake Forest.
28: The number of consecutive times that Xavier has beaten Dayton in Cincinnati. It has been 33 years since the Flyers last won at Xavier. The Musketeers won on Wednesday.
Other outcomes of note:
Notebook:
-- Kind of cool. Georgetown walk-on John Caprio had played 13 minutes all year, but he played 12 key minutes for the Hoyas in their 22-point win over Seton Hall.
-- Northeastern dropped its first CAA game of the season, letting Georgia State come into Boston and leave with a 78-73 victory.
-- Air Force is quietly sneaking into the bubble discussion, moving to 4-2 in the Mountain West with a win over Fresno State.
-- Memphis is 6-0 in the league after overcoming a slow start at East Carolina. Meanwhile, Akron is 7-0 in the MAC as the Zips defeated Bowling Green.
-- St. John's has now won five in a row and moved to 6-3 in the Big East with an overtime win over DePaul. Look out for the Johnnies.
-- Richmond and Temple are both tough to read, but Temple improved to 3-3 in the A-10 with a home win on Wednesday. Saint Joseph's also beat Fordham to get to 3-3.
-- The Horizon is getting crazy. Valparaiso was easily handled by Youngstown State on Wednesday, while Detroit beat Wright on the road. Should be a good race.
-- Mike Muscala had a putback with less than one second left to give Bucknell a one-point win at American. The Bison couldn't afford a non-Lehigh loss.
-- Charleston Southern lost its first league game of the season, falling in overtime to Gardner-Webb. CSU is still the favorite in the Big South, though.
-- Stephen F. Austin bounced back from its weekend loss to Northwestern State by holding McNeese State to nine first-half points in a 59-39 win.
-- The aforementioned dunk by Colorado State's Dorian Green:
For more college basketball news, rumors and analysis, follow @EyeOnCBB on Twitter, subscribe to our RSS Feed and subscribe to our College Basketball Newsletter. You can follow Jeff Borzello on Twitter here: @jeffborzello