Rays say Matt Bush won't play for them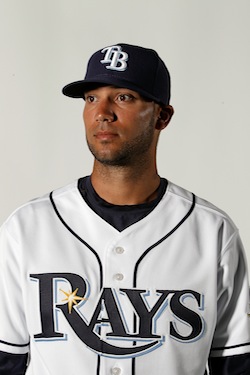 Matt Bush may become the third first-overall pick since the advent of the amateur draft in 1965 to never play in the big leagues.
On Sunday, the Rays said they are done with Matt Bush,
who was arrested last week after a traffic accident
.
Bush, a minor-league pitcher, was allegedly driving while under the influence and with a suspended license when he hit a motorcycle and then ran over the motorcyclist's head before leaving the scene. Bush is currently being held in a Florida jail on $1.015 million bail.
"I think it's safe to say that he's not going to play for us on the field," Rays executive vice president Andrew Friendman said (
via the Tampa Tribune
). "But even that, with the ongoing criminal investigation, with all of the different dynamics in play, it's hard to talk about the 40-man [roster] spot and everything else, because until things advance more, it's difficult to know exactly which way we will be able to go."
Bush, 26, was taken first in the 2004 draft by the Padres as a shortstop, but alcohol issues have derailed his career. Bush was switched from shortstop to the mound in 2007. The Padres sold Bush to the Blue Jays in 2009, but he was released two months later. The Rays signed him in 2010 and sent him to the Winning Inning Baseball Academy in Clearwater, Fla., the same place that Josh Hamilton used during his rehab. While sidelined by injuries in 2010, Bush was placed on the team's 40-man roster before the 2011 season and became a legitimate prospect last year as a middle reliever, throwing in the mid-90s. He was 5-3 with a 4.83 ERA in 36 games last season. While those numbers weren't exactly eye-popping, he did strike out an impressive 77 batters in 50 1/3 innings.
It seems unlikely another team will take a chance on him, even if he isn't in jail, making him one of the few No. 1 picks not to play in the majors. He would join Steve Chilcott, the No. 1 pick in 1966 by the Mets, who was taken one spot ahead of Reggie Jackson, but never made it past Triple-A. The Yankees took high-school left-hander Brien Taylor No. 1 overall in 1991, but he suffered an arm injury in a fight and never pitched above Double-A.
Earlier this month he was arrested on charges of cocaine trafficking
.
The Rays were feeling good about Bush and his future and there was a general belief that Bush would avoid joining Chilcott and Taylor in the history books by appearing with the Rays at some point this season.
"I think the fact that we were as surprised as we were speaks to how positive things were," Friedman told reporters. "We worked extremely hard with his support system and everything else.
"The roster cut meeting we had [on March 18] was the most positive I had ever been a part of, talking about how great of a story it would be and knowing how hard different people worked, but we're sitting here right now and our concerns and thoughts and prayers are with the Tufano family, obviously."
Tony Tufano, the injured motorcyclist who was wearing a helmet at the time of the accident, is in critical condition, his daughter told the
Tampa Tribune
.
For more baseball news, rumors and analysis, follow @EyeOnBaseball on Twitter, subscribe to the RSS feed and "like" us on Facebook.