Schilling: Some Red Sox players have complained about Valentine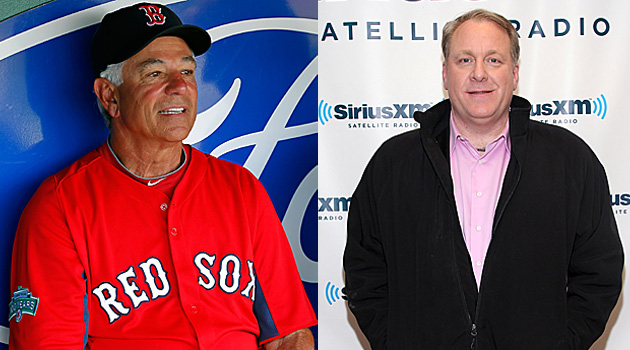 With the baseball season just about to begin, it was only a matter of time before Curt Schilling injected himself into a Red Sox storyline. And he's done so this week, to WEEI in Boston, saying that he's spoken to some Red Sox about their new manager, Bobby Valentine. What Schilling says he heard wasn't good.
"I thought that the manager that managed the Mets that I was not a big fan of was now going to be a different manager, and I don't think there's anything different at all," Schilling said (
masslive.com
). "And I don't think that that is going to be conducive to doing well here. There's a lot of things I think that are happening not just from his perspective, but when you talk to these guys -- and I'm still talking to some of these guys -- I don't think this is going well. And I think it's going bad quicker than I expected it to."
And more, again, via
masslive.com
:
"The point I made the other night was that he's doing a lot of things right now that are forcing his players to extend their media involvement to answer questions about him and the situation when it's already a challenge enough to do it, to play in this market and to win," he said.

"Any time you introduce the wild card -- the guy who's going to flip over the spread or throw something against the wall or act and react in an unpredictable way -- it's not a positive thing."
The comments are a bit vague, lacking specificity in terms of what complaints he's heard or who said them. As for players having to extend media involvement, Valentine has had some comments about the Yankees and a very mild exchange with Marlins manager Ozzie Guillen -- which was especially harmless from Valentine's side. And then Valentine banned beer in the clubhouse. I'm not sure if any of these things are what Schilling means, but, again, he wasn't specific.
Look, Schilling can come across as a bit of a loudmouth at times, but we don't have a whole lot of proof in the way of him blatantly lying. So I'm sure he's heard something. We don't know if he's overdramatized the situation, which is entirely possible, just that he likely heard something from at least one former teammate.
Not that it matters, but here are the current Red Sox players Schilling played with in Boston:
Kevin Youkilis
,
Dustin Pedroia
,
David Ortiz
,
Jacoby Ellsbury
,
Josh Beckett
,
Jon Lester
,
Clay Buchholz
and
Daisuke Matsuzaka
. Obviously, it's possible he knows some other current Red Sox, too.
One thing that is funny, though, is that now Schilling may have forced some of his friends to "extend their media involvement to answer questions about [Valentine]."
Anyway, Bobby V. is at the forefront of a baseball story not concerning on-field activity. Basically, it's your garden-variety day this March ...
For more baseball news, rumors and analysis, follow @EyeOnBaseball on Twitter, subscribe to the RSS feed and "like" us on Facebook.