After decade-long journey, Bryan LaHair is 'most excited person' at All-Star Game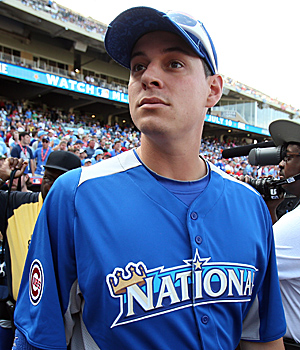 The self-proclaimed happiest man at the All-Star Game.(Getty Images)
KANSAS CITY -- Considering the journey he's been through, Cubs All-Star Bryan LaHair isn't about to act like he's too cool to admit how happy he is to be here.
"I think I have to be the most excited person here," he said with an almost-giddy look on his face.
You see, LaHair wasn't supposed to be here. Career minor-leaguers don't just all of a sudden become major-league regulars. And if they do, they sure as hell don't become All-Stars.
Yet that's exactly what LaHair has done.
Drafted by the Seattle Mariners in the 39th round of the 2002 MLB Draft, out of St. Petersburg College, there was little hope the Worcester, Mass. native would ever make the bigs. But he hit, and he hit for power. A big season for Class-A Inland Empire in 2005 helped propel LaHair to the higher levels of the minors.
In 2008, LaHair got the call to the majors. He lasted 45 games for the Mariners. That was it until September 2011, as LaHair spent all of 2009 and 2010 in the minors. And pardon me for noticing that his 45 days of big-league service time may have appeared similar to the 21 greatest days of Crash Davis' life -- a fictional character from the movie Bull Durham, to those unfortunate enough to not understand the reference. Crash would go on to set the minor-league record for home runs and is the pop-culture personification of career minor leaguers.
Through 2011, LaHair had amassed 159 homers in 970 minor-league games. Not quite Crash-level, but well on his way. He was now with the Cubs' organization, as he had been granted minor-league free agency prior to the 2011 season. This had all the makings of a career minor-leaguer, or a "Quadruple-A" player, if you will. Many of these guys give up, seeing the so-called writing on the wall that they'll never make it. Plus, in LaHair's situation, he could have been proud that he did make it for 45 games. After all, how many of us can say we played Major League Baseball?
Instead, LaHair has been given the chance by the Cubs to succeed in The Show -- as Crash would call it -- and he's run with that chance. LaHair has parlayed a 2011 September call-up into a 2012 regular gig. He's made a name for himself, too, hitting .286/.364/.519 with 14 homers and his peers voted him into the All-Star Game. Not the fans, not Tony La Russa, but the guys LaHair plays against. That has to feel great, but don't take my word for it.
"It's really cool. You feel like you're a part of something," LaHair happily said. "I feel truly blessed to be here. It's an incredible moment for me and my family. I'm gonna try to soak up every ounce of it."
And after those nine minor-league seasons, LaHair won't take anything for granted, either. He's still trying to get better.
"I'm still in an adjustment process where I'm learning the major-league level," he said. "I'm learning how to deal with the ups and downs. The pitching is obviously better [than in the minors]. [The pitchers] are making adjustments, so I have to make adjustments, too. Hopefully, with these couple days [among All-Star players], I'll be able to pick a few guys' brains and jump a little ahead."
He's 29 -- nearly a decade older than youngest All-Star Bryce Harper -- and he still sounds like an eager-to-learn youngster. He couldn't stop talking about being around all the "superstars" and "future Hall of Famers" on his team for Tuesday's All-Star Game. And he couldn't stop smiling. This is a dream come true for LaHair, a decade in the making.
Good for him.
For more baseball news, rumors and analysis, follow @EyeOnBaseball on Twitter, subscribe to the RSS feed and "like" us on Facebook.