Will the insufferable Red Sox soap opera keep future free agents away?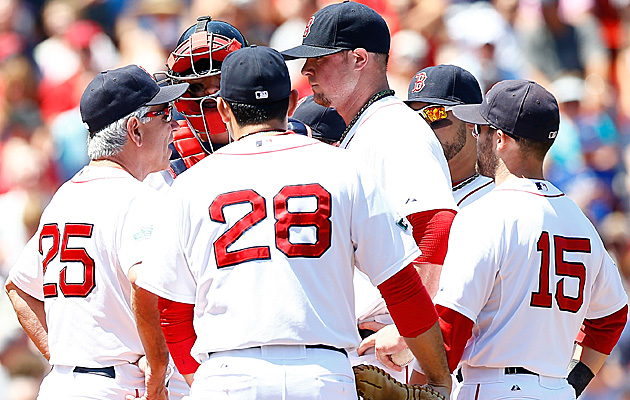 Lester isn't sure how the past year of drama will impact future signings. (Getty Images)
Since last September, the Boston Red Sox have been synonymous with drama, both on and off the field. From the collapse to Theo Epstein to Terry Francona to Bobby Valentine to Beerandchickengate to Kevin Youkilis to Adrian Gonzalez/Dustin Pedroia/John Henry to ... sigh, I'm tired. As are you, I'm sure.
Anyway, this stuff cannot be ignored -- as much as all of us would like to -- because the Red Sox are a marquee franchise that has won two World Series in the past decade. So trek forward we must. The latest -- other than the rumor that the Red Sox are, in fact, looking to replace the embattled Bobby V. -- is the Boston media questioning if this drama will adversely affect the Red Sox's ability to obtain future free agents.
"I don't know," Jon Lester told the Boston Herald. "It's always been a demanding place to play, but until the last two years, it always was about baseball. Now we've got things written and said about guys' personal stuff as human beings, as people. Now you're starting to question people's manhoods. That's where it gets hard."
Remember, earlier this season, All-Star designated hitter David Ortiz seemed fed up with the situation as well.
"I'm just tired of dealing with the drama here," said Ortiz (BostonHerald.com). "This is baseball, man. It seems like everything that goes on around here is like one of those Congress decisions that will affect the whole nation. It ain't like that, man. This is baseball. We're supposed to have fun, to have our performance out there at the highest level. Every day is something new, some drama, some more (expletive). I'm tired of that, man. I'm here to play baseball, man."
In light of these quotes, it's worth wondering if future free agents are going to look at what's gone down in Boston this past 12 months and decline to sign with the Red Sox. These are two of the team leaders openly opining to the media about how difficult it is to enjoy playing a game for nine (or 10, in Ortiz's case) figures a year, and I don't blame them one iota. It's a freaking circus.
I feel like money will carry the day in the end, meaning that the highest offer will be signed most of the time by major-league free agents. Also, the Red Sox still have a fan base that is among the most loyal in all of sports, which is part of the reason why this media frenzy continues. Still, it's pretty clear something needs to be done to fix all this drama. They cannot go on like this.
For more baseball news, rumors and analysis, follow @EyeOnBaseball on Twitter, subscribe to the RSS feed and "like" us on Facebook.